Microsoft Commits to World Cyber Games through 2008
Microsoft Commits to World Cyber Games through 2008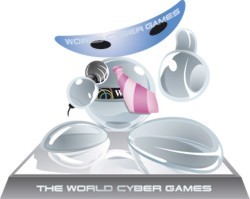 The World Cyber Games (WCG) is an international computer game festival held all over the world. The e-sports take place entirely within the medium of cyberspace as gamers compete in this international tournament for cash prizes. WCG is the only international cyber games tournament that brings competition from six continents. This year's events are to be held in Seattle WA, San Francisco CA in the US as well as grand final tournaments in Italy, Korea and Singapore. The international competition started back in 2000 by a Korean company called International Cyber Marketing (ICM) which is funded by Samsung.
This year ICM has made Microsoft the premier sponsor for the event. Xbox 360 as well as Microsoft Windows platforms will provide hardware and software support for the tournament. Microsoft's deal with ICM has the software giant from Seattle providing not only Xbox 360s for the event but state of the art PC consoles. I'd like to get my hands on one of those consoles. Having a WCG issue PC gaming consoles after the event would be bragging rights to any PC games enthusiast. Microsoft has signed on to sponsor the event until 2008. At which time I'm sure WCG will reconsider Microsoft, maybe by then Samsung's rival from across the Sea of Japan (Sony) will have a console worthy of such an event if they're interested.
Microsoft Interactive Entertainment and Devices Division corporate VP Peter Moore says: "Over the years we have admired the incredible growth of cybersports and WCG's role in expanding the reach of these worldwide tournaments. Because of WCG's history as a truly global gaming competition it was a logical choice to team up with them and extend the reach of these events further."
Competition will include the games FIFA Soccer '06, Half-Life: Counter-Strike 1.6, Need for Speed: Most Wanted, StarCraft: Brood War, WarCraftIII: Frozen Throne and Warhammer 40,000: Winter Assault for the PC. On Xbox 360 platform games will include Dead or Alive 4 and Project Gotham Racing 3. The only Microsoft game to be included in competition at the WCG is Project Gotham Racing 3.
Special Thanks to www.hometheaterfocus.com
Confused about what AV Gear to buy or how to set it up? Join our Exclusive Audioholics E-Book Membership Program!