Matsushita Says NO to HD DVD-BD Compromise
Matsushita Says NO to HD DVD-BD Compromise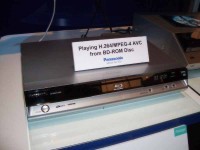 Matsushita (aka Panasonic in the US) is flat out removing any hope (as if there was any) of the Blu-ray and HD DVD formats coming together, saying: "The market will decide."
In comments to Reuters, Kazuhiro Tsuga, an executive at Japan's Matsushita, has stated next-generation Blu-ray and HD DVD formats will never merge. "We are not talking and will not talk," he said. "The market will decide the winner."
Matsushita, for those who don't understand the importance and scope of this statement, is the world's largest manufacturer of consumer electronics. They are also a staunch (read: exclusive) supporter of Blu-ray Disc technology. Since the start of this "war of the formats", speculation has arisen as to whether the two sides can get together and come up with a united HD format. The answer (as if it wasn't obvious) is a resounding "No." HD-DVD, the competing format, championed by such companies as Toshiba and Microsoft, has released its first player (Toshiba's HD-A1) for $499. The challenge is expected to come in the form of the Playstation 3 console from Sony which will purportedly contain a BD drive.
Tsuga speculated that, while Toshiba is the first to market with HD DVD systems, the company would not be able to sustain selling HD DVD players at prices as low as $499. He estimated Toshiba is taking a loss on each unit sold. In addition, these introductory players are producing 1080i (not 1080p) output and, while stunning, are not utilizing the full potential of the 1080p-encoded high definition software. Couple this with a delay of HDMI 1.3 due to apparent DRM issues (leading to analogue output only of the newest high resolution 7.1 surround formats) and you've got a weak start at best for the HD formats. HD DVD is arriving with a bit of a whimper, instead of the bang the format could have had in the consumer electronics world.
Enthusiasts are rejoicing while most consumers are scratching their heads and ignorant of what exactly the fuss is all about.
Matsushita's Panasonic-branded Blu-ray DVD players are likely to hit the U.S. market mid-year at prices in excess of $1,000. "It's now a test of physical strength," he said, indicating Matsushita was working hard to lower production costs and see a per-unit profit on Blu-ray player sales from the start.
Confused about what AV Gear to buy or how to set it up? Join our Exclusive Audioholics E-Book Membership Program!