Game of Thrones: The Complete First Season Blu-ray Review
Game of Thrones: The Complete First Season Blu-ray Review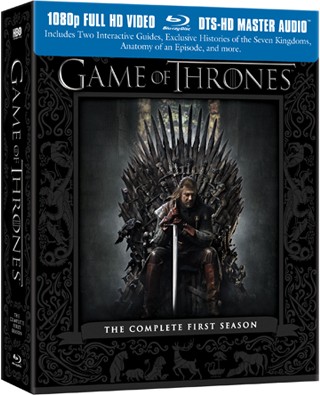 Game of Thrones: The Complete First Season Blu-ray
      Actors: Sean Bean, Mark Addy, Michelle Fairley, Nikolaj Coster-Waldau, Lena Headey
      Directors: Tim Van Patten, Brian Kirk, Daniel Minahan, Alan Taylor
      Region: Region 1
      Number of discs: 5
      Studio: HBO Studios
      Release Date: March 6, 2012
      Run Time: 561 minutes
When Robert Baratheon (Mark Addy) and his entourage arrive in the northern province of Winterfell, home to trusted ally and friend Eddard (Sean Bean), patriarch of House Stark, his royal visit sets off a chain of events that will forever change the shifting alliances of the Seven Kingdoms of Westeros. What follows is the basis of a bestselling fantasy book series called A Song of Ice and Fire by George R.R. Martin. It's a deep and sprawling world of feuding clans, swords and knights both noble and not so noble. Topped with a healthy helping of sex, loyalty and deceit.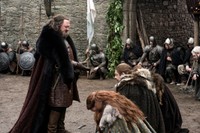 HBO has turned the first book of the series into a television drama masterpiece with as much care and attention to detail as the its finest work. As a fantasy, Game of Thrones carries immediate appeal to fans of Lord of the Rings, as George R.R. Martin weaves complex histories steeped in medieval traditions. But that's where comparisons to Lord of the Rings end, as HBO has put to screen an honest depiction of Martin's epic that's darker, more political, cynical and distinctly more sexually charged than Tolkien's work. Game of Thrones is fantasy that plays out more like the historic fiction of The Tudors. It contains accessible story elements of war, love, honor, and lust for power wrapped in a high-gloss production that looks and sounds so real you can almost smell the smoked meats being cured in a Winterfell villiage square. HBO producers David Benioff and D.B. Weiss have taken the source material very seriously in bringing an honest vision of Martin's books to life. Fans of the books will be happy to know that George R.R. Martin himself was on staff as a production adviser.
Video

Video codec: MPEG-4 AVC
Video resolution: 1080p
Aspect ratio: 1.78:1

HBO shot Game of Thrones as a big-budget epic in varied locations across Northern Ireland and Malta. The network's 1080P/AVC-encoded video is among the cleanest I've ever seen. The last HBO series I reviewed that rivaled this one for overall video quality was The Pacific, which I thought perhaps had the finest video of any disc I've seen; it's possible that Game of Thrones tops it.
"Why is it always the innocents who suffer most, when you high lords play your game of thrones?" ~ Lord Varys
The finest details hold true in this high resolution presentation, whatever the lighting or color requirements. You'll notice distinct color temperature variations between story lines. Scenes in the northern reaches of Winterfell are shot on hues of crystalline blue so cool you'll shiver with the men of the Night's Watch. By contrast, courtly intrigues played out at Casterly Rock and the gathering menace of the nomadic Dothraki tribes far to the south have stifling warmer hues that will make you sweat. The alternating camera work creates a memorably colorful on-screen effect. Both warm and cool scenes share the same shadowy black levels that easily retain minute details in 1080P to create depth and a sense of forbidding.
If there is one criticism I have with the video quality is that it's almost too good. Many of the snowy winter scenes are shot in a controlled soundstage. The digital presentation with its cooler color temp is so clean and detailed that it almost takes on a video-like quality. Less revealing video might make the puffy flakes of snow that dance about the actors look more real. But honestly, it's a small nit to pick. This was the first time I had a chance to view a Blu-ray disc for the first time since I got my hands on a new Oppo BDP-93 and the video quality is phenomenal. No noticeable grain or edge enhancements were present and the dark levels were clean, never muddy. It's easily the best video quality I've seen since The Pacific. These high-quality HBO Blu-ray releases are a testament to the superiority of a controlled audio/video format over digital downloads or streaming, with quality fully accountable to the studio that produced it.
Audio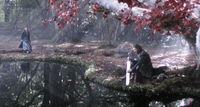 English: DTS-HD Master Audio 5.1
French: DTS 5.1
Spanish: DTS 5.1
Polish: DTS 2.0
Spanish: DTS 2.0

The audio quality was as impressive as its video with subtle environmental cues in the surround and crisp, articulate dialogue from the center channel. Chill winds from the north whisper discreetly across your sound field, reminding you of the promise of House Stark's motto – winter is coming. By contrast, Khal Drogo's horde on hoseback will storm your home theater room with the subtlety of a thunderclap. This soundtrack's greatest gift is its ability to seduce you with consistent dynamics.
Not filled with explosions and gaudy LFE effects, I was impressed with the maturity of this audio presentation; its ability to illicit gentle foreboding with wind in the background coming from your surrounds only to snap your attention to the front again as a castle's gate crashes shut.. I found the artfully arranged soundtrack had a rare ability to expand the acoustics of your viewing room to match the on-screen environment - the effect was a delight to behold.
Special Features
How do you justify buying a TV-series on disc that you've already seen? Two words; awesome extras! Fortunately, HBO has much to draw upon from George R.R. Martin's books, and has spilled so much extra goodness across the series' five Blu-ray discs you'll want the set just to see the Special Features (specifically The Complete Guide to Westeros) again and again.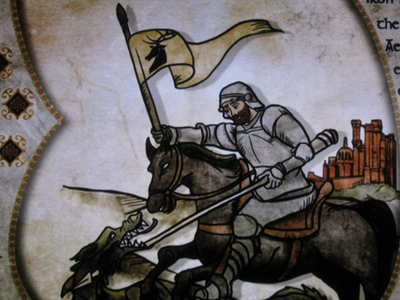 The Complete Guide to Westeros:  It's the sleeper-hit of this Blu-ray disc set – the Complete Guide to Westeros is simply amazing! The guide is an interactive compendium of background information on the world created by Martin that was featured in season one. Its 24 episodes chronicle the histories of the Seven Kingdoms, narrated by actors from the series.
Have you ever seen those animated comics that are popping up on mobile devices, tablets and computers these days, where voice actors play the role of characters in partially animated still images? That's exactly what these histories are like, complete with art work imagined from the episode being described. This feature alone makes the set a must-have for fans of the series or books.
Anatomy of an Episode: An in-episode experience that explores the pivotal episode six – A Golden Crown.
In-Episode Guide: A clever feature used throughout HBO disc releases since Band of Brothers - the tradition continues. The guide allows the viewer to use the remote to select insights and background information as the episodes play back. There is plenty of overlap if you've already seen many of the other special features, but it's a worthy addition for fans.
Hidden Dragon Eggs: Find hidden dragon eggs to uncover never-before-seen content. We haven't seen Easter eggs in a DVD or Blu-ray disc in awhile…  I'll post any as I find them in the Audioholics forum.
Making of Game of Thrones: Features 30 minutes of interviews with cast and crew with interesting insights into the special effects. You'll see how CGI transforms many of the environments and the exotic locations where this show was shot.
Creating the Show Open: An inside look at the creation of the Emmy-winning opening title sequence for Game of Thrones.
From the Book to the Screen: Executive producers David Benioff and D.B. Weiss along with author George R.R. Martin talk about the challenges of bringing Martin's epic fantasy novel to life on HBO.
Character Profiles: Profiles of 15 major characters as described by the actors portraying them.
The Night's Watch: A look at the unique order of men who patrol the North Wall, a 700-foot ice structure that separates the Seven Kingdoms from the darkness beyond.
Creating the Dothraki Language: It takes a certain level of meticulousness to create a whole new language for a TV show - but hey, Tolkien did it. This feature provides an insight into the complete language created for the horse-people of Game of Thrones.
Audio Commentaries: Seven audio commentaries with cast and crew including David Benioff, D.B. Weiss, George R.R. Martin, Emilia Clarke, Peter Dinklage, Kit Harington and more.
Overall

HBO continues its award-winning tradition of impeccable attention to detail, character and story in its Blu-ray releases, while still continuing to break new ground in audio and video fidelity. But what makes Game of Thrones truly great has nothing to do with the fantasy elements of the story itself - it's the human elements that make it truly accessible to any audience. Once you watch episode one, you'll be hooked.
I had never heard of Game of Thrones or Song of Ice and Fire before this series launched on HBO. After watching the first season (I'm now watching it for a second time, on Blu-ray), I was so hooked I ran out and bought the books. It's rare that a network would to take such a gamble to attract what many would dismiss as only a niche audience. But Game of Thrones contains universal story elements with mass appeal, so I believe the gamble paid off with one of the finest pieces of filmmaking in television history.
Confused about what AV Gear to buy or how to set it up? Join our Exclusive Audioholics E-Book Membership Program!
Recent Forum Posts:
BoredSysAdmin posts on March 23, 2012 17:12
templemaners posts on March 23, 2012 16:40
Just got the Blu-Ray set in the mail this afternoon. Can't wait to start watching it this weekend.
bradsmith posts on March 11, 2012 14:13
Same here in Canada. Prices aren't the greatest. Hoping to go pick this up sometime today, though.
manolain posts on March 10, 2012 15:58
You guys so lucky you have amazon.com

Here in Spain we have so much higher prices….I just cant simply afford this one
Wayde Robson posts on March 06, 2012 08:41
I can't rave enough about this disc-set.

The Guide to Westeros alone is worth the price of admission. I think we're seeing HBO making history with added features that add true value to the viewing experience and not just fluff.

If you're interested in any of the backstory this feature will clue you in to how richly detailed the world created by Martin really is.
Post Reply