Fatman iTube Dock - Tubing Your iPod
Fatman iTube Dock - Tubing Your iPod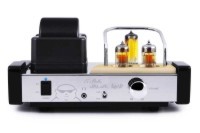 Pimp my Tube... Tube my Pod... er, nevermind. I guess I won't be showing up on MTV with this gizmo anytime soon. Not everyone believes a portable digital music player is capable of audiophile quality sound but that hasn't stopped people from trying. The remarkable sound quality that can be obtained from a 4th generation iPod is not exactly a secret to digital music fans. The reason is the 4th generation was manufactured while Apple was still using the Wolfson WM8975 DAC. Wolfson keeps respectable company in digital audio making DACs for Arcam's renowned product line . Apple's lossless codec and a docked iPod plugged into high end stereo system even surprised many golden ear audiophiles in a demo by Wilson Audio at CES 2004.
Some go to extreme and possibly unnecessary lengths to get better audio from the iPod. RedWineAudio makes a modification for your 4th gen iPod that they say squeezes every bit of acoustic goodness possible out of Wolfson's WM8975 by eliminating practically everything in the signal path. What you get back from RedWineAudio might arguably provide the purest audio an MP3 player can aspire to, but it will look like something crawled out of the Borg Collective.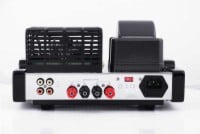 A British company called Fatman has released a more stylish approach to getting better sound out of Apple's MP3 player - the iTube iPod Dock . Old school audiophiles often rave about the warm sounds of tube amps. Now you can bridge the gap between digital and analogue audio technology, even if you don't like the higher distortion and power consumption of tubes it's certainly the best looking iPod accessory to come along in awhile.
Features
iTube Vacuum Tube Amplifier
iTube Docking Station
Brush / Glove for cleaning
Power cable
Audio cable to connect Docking Station and Amplifier
Banana Plug speaker cables
Aux source audio cable for connecting CD player etc
Video cable to connect from docking station to TV
Specifications
Power Output 13Wx2
Frequency Response 20Hz - 20KHz (±1.5Db)
Harmonic Distortion 0.5%
Signal-To-Noise Ratio 86Db
Input Impedance 100K
Output Impedance 4ohm, 8ohm
Valve Type 2x6N1(ECC85) 1x6E2(EM87)
Power Supply AC100~120V/50~60Hz AC220~240V/50~60Hz
Dimensions:
Amp (LxWxH) 260x145x130mm
Dock (WxDxH) 155x130x123mm
Weight 4.3KGs
The iTube is compatible with every iPod except the shuffle and lets you select music or video by remote control. The unit will fit comfortably on a desk and has a headphone jack for your favorite set of cans. Come to think of it - the iTube would look nice on my desk and would probably power up my favorite Grado headphones just nicely. No word yet on exactly how good the unit sounds. At about $550 Fatman's iTube isn't cheap so maybe I'll hold out for Jake's iPod dock - yet to be announced.
Special Thanks to Home Theater Focus
Confused about what AV Gear to buy or how to set it up? Join our Exclusive Audioholics E-Book Membership Program!