DVD Industry Insider Report - The Press vs. Reality
DVD Industry Insider Report - The Press vs. Reality
by
The DVD Insider
—
January 25, 2005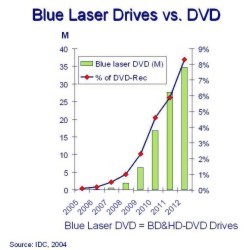 If you read the press it is obvious that CD is long dead, DVD is rapidly dying and the consumer can't wait for Blue-ray technology to arrive. Unfortunately, no one has convinced the people who buy the stuff that they want to change or that they are even as far along as writers lead us to believe.
While the HD and BD camps loudly exclaim the technology is here and their approach has won, industry analysts (usually very optimistic) estimate that Blue technology won't have much of an impact in the next four years. In fact, for the next eight years DVD burners and recorders will remain the product most people buy. According to IDC they estimate that Blue burners won't even be 10% of DVD burner sales by 2012.
So why is DVD still so popular and selling so well?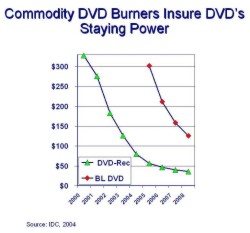 First of all, we realize Silicon Valley isn't the Midwest or even the Deep South. Most people haven't figured out that they have to have a DVD burner on their computer and a DVD recorder on top of their TV (yes, the analog set). The prices of both have fallen so rapidly ($50 for a burner, under $200 for a recorder - and analysts project they will go even lower ) that people buy them just because they can, not because they have a "must have" application or use.
As we've said before, DVD viewing (according to mainstream movie, video and TV viewers) is pretty darn good. Those who have seen HD say it is better - but so much better that they are willing to make the big investment? Not really. Most will buy HD ready sets and then wait and see. Common logic says we'll slowly slide into the next generation technology rather than jump.
Of course there are some interesting technologies on the horizon - like perpendicular and holographic recording - that may replace Blue technology even before it arrives. Between now and then DVD burners and recorders have reached the point of commodity pricing since all of the manufacturers have access to the DVD intellectual property and all of them have stepped up to 16X and DL writing.
As for the Plus or Dash issue... most people don't know and don't care. The key is the quality of the media you use and how you take care of the media.
Granted, there is a lot of momentum behind the Blue technologies - but most of it is coming from the manufacturers... not consumers. People are price sensitive (ok, cheap ). They aren't going to throw out "good enough" video for "better" video. We all realize that content is king, so both camps - HD and BD - are working hard to get the Hollywood studios in their corner.
But Hollywood still looks at the numbers. What they see is millions of inexpensive DVD players flying out of stores and tens of millions of movie DVDs being rented, sold and played on the 127 million players that have been sold since DVD was introduced. The studios may sign up with one team or the other, but they will continue to have replicators use their DVD printing presses to knock our their feature-enhanced DVDs that cost them very little and reap big profits around the globe - usually more than they make from the theater showings. In fact, according to DEG (Digital Entertainment Group), the industry racked up $21 billion in sales and rentals.
Does anyone believe Blue discs will hit those numbers in 2008?
Confused about what AV Gear to buy or how to set it up? Join our Exclusive Audioholics E-Book Membership Program!