Drug Bust Turns into DVD Bust
Drug Bust Turns into DVD Bust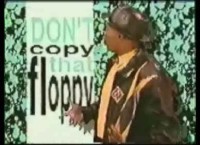 According to a
Oregon's KPTV
(a Fox Affiliate news agency), Deputies thought they were working a drug bust, but instead of a stash of drugs, they say they found a stash of stolen movies.
Randon Chaney could face federal charges after Multnomah County deputies say they found thousands and thousands of pirated DVDs in his Northeast Portland home. Randy claimed that due to increasing oil prices he was smelting down the discs for use as fuel in his vehicle (OK, I made that last part up).
Deputies were working a search warrant for suspected cocaine use - proving once and for all that pirating DVDs is not quite as bad as dealing cocaine... not quite . They say they stumbled upon a room set up as an illegal distribution center for copied movies, games and soundtracks. In other states this is also referred to as a "bedroom."
Investigators think Chaney got the movies by recording them in the theater with his camcorder, or renting, then copying the discs using a computer. We can only hope that there were two types of discs and that investigators were not simply unable to tell the difference...
The movies range from pornography to drama and were sold for about $2. What is interesting is that there is no mention as of yet as to the interception and disruption of the actual distribution channels used to get the discs into the hands of end users.
While it's easy to make light humor of the event, this is yet again a reminder of the reason the MPAA and RIAA have their leotards in a bunch over piracy and digital rights management (DRM) issues. Let's just hope that they apply actual resources to the distributers of these pirated products rather than the consumers (their current focus.) We all know it's far easier to bully consumers around, but the harder work will be much more productive in the long run.
Confused about what AV Gear to buy or how to set it up? Join our Exclusive Audioholics E-Book Membership Program!