Denon Announces New Recievers
Denon Announces New Recievers
Four New Mid-Tier and Entry-Level Models Are Added, with New Features and Capabilities Geared Toward the Custom Installation Marketplace
Denon Electronics is setting new price/ performance benchmarks in home theater surround sound as it expands its line of advanced A/V receivers with four new entry level and mid-tier models, including the AVR-2307CI (SRP: $799), AVR-1907 (SRP: $549), AVR-1707 (SRP: $449) and AVR-1507 (SRP: $329).
To emphasize the inclusion of special features and capabilities geared toward professional custom installers, Denon has added the initials "CI" (for Custom Integration) in the model numbers. Denon's four new A/V receivers include a host of advanced features such as a dedicated port for connecting Denon's new Apple iPod docking station (Model ASD-1R) and the ability to decode XM Radio's new XM-HD 5.1 channels using Neural Surround Technology. These four receivers will join Denon's current line of A/V receivers - 10 models in all.
AVR-2307CI: High-Value, High-Performance
The high-performance 7-channel Denon AVR-2307CI receiver includes many of the same features that grace Denon's higher-priced units. Among its advanced technologies are HDMI digital video source switching, plus a variety of new capabilities geared specifically toward the custom installation market. It offers two HDMI 1.1 inputs and one output; both inputs accept and decode multi-channel uncompressed PCM audio (24-bit/192-kHz 2 channel and 24-bit/96-Hz 7.1 compatible). In addition, the AVR-2307CI upconverts all incoming analog video signals (composite, component and S-Video) to HDMI output and provides a simple one-cable connection between receiver and display. Ensuring its "future-readiness," the AVR-2307CI also features 8-channel analog input capability for new high-definition sources including Blu-Ray Disc and HD-DVD, as well as coaxial and optical audio inputs.
NEW: Full Apple iPod Command and Control Option
Most notably, the AVR-2307CI (along with all four new Denon receivers) features a dedicated Apple iPod control port, first introduced in the AVR-2807 earlier this year. By connecting the optional Denon iPod docking station (SRP: $129), users can enjoy complete command and control of their iPods via their remote control and main on-screen display, and can stream music, photos and video from their iPods through their home entertainment system. The iPod docking station is available in a black or white finish.
NEW: CI "Secret Installer Modes" - CI only
Among the features that make the AVR-2307CI especially suited for custom installers (along with the AVR-5805MkII, AVR-4806CI, AVR-4306, AVR-3806 and AVR-2807) is Denon's unique CI Secret Installer Modes, which lets installers lock out certain functions and disable the use of the IR remote so that customers do not accidentally re-configure key audio/video settings and parameters. A front-panel system set-up control option adds to the AVR-2307CI's utility for custom installation professionals. And for added convenience, a special Input Source Renaming function allows installers to re-name components in an integrated system (for example, instead of calling a connected component simply "DVD player," installers may re-name it "Denon DVD-2930CI").
Like all new Denon receivers, the 100-watt/channel AVR-2307CI features XM Satellite Radio's "Connect-and-Play" technology, which lets users add XM Satellite Radio functionality with the addition of an optional "Connect-and-Play" XM Satellite Radio antenna (SRP: $49.99). The AVR-2307CI also decodes the recently introduced XM-HD 5.1 content via Neural Surround decoding for multi-channel enjoyment of XM Radio stations. The AVR-2307CI is slated to begin shipping to dealers in August 2006.
AVR-1907, AVR-1707, AVR-1507: Exceptional Performance, High-Value
The new Denon AVR-1907, AVR-1707, and AVR-1507 are advanced 7-channel receivers (85 watts/channel, 75 watts/channel, 75 watts/channel, respectively) that provide custom installers with more flexibility while giving consumers a simple and affordable way to bring the enjoyment of cinema-like surround sound audio into their lives. The AVR-1507, for instance, is truly the epitome of a surround sound audio "starter" solution. Like Denon's higher-priced units, it features 8-channel analog input for future-readiness, as well as a host of features such as Dolby and dts surround decoding and Analog Devices ADAU-1328 Audio DACs to ensure optimum audio performance.
Now Shipping: New Denon Flagship AVR-5805MkII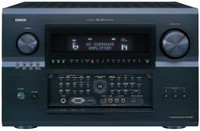 Denon recently began shipping its new flagship AVR-5805MkII, a single-component home entertainment distribution solution that builds on the unprecedented technological capabilities of the company's award-winning AVR-5805, offering a no-compromise four-zone home theater experience with the finest audio and video performance available. Like its predecessor, the AVR-5805MkII features 22-channels of output capability with 10 fully assignable 170-watt THX Ultra2 certified amplifiers, providing dual 5.1 system capability and much more. In addition, for maximum enjoyment and image quality from any and all digital video sources, the AVR-5805MkII has a total of 5 HDMI inputs that provide support for 1080p sources including current and future Blu-Ray and HD-DVD products. The AVR-5805MkII, also allows for upconversion from analogue and digital video sources to HDMI, with scaling up to 1080p, a groundbreaking feature for AV Receivers! This technology makes it ideal for use with today's HDTV display devices.
Adding functionality, the AVR-5805MkII includes an Ethernet port for networking capability that allows Internet radio access, web browser setup and a control function as well as connectivity to a 3rd party controller. Additionally, the Ethernet port lets users access and listen to music stored on a Windows PC and the on board web browser allows for installers to setup and configure the MkII from any PC on the end user's network, while also providing for multi-zone control of the unit.
The four new receivers join Denon's current lineup, which includes the flagship AVR-5805MkII (SRP: $7,000), the AVR-4806CI (SRP: $4,000), AVR-4306 (SRP: $1,999), AVR-3806 (SRP: $1,299), AVR-2807 (SRP: $1,099), and the AVR-2106 (SRP: $699).
Confused about what AV Gear to buy or how to set it up? Join our Exclusive Audioholics E-Book Membership Program!