AVRant #22: "Live" at Clearwater Beach, FL
AVRant #22: "Live" at Clearwater Beach, FL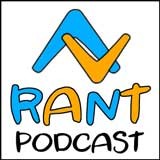 Call us at 1-978-OFF-RANT
So there we were, "live" at Clearwater Beach for the 2007 Audioholics State of the CE Union Party Event. It was nice, our hotel was thumping with the sounds of over 13 subwoofers all pounding at the same time while we put on a podcast starring J and Dina Clarke, Clint DeBoer and "Sith Lord" Darth (Gene) DellaSala. Where was Tom? Goofing off at his brother's wedding - as if THAT was important! Anyhow, we talk about the demo rooms (there were four in all and they were pretty impressive), new products, and a mysterious Audioholics announcement that if you weren't there you will have no idea about until you read it on Audioholics.com later this month... mwuhahahaha

Davemcc posts on October 12, 2007 12:41
Dekpm19, post: 318949
How about the RBH and Yamaha demo anybody hear that.
Allen
The video aspect of this demo was the standout experience for me. I found the audio to be not well integrated, i.e. way too much bass. As Gene explained in another thread, this had to do with switching DSP modes and not adjusting between switches.
I think the speakers RBH chose were far too much for the small room they were using. I have trouble with RBH's confusing model numbers, but they were truly monsters. Setup issues aside, I could tell that they were very good speakers. Mids and highs were clear and not strident in any way. Vocals were clear and articulate.
I would have to say the Z-11 performed admirably, although the demo did not seem to be set up to really display the Z-11's potential. The amp section was plenty powerful to drive the RBH's very loud without a hint of distortion, but the poor integration of the subs and mains would be the fault of the Z-11, either by not remembering where the bass was set for each sound mode as they were switched, or at the very least by whoever was controlling the Z-11 for the demo. Plus, the Z-11 was not handling the video as this was done by an outboard HQV processor.
I think this was a demo with far, far more potential that what was actually displayed in the presentation from any aspect that you might consider it.
GlocksRock posts on October 12, 2007 11:41
Yeah, I really want to hear how the Yamaha RX-Z11 11.2 demo went, and what speakers/subs where being used.
Dekpm19 posts on October 12, 2007 11:06
How about the RBH and Yamaha demo anybody hear that.
Allen
Davemcc posts on October 10, 2007 21:01
GlocksRock, post: 318281
I hate when a new product is announced and you can't even place a preorder for it… now I feel anticipation like I felt when I was waiting on my SVS sub to be delivered, and I don't even know when this thing will ship.
Hey, at least we can get on the list to (someday) preorder.
GlocksRock posts on October 10, 2007 17:19
Lonnie, post: 318316
The XPA-5 is slated for release within the first quarter of next year.

I hope this helps.
Yes and no lol.
Post Reply
Confused about what AV Gear to buy or how to set it up? Join our Exclusive Audioholics E-Book Membership Program!