Audioholics' Tom Andry Publishes First Novel - and Gives it Away!
Audioholics' Tom Andry Publishes First Novel - and Gives it Away!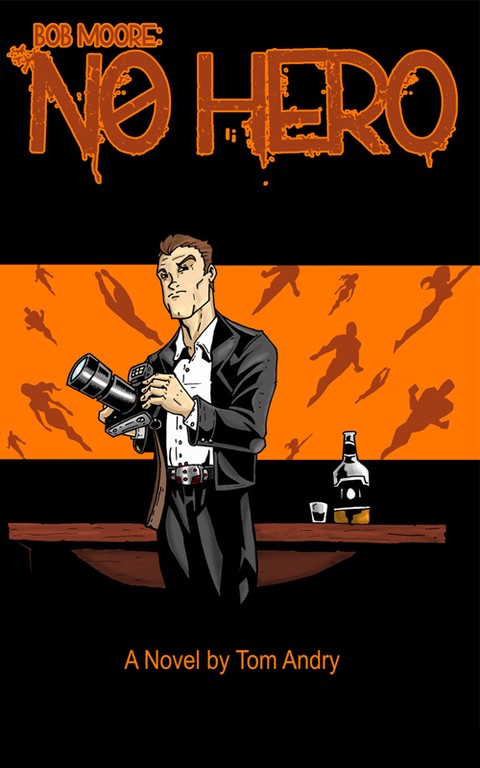 Bob Moore: No Hero, by Tom Andry
It is rare that we have something to announce other than product news or reviews. However, we are proud to announce that our very own Associate Editor, Tom Andry, has released his first book Bob Moore: No Hero. While we are sort of obligated to read it, we weren't obligated to like it. And we do. We love it.
Bob Moore, the titular protagonist, is a fairly stereotypical private eye who lives in a world of super powered humans. They started appearing about 30 years ago and now supers have become commonplace. They have their own country and government and Bob, once married to a super, specializes in investigating them. This doesn't make him very popular with the supers but he stays on top through a combination of a few defensive gadgets and his wits. From the back jacket:
Super powered humans started appearing 30 years ago. Now, they are everywhere. Bob Moore, Private Eye, dares to investigate those who could incinerate him with a thought. When he is called to help a super from his past, however, he'll be pushed to his limit. When supers and the police think there is no crime, can he get to the truth? Will he want to for the man that destroyed his marriage?
We sat down to ask Tom a few questions about Bob Moore: No Hero.
Why did you decide to write a book?

Well, honestly, I got an iPad. One of the biggest barriers to writing fiction for me has always been the publishing process. When I saw there were free eBooks available on the iPad and I did some research, I decided to jump on board. Now I didn't have to worry about publishing, just finding an audience.
Where can people find Bob Moore: No Hero?
You can find it on Amazon either in print or for the Kindle. You can also find the physical copy on CreateSpace or digital ones at iBooks, Barnes and Noble, Sony, Diesel, and Smashwords. The only place it is supposed to show up where it hasn't yet is Kobo. If I could find a place to carve it into stone tablets, I'd have it available there as well. Pretty much everywhere.
The point was always to give it away. I didn't plan on making any money on this book. Unfortunately, only major publishing houses can put books up for free on Amazon. So for the Kindle I had to charge the minimum of 99 cents. I also had a few requests for print versions specifically from family and a few friends that hate reading on a screen. In both of these cases, I'm charging the minimum I can. I want people to read it, I don't care if they pay for it.
What was your process? How did No Hero come about?
Well, as I said I decided to write something. At the time, I had a few ideas but No Hero started to fully form first. So that's what I went with. Then, painfully I'll have to admit, I stopped playing video games and watching movies at night and started writing. The rough draft of No Hero took me 25 days. It's short (35,000 words) so that's not as much of a feat as it sounds. From there, I worked with friends and fans (specifically Grammar Rob from the Audioholics forums and AV Rant) to edit it. The editing actually took longer than the writing as I had to wait for others to get their comments back to me. Unlike many other eBook writers, I'm not comfortable self-editing. Getting lots of feedback from lots of different people helped me really hone No Hero into a much better book than the first draft.
While the editing process was going on I worked with James Riot on the cover. I've been following his webcomic, The Path, for years and I just love his art. The fact that the book is set in a comic-like word solidified my decision. He really came through with a great cover and I'm really pleased with it.
What has been the response to Bob Moore: No Hero?
Well, my mom loves it :) . Seriously, it's been really, surprisingly positive. I've been getting great reviews both from friends and faceless people on the Internet. Of course, I'm a reviewer by trade so the first thing I did when I published the book was to find as many review sites as I could and submitted the book. Right now, I think there are five or six that are considering it. These people usually have a backlog of two or three months of books so it is a bit of a crapshoot as to whether they'll get around to Bob.
What's next for Bob?
A sequel, obviously. I pretty much started working on Bob 2 (as I call it) as soon as No Hero shipped. This one is going to be a much longer book (it is over 53,000 words now and I still have at least five chapters to write). It will deal somewhat with the aftermath of the events of No Hero but will be a self-contained story. I have no real plans for any sort of trilogy or anything. Since I found the editing process to be so painful (mostly the waiting), I've decided that as soon as Bob 2 is done and on someone else's desk, I'm going to work on one or two short Bob stories. These too will be free and I'll release them prior to the sequel. It'll give me something to do while waiting and hopefully will introduce more people to Bob.
You can download Bob Moore: No Hero at the below links. Tom is also tracking where the book shows up as well as sharing other book-related news at www.tomandry.com.
 Bob Moore: No Hero

Download from Barnes & Noble (Nook)
Confused about what AV Gear to buy or how to set it up? Join our Exclusive Audioholics E-Book Membership Program!