Audioholics Commemorates 7 Years of Online Success
Audioholics Commemorates 7 Years of Online Success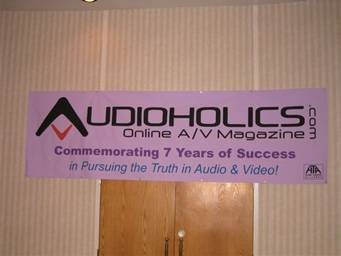 Founded by Gene DellaSala back in Fall of 1998, Audioholics has forged with one goal in mind " to Pursue the Truth in Audio ". Since then we have expanded our mantra to the realm of video and all aspects related to home theater. As a result, we have enjoyed continued success and growth in readership among home theater aficionados and newbie's alike. Our ongoing pursuit of research and education, and our thirst to better ourselves & our community has kept us humble and true to our course. By aligning our organization with credible and knowledgeable industry professionals, manufacturers and sponsors, while steering clear of the marketing hyperbole and snake oil type tactics, we ensure only the best content with highest degree of accuracy is represented on this website.
Our First Annual Party
After seven years of grueling work, we decided it was time to celebrate the fruits of our labor. With that in mind we hosted a night of celebration, live music, dance, fine dining, and prize giveaways to 65 of our closest staff members, family, friends and sponsors in the luxurious ballroom at the Marriot Hotel in Tampa, Florida.
Our staff attendees included:
Gene DellaSala, Bertha Molinares-DellaSala, Clint DeBoer, Ray Adkins, Tom Andry, Ken Stein, and Anthony Leotta
Prize Sponsor attendees included:
Daren Egan & Shane Rich of RBH Sound and Joe Cornwall of Impact Acoustics
Sponsored prizes included:
Axiom Audio M3ti Speakers, an AV123 Rocket Tyke 5.1 Speaker System, RBH Sound MC-4C MKII Speakers, a Yamaha HTR-760 5.1 Home Theater System, and five $10 Starbucks Gift Certificates courtesy of Impact Acoustics
Cocktail Hour
The cocktail hour kicked off the party registration where all of the guests signed in to receive their ticket # for the eventual prize giveaway. Some of the partygoers were attempting to swap out tickets but that didn't get too far once we announced that any foul play or ticket swapping would result in disqualification for all parties involved (and perhaps more importantly terminate all access to the Sangria pitchers that were being distributed to all of the tables!) :)
My lovely wife Tica introduced the staff of Audioholics to our guests and then handed the microphone off to yours truly where I did my best to deliver the following speech to our guests.
Audioholics Speech by Gene DellaSala
Introduction

I would like to thank everyone for being here today to celebrate our first annual party commemorating seven years of online success. It hasn't been an easy seven years. In fact, up until about three years ago, Audioholics was being run as a non profit organization with all of the expenses coming out of pocket. I am thankful in having such supportive family and friends, most especially my wife Tica for being so understanding in sacrificing our time in pursuit of my dreams and helping me in achieving them.

 

A lot has changed since then, much of which I owe to my Right Hand Man, Clint DeBoer, for his excellent web design skills and Internet savviness. Clint amazed me on how quickly he assimilated the Audioholics mantra of "Pursuing the truth in audio and video" which has earned him much respect in the industry.

History

In my pre-Audioholics days, I began a fellowship along with my brother Steve and Ray to find the best home theater products on the market. What I instead found was a bunch of marketing BS and half baked truths. Our pursuit of quality products and truthful information were the sole reasons for me starting Audioholics. To quote our dear friend Roger Hassin (owner of RBH Sound) from an interview I recently conducted with him:

 

"we are living in an era where truth has become a marketable commodity."

 

Sadly his statements are true. Fortunately for us, however, that simple fact has allotted us prevalent success in this market. As a result, we have garnered a readership base of nearly 900,000 per month (over twice that of Sound & Vision Magazine) making us the most widely read home theater publication in this history of this industry!

 

Thanks to Staff (not all could be here today)

 

Ray Adkins

I'd like to thank Ray Adkins for flying in all the way from California to be here. Ray has been an invaluable contributor to our site in terms of forum support, tech tips and now reviews. His 20+ years of being a professional Custom Installer brings a unique and practical perspective to us.

 

Tom Andry

Tom Andry is one of our newest staff members who is heading up software reviews and also starting to participate in hardware reviews as well.

 

Ken Stein

Ken Stein is a DIY loudspeaker guru who really likes his speakers, and in fact all things speakers.

 

Anthony Leotta

My cousin Anthony Leotta helps in posting our frequently lengthy articles and reviews.

 

Former Staff

I'd like to thank past contributors here with us today that helped me along my journey including:

 

Hugo Rivera

Hugo Rivera, who in addition to being the ultimate training partner, served as a temporary web designer and consultant back in our "cube farm" at Paradyne.

Hugo is a professional Bodybuilder and best selling author : http://physique-engineering.com/

Steve DellaSala

My brother Steve helped me make industry connections, stirring up controversy with many snake oil type companies, and motivating me to always "one-up" him with regards to product upgrades.

 

Anthony Federici

Our late friend Anthony Federici, who is with us in spirit today, helped us significantly through his guidance and generous consultation.

 

Tica

I would like to thank my wife Tica for doing such a great job with client management and accounting as well as being understanding enough to transform our new home into a mega Cineplex and testing bed for all new home theater products.

 

I don't know too many women that can tolerate 7ft tall 400lb speakers, nor do I know too many companies that can make such monstrosities worthy of occupying that space.

 

RBH Sound

It's an honor to have some of the principles of the Utah-based speaker company we cherish so much, here with us today. Please welcome RBH Sound's Principle Engineer & VP Shane Rich and Marketing Director Daren Egan.

 

RBH is a very special company to us. Over the years we tried hard to find competitor products that outperform them but Shane keeps managing to one-up the competition. I can only conclude that the Audioholics spirit is alive and well with him and the company.

 

Impact Acoustics

We are also proud to welcome Joe Cornwall of Impact Acoustics who is one of our primary suppliers of snake oil-free cable products which adorn our reference systems and a fairly large portion of our readers systems as well.

 

Wrap Up

We have much in store for the future of Audioholics. We have only scratched the surface of our potential and we look forward to fostering relations with legitimate manufacturers and industry professionals. Our goal is simple: To grow our staff and community of readers, while exploring the potential of what it means to be an Audioholic !

Following my speech was Clint DeBoer's well-delivered impromptu speech which was much more to the point and pertained to the excellent working relationship we share - also focusing on our common goals which allow us continued success in this profession.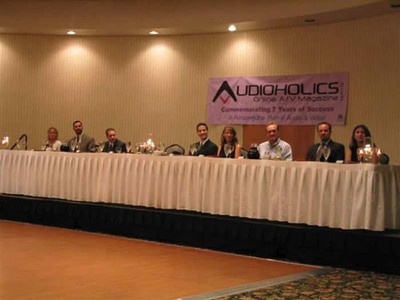 The head table featuring the Audioholics Staff Dining on Mahi Mahi, Chicken Marsala and Vegetable Lasagna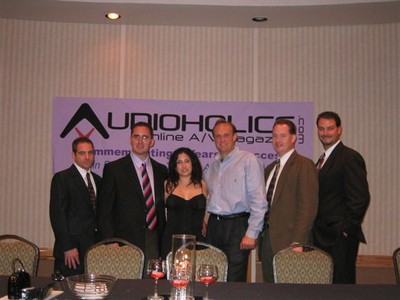 Pictured from Left to Right: Ken Stein, Gene DellaSala, Tica Molinare-DellaSala, Ray Adkins, Shane Rich & Daren Egan of RBH Sound
Live Musical Performance
Next up was a surprise to our guests: Live performances from opera singer Sara Buckley, as well as accompaniment and vocals from Bill Renfroe and Deborah Renfroe. They performed the following song list:
National Anthem (Sarah)
Patriotic Medley with:

This Land is Your Land (Sarah)

You're a Grand Old Flag (Sarah)

God Bless America (Bill and Deborah joined in on last verse)

*Climb Every Mountain from "Sound of Music" (Sarah)
People Will Say We're in Love from "Oklahoma" duet (Bill and Sara)
All I Ask of You from "Phantom" duet (Deborah and Bill)
Think of Me Fondly from "Phantom" (Sarah)
I Could Have Danced All Night from "My Fair Lady" (Sarah)
* On behalf of Audioholics in the loving memory of our dear friend Tony Federici we dedicated the song " Climb Every Mountain " to him. Though Tony is gone, he will never be forgotten as the memory of him is immortalized in our thoughts and in his contributions to our website.
Some of Anthony's most recent articles include:
Reviewing Home Theater Reviews
High Fidelity, the Miraculous Invention
About the Performers
Sara Buckley
Sara Buckley is a full time voice instructor and is launching her professional career in opera as a Contralto. She has performed in young artist training programs in New York, Atlanta, and Orlando. She continues to study voice in New York and is preparing for the 2005 opera audition season.

William Renfroe
The Largo High School Choral director has been teaching in Pinellas County for 30 years, is an adjudicator for Florida Choral Performance assessments, directs choirs at St. Cecelia's Catholic Church, is an international soloist, and is also a founding member of The Master Chorale of Tampa Bay. He lives in Palm Harbor with his wife of 24 years, and 3 of his six children. The older 3 children have made him a grandfather of 8.

Deborah Renfroe
Deborah Renfroe is an organist, pianist, and a Soprano. She serves as assistant organist at St.Cecelia's Catholic Church, substitutes around tri-county area churches, accompanies school choirs and vocal and instrumental soloists, is a 23 year member of The Master Chorale of Tampa Bay, and is also a Mary Kay Cosmetics Consultant. She lives in Palm Harbor with her husband of 24 years & their 3 children and is also a grandmother to her step-childrens' 8 children.
Following the awe-inspiring performances of these incredible musicians, our DJ took over to turn things up a notch and get people to burn off some of those calories from the frosted carrot cake that preceded dinner. He selected a mix between American and Latin music, but our guests seemed to favor the latter so the bulk of the music leaned in that direction for the bulk of the evening.
Party Prizes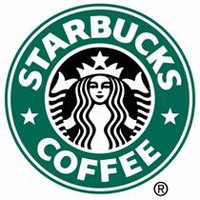 First Prize
$50 Gift Certificate for Starbucks
Courtesy of Impact Acoustics
Second Prize
Axiom Audio M3ti Bookshelf Loudspeaker System
MSRP: $300/pr
2 way 6 ½" aluminum woofer, 1" aluminum tweeter speaker system
Third Prize
Rocket Tyke 5.1 Loudspeaker/Subwoofer System
MSRP: $400
5.1 Compact Speaker Package with 2 way satellites, 3 driver center channel, and 8" Powered Subwoofer
Fourth Prize
RBH Sound MC-4C MKII Bookshelf Loudspeaker System
MSRP: $419/pr
2 way 4" aluminum woofer and 1" aluminum tweeter speaker system
Grand Prize
Yamaha YHT-760
MSRP: $650
5.1 Dolby Digital Home Theater System with DVD, 720watts of power, and on board XM Radio.
Closing Comments
The party was a success. We blew off steam, enjoyed the fruits of our labor with our closest friends & family, and got quite a good workout from all of the dancing. We would like to thank our sponsors (Axiom Audio , Impact Acoustics , RBH Sound , and Yamaha ) for donating prizes for our giveaway. Next year we may lobby our sponsors to fund a public party event for all to attend, perhaps in Indianapolis for CEDIA or even in Las Vegas for CES. Let us know what you think of this idea.
Confused about what AV Gear to buy or how to set it up? Join our Exclusive Audioholics E-Book Membership Program!