Apple Switches to Intel Processors
Apple Switches to Intel Processors
by
The DVD Insider
—
June 13, 2005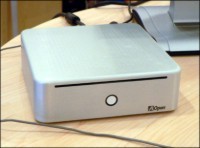 We aren't about to add to the noise level Jobs received when he announced Macintosh was shifting to the Intel platform. The press reacted as though Otellini
(hint: that's Intel's boss)
had won the equivalent of the Nobel Peace Prize or the combined worth of HP, Dell and Lenovo.
We know people will fall on the sword for Steve but for gawd sake Apple has less than two percent of the total PC market! People refer to Apple as the only Intel hold out while Waite's Gateway has a greater marketshare and people simply go hohum regarding the firm's success.
Will people really know there's eventually going to be an Intel chip lurking inside the Mac? Probably not. Only the editors/reporters/reviewers who are in lust with the platform know what is really inside.
Apple will probably pass up the Intel marketing money and not put one of those fantastic "Intel Inside" labels on the system and you can be certain that even though he shares the HW platform he won't invite Gates to put Windows on HIS systems!
The key to Apple's limited and mystical success has nothing to do with the processor but the OS and applications. Everything else is sex and sizzle.
To paraphrase Spielberg when he heard people had been standing in line for a week for the latest Star Wars opening…"Get a life, folks…it's only a computer!"
The biggest surprise to us was the fact that the announced the switch wouldn't really take place until late next year which really gives us time to purchase a new G5 right away while they are still available.
Only Steve would have the cajones to fly in the face of business logic and announce a major platform switch so far in advance. We know he knew Adam Osborne and the facts behind the demise of Osborne Computer and the initial purveyor of the "portable" computer (roughly the size and weight of a portable sewing machine). Adam announced the Osborne 2 months before the rollout, production problems stalled shipments and the company went from 100 to ZERO in 2.4 sec. It was so fast and so bad the company is now an MBA case study in many colleges.
The question is, how long will folks stand in line waiting for the next generation Intel-powered Mac? This will be the art of spin at its best. Could it be worth another MBA case study???
Confused about what AV Gear to buy or how to set it up? Join our Exclusive Audioholics E-Book Membership Program!