Madisound Solist Construction and Auditioning
Madisound Solist Construction and Auditioning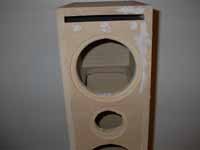 The cabinets were probably the hardest cabinets I have ever constructed, not because they were complex but because I didn't design them myself. The drawing supplied from Madisound was almost completely sufficient. The only thing left out of the drawing was the measurement for the location of the braces but a quick call to Madisound and a new complete drawing was emailed. Working with the folks at Madisound was very easy and productive. Building cabinets straight from a drawing is not the easiest task. There is no cut sheet so all of the panel cuts have to be figured out considering the thicknesses of all the pieces. When designing cabinets myself the panel cuts seem to fall in place naturally as I design them. The cabinets were made of 3/4 inch MDF with a 1 inch MDF front baffle. It used two shelf type braces to give it a very solid feel. All drivers were recessed to be flush with the front baffle to minimize diffraction. Although the edge ports threw in a bit of a twist to the build, their design helped with extra bracing to the cabinet.

Speaking of the edge ports, I have read that they should be avoided but in this case I agree completely with the design. I didn't ask, but if the designers at Madisound used LEAP for the cabinet design I am confident that the design software compensates the calculation for edge ports. The reason I agree with edge ports in this design is that because in an MTM design, it is much more important to keep the mid/woofers as close to the tweeter as possible to have a proper acoustic center and minimize lobing effects.
After spending a few weeks building all three cabinets it was time to install the drivers and crossovers. I didn't complete my choice on the finish yet so I assembled them in the raw cabinet. Madisound is correct in saying that the Solists can be assembled in an evening with completed cabinets.
Auditioning the Speakers
It was finally time to crank them up and I don't mean loud. It is wise to go easy on new speakers until they have been moderately broken in so I let them play a while at a low volume. After they had been played for a few hours I turned to my old faithful listening tracks.
CD: Yes - Ladder


More recently I have been starting with Yes - Ladder. With the Home World track I immediately noticed a strong authoritative bass which surprised me since the Solists are tuned down to just 40 Hz. This is a perfect example of showing that how low a speaker plays is not as important as how well it plays the low frequencies. So far I was thoroughly impressed with the Solist for it's bass. As I listened further I began to notice how forward the music was. The guitar was forward, the drums were forward and the sound stage was lifted but when Jon Anderson started singing his vocals seemed a bit more between the speakers. I then listened to Lightening Strikes and again it had authoritative bass and I could hear very good detail in the high frequencies. The mid frequency guitar parts sounded some what muffled but the Solists showed good pace and rhythm.
CD: Patrick O'Hearn Trust


Next up was Patrick O'Hearn's Trust CD. The title track has very low and consistent bass but I did not expect the Solists to play as low as the music but it did perform very well down to it's rated 40 Hz cutoff. The piano sound sounded a bit dull but other than that the transparency sounded good. I really like to listen to Flim and the BB's Funhouse track from Big Notes for detail and those Scan Speak 9500 tweeters did a great job. I can imagine how well the upgraded version with the 9700 tweeters would sound. While the mid frequencies remained back they never sounded edgy, but instead they were very smooth.
It was now time for the sound stage and imaging test. Anyone who has read our Von Schweikert VR2 review knows exactly how this song works. The sax was just where it was supposed to be, to right of the center and it didn't sound edgy but it also wasn't forward. The drum solo sounded excellent and I must admit, even better than my Cirrus RK's. The trumpet was very smooth without any edge although I personally like a little edge from a trumpet because when it is heard live and the player is blasting out a note it does have an edge to it. Same thing goes for a saxophone but I don't think many listeners like that edgy sound.
CD: Enya Shepherd Moons

Finally, I listened to Enya's Marble Halls from the Shepherd Moons CD. This track portrayed good tonal balance and excellent sibilance. The detail was also good but the speakers didn't have that open air sound that I expect from this song.
At this point I started to wonder about my opinion of what I was hearing from the mid frequencies so I had Gene listen to a couple of songs and they concurred with my opinion. Actually I didn't say anything to them up front so they agreed that the mids sounded too laid back without my influence. I started investigating why the mids sounded laid back instead of forward to us and since I had heard these drivers in the past I could only be led to one conclusion, the crossover. I called Madisound and got in touch with the designer of the Solist who in my opinion, has a tremendous knowledge of speaker design. After a long conversation it turns out that it was the crossovers and that he purposely brought the mids down when it was designed. Apparently after listening to the Solist with a flat designed crossover the people at Madisound thought it sounded much too bright and finalized the design by bringing down the mids. Keep in mind that there is a lot of mid frequency absorption in my room so a less treated room might sound too bright.
Confused about what AV Gear to buy or how to set it up? Join our Exclusive Audioholics E-Book Membership Program!