Mounting the TV and Running the Wiring
Mounting the TV and Running the Wiring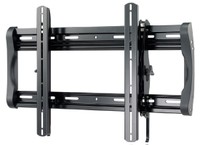 When choosing your flat panel wall mount it's important to consider both your needs and the style of television you'll be installing. While super thin mounts are in, they are often impossible to actually utilize. Most TVs still have connections that require some clearance behind the television, and we've seen several of this thin mounts absolutely FAIL when you attempt to get your TV close to the wall and still plug in the 120VAC power plug – not to mention begin to connect HDMI video cables. Thin can be sexy, but it's a bear to actually make it work. Here is an example of a recent television we reviewed which features side-oriented inputs that don't truly allow you to insert a cable into them without having it stick out the side of the display: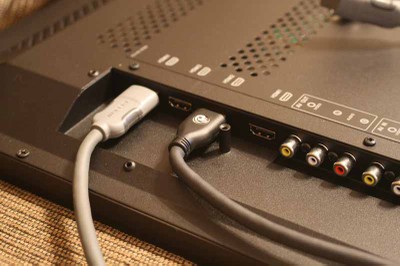 Good luck trying to hide cables with this television
For above the fireplace I recommend, in fact I'd go so far as to say I insist on, a mount that offers at least 10 degrees of downward tilt. You're going to need that given that the display is mounted in a location that is higher than your typical stand or built-in location. We spoke a little about distance earlier, and you'll want to make sure you don't install a flat panel above a fireplace unless you are at least 12 feet away. Even then, you want the TV to be angled down while viewing. Now, while you can spend hundreds of dollars on automatic powered mounts... the best values are those that offer basic tilt and give you some room to maneuver behind the television. There's nothing better than a mount that feels rugged and offers you the ability to make connections to your television while it's still mounted to the wall. For this reason, we selected the Sanus LT25 Tilting Wall Mount for 30" – 60" flat panel TVs ($199).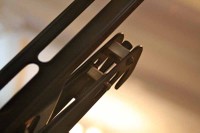 This wall mount is possibly the best basic tilting wall mounting systems I've used for larger flat panel televisions. For most people I don't recommend tilting mounts, but for an installation up high, it's a necessity and the Sanus offers some bang-up features that make this a very user-friendly mount:
Effortless tool-free tilting – you can tilt the TV by hand, and it retains enough tension to stay where you put it – even with a larger 55" TV.

A custom (ProSet™) height and leveling adjustment system which means you can mount it to the wall, install the TV, and then tweak it to ensure everything is perfectly level – after it's installed. Perfection is no longer required for a level installation.
A feature which holds the TV away from wall while you make your video and audio connections (ClickStand™).

Open wall plate design that provides plenty of room for cable routing and wall plates
Easy left and right shifting that can be done regardless of how the mount's base needed to be positioned to line up to existing studs.

We're not pushing Sanus (OK, yes we are) but they've been around a while and really seem to know how to make a good mount. You can find these mounts online or at just about any electronics retailer. In either case, make sure the mount is easy to use and that it doesn't require absolute perfection in order to get your TV installed, leveled, and connected. With a straight wall-mount scenario I'd say get a cheap sub-$100 wall mount, but with an over-fireplace installation, expect to pay a little more to get a product that's more capable and flexible. Believe us, this is not the place you want to skimp.
Running Your Wires
When running your wires you need to pay attention to several factors to avoid making time-consuming errors. First of all, don't be too fooled by all that space in the center of your wall mount. You have to use that area sparingly and keep in mind the location of your television connections and how the mount itself might interfere with cabling. For some installs of this nature, you'll want to actually place your 120VAC and low voltage (HDMI, component vide, etc) connections above the mount in order to provide the most room to maneuver. Remember, your TV will typically angle downward, so if your connections are at the top they will stand the best chance of clearing all obstacles. In addition, your TV will typically be much larger than the mount, giving you additional wiggle room on installing wall plates and hiding your connections.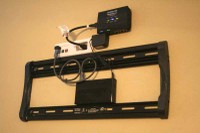 The two primary devices visible on the wall behind our flat panel mount are the Monster PowerNet system and a PowerBridge Total Solution kit. We talked a little of the PowerNet above, and an added bonus is that it offers surge protection in addition to offering a great way to bring a wired network cable to your wall-mounted flat panel television. The PowerBridge is an excellent solution since it combines two of the necessities of an install such as this: power cabling and A/V connections. In this particular install, we ran HDMI and component video cables to the low voltage side of the PowerBridge, and connected the 120VAC inlet to our equipment closet, so that we could power the display off of our APC S15 UPS. You could also use one half of the PowerBridge product to simply take a feed off an existing outlet and run it to a plate behind the television mount. The advantage of using the whole system is that it doesn't require an electrician and allows you to safely run the power cable without having any electricity present until you are completed and jump the power to it from an existing receptacle. Here's how the system basically works in diagram form: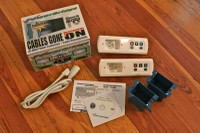 As you can see, you can wire up the two components of the PowerBridge Total Solution system without any electricity present. Once everything is completed, you then add power to the system and test it using a standard voltmeter or circuit tester before plugging in your television. We find this system to be extremely popular and practical for homeowners and custom installers alike. The kit comes complete with both power/AV receptacles, two back boxes, and even a short extension cord for delivering power to the completed system. You just supply the 12/2 cable at whatever length you need to span the two connection points. The company is even rolling out a new patented connection system that removes the hassle of using a screwdriver and bending the 12 gage wiring to fit underneath a terminating screw. We were fortunate enough to test it out and verify that it indeed takes most of the work out of making an electrical connection. We also like that the low voltage half of the PowerBridge Total Solution system is Decora-compatible, so you can customize the low voltage models to your heart's content.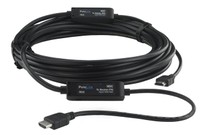 Speaking of low voltage – that's where you're going to get all of your audio and video signals, so it's good to plan those out well. We chose to go with the PureLink HDC Fiber Optic HDMI Cable System. This is an excellent solution for runs like this and it's self-powered, though you can also supply 5VDC if needed at the source side of the cable. Our sample installed very easily and ensured that our HDMI cable wouldn't drop the ball when we sent it 1080p from our remotely-located AV equipment rack. This cable has male HDMI ends on both sides and we were able to simply plug it directly into the PowerBridge Total Solution wall plate alongside the component video cable. This gave us a nicely terminated point from which our wall-mounted television could pull its analogue and digital video connections.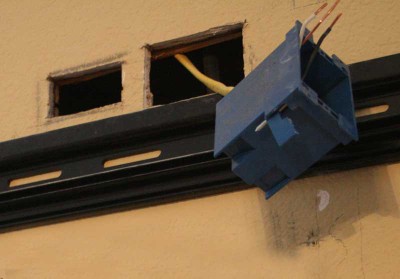 For our wireless HDMI system, we initially took a look at the Gefen Wireless UWB HDMI system, but found it to be a tad cumbersome. In addition to that, this particular model could not be wall-mounted (the company does have a GefenTV Wireless for HDMI Extender 5GHz model that is wall-mountable). We opted for the Philips Wireless HDTV Link which allows up to 1080p/30 or 1080i/60 to be transmitted to a display. This was perfect for our needs, and the more streamlined system would fit nicely behind the display. If you decide to go with a wireless HDMI system, shop around and don't expect it to be cheap.
It didn't take long before everything was ready and we had all of our connections in place. While there was some significant attic work, it didn't take more than a spade bit, cordless drill and some fire caulk to get everything situated nicely and run down the wall into position. Since our fireplace went through the lower half of our wall, our top half was pure joy to work in. We had ample space to position our electrical box and get everything dressed up and ready to go.
Confused about what AV Gear to buy or how to set it up? Join our Exclusive Audioholics E-Book Membership Program!
Gabby posts on September 30, 2015 12:46
ARES24, post: 1067450, member: 59358
From my experience electric fireplaces are hazardous and woefully inefficient. 2 of the 6 that I have removed had large portions wire sheathing melted right off of them.
Wood burning fireplaces IMO are the best from a cost and ambiance perspective (provided you cut your own firewood ), but have to be refueled and do occasionally smoke.
Gas fireplaces are the easiest, mostly efficient and cleanest. Be sure to get a unit with a blower as mentioned earlier in this thread.
ARES24 posts on January 15, 2015 21:04
From my experience electric fireplaces are hazardous and woefully inefficient. 2 of the 6 that I have removed had large portions wire sheathing melted right off of them.
Wood burning fireplaces IMO are the best from a cost and ambiance perspective (provided you cut your own firewood ), but have to be refueled and do occasionally smoke.
Gas fireplaces are the easiest, mostly efficient and cleanest. Be sure to get a unit with a blower as mentioned earlier in this thread.
Gabby posts on January 15, 2015 16:31
I see this thread is a bit old…just trying to figure things out before buying and spending $$$. We are looking at a new fireplace insert (elec. or gas) to update our old wood burning fireplace. Then while we are updating get a flat screen and hang over the mantle ( as low as is possible) due to not having any other wall space the TV would look good on. My hubby is concerned about the heat factor and equipment overheating. I thought elec. may be the way to go. It has got to be better than wood burning…more a controlled heat.
lavath posts on December 16, 2012 00:37
wow… the first thing I think is too much white-ish paint. even over the bricks. sorry but I need 5 posts to show my home theater build page I made
onewattephend posts on November 25, 2012 01:18
Outfit Such As A Design Without Having The Tension
Fashion is a marvellous spot exactly where you get to take time from the day time while focusing on oneself. It could be a really interesting and fulfilling time, but some don't know where to begin. Keep reading for many helpful tips concerning starting fashion in your lifetime right now.
the north face outlet
When you are a mom, design is one of the final thing on your mind, But know that it must be possible to look good and practical concurrently. Whether or not getting the youngsters on the recreation area, sporting events or any other function, beautify your personal style with a great T-Shirt, knee-span skirt and a pair of smooth sandals!
When selecting sun glasses or cups, allow your skin form become the perfect manual. If you have an oblong design, any form will appear good. But if you have a circular deal with, choose rectangle frames or sq structures. Avoid circular picture frames. You could select circular support frames in case you have an angular or center-molded experience, to soften your look.
A good style tip that relates to many people are not to get lazy and wear your sporting shoes or boots when you're not in fact carrying out any sporting activities. Fitness shoes are naturally great for the gym nevertheless, you must hang up them up after and placed on a couple of more casual boots.
For the slimming outcome, generate color disables. For instance, put on a skirt, garden hose and shoes that happen to be all the same shade. This will likely make the graphic perception of the prohibit of shade, which can make you gaze leaner than you really are. This can even be ways to create a striking declaration.
You don't ought to invest a ton of money to get modern. There are lots of department shops that bring equivalent variations to famous designer trends. Other shops offer you higher-fashion manufacturers at the best prices because they buy above manage types. An alternative choice is getting a sewing equipment and recreating your preferred designs.
Wines colors, like serious purples and darkish reds, are already popular all season and therefore are envisioned to be fashion for your slip and winter months also. Burgundy layers, mahogany dresses and plum skirts are typical some very nice choices. Make absolutely certain to acquire red wine-shaded accessories also.
An effective idea if you're seeking to boost your style is to relax about the logo design patterns if you're keen on specific manufacturers. It looks foolish when you're usually using a shirt using a huge extra fat logo about the front. Subtlety is key right here so you may want to strengthen it downward at times.
Always outfit effectively for the season. You cannot anticipate to dress in the identical stuff all year long due to the conditions modifications. Through the summer and spring seasons, wear soft textile apparel that may be decrease minimize with dazzling hues. Through the drop and winter time, use organic hues and materials, bed linen, 100 % cotton, and leather.
Thrift stores can be a jewel trove. You can find exciting, quirky antique parts that may change heads. Not only will you stay ahead of the group, you will save some amount of money also. You could be normally the one to rejuvenate a craze and bring a clothing collection directly into fashion!
Whenever you acquire sun glasses, try to find support frames that will synchronize with your summer time apparel. You ought to actually need only 1 or 2 sets to get you with the entire period. You can use other accessories to highlight oneself, or possibly a specific location. Several sets of hues are needless, and dear.
In choosing clothes, think of what season you will be. If you look great in reds and grapefruits, you are a "summer" and in all probability will appear very good in virtually any hot colour (like discolored). If you look good in blues, you will be probable a "winter months" and look good in whites and greys at the same time.
north face backpacks
A bulging tummy can make your design practical experience a awful problem. When you fall under this group, you must make sure you do one thing to fix your trouble, as using the correct clothes will never repair the problem in the end. Try out a mixture of balanced and healthy diet as well as a great workout routine.
There are several approaches to consider trend, with no one way is wrong or right. It's all about locating yourself and what you're more comfortable with undertaking. Each and every different appearance can be thrilling and trendy, and you just have to discover what's right for you. Remember the following tips as you work on identifying your individual preference in fashion.
the north face outlet
Post Reply