Conclusion and Resources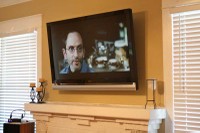 This final step was the most satisfying. The ease with which the Sanus LT25 made television mounting was made evident by the fact that I was able to lift a 55" Vizio VF551XVT LED TV into place with my wife and a couple of small step ladders. The mount has clips and the trick is simply sliding the tilt-able brackets (which are fastened to the TV) down the wall until they catch. When the TV sat on the wall, we found that we could easily tilt it upwards, make our connections, and then tilt it downward so that it was correctly oriented to our seated position. When we got done with the heavy lifting we noticed that the TV was slightly crooked. Grabbing the included hex wrench, I quickly dialed in the height adjustment on the right bracket and the TV was perfectly level in no time. Had that adjustment not been there I would have had to remove the TV, remove the mount and start all over again. This is one handy feature!
Conclusion
It is no small thing to undertake a project like this and it's best done with at least one dedicated helper throughout the entire process. The end result is a pleasing television that allows our main speakers to be positioned to either side of the TV, creating a much more effective sound stage and a greater flexibility in how we entertain guests in our living room. Mounting a television over the fireplace isn't for everyone – but it sure drums up interest in those I converse with on a regular basis. With aesthetics playing a major role in marketing these days, it's not surprising to see so many people aching to do something cool with that new flat panel they purchased with their tax refund. If you fit this description, then maybe it's time to take the plunge and put that TV up top where it belongs!
Resources

PureLink HDC Fiber Optic HDMI Cable System
Richard Kim, [email protected]
201-488-3232, 212-897-8888
Price: Varies
http://www.dtrovision.com/hdc_fiber.htm
Sanus Systems LT25 Tilting Wall Mount
Fits 30" – 60" flat panel TVs
Price: $199
http://store.audioholics.com/product/1971/47/sanus-lt25-tilting-wall-mount-with-proset---black
PowerBridge Total Solution Kit
Price: $80-$150
http://www.powerbridgesolution.com/powerbridgeproducts.html
Philips SWW1800/27 Wireless HDTV Link
Price: $799
http://www.p4c.philips.com/cgi-bin/dcbint/cpindex.pl?ctn=SWW1800/27&scy=us&slg=en
Gefen Wireless HDMI Extender (UWB)
Price: $999
http://www.gefen.com/kvm/dproduct.jsp?prod_id=4318
Pioneer Electronics VSX-23TXH A/V Receiver
THX Certified A/V Receiver
Price: $1000
http://www.audioholics.com/reviews/receivers/pioneer-electronics-vsx-23txh
Confused about what AV Gear to buy or how to set it up? Join our Exclusive Audioholics E-Book Membership Program!