Installing a Television Over a Fireplace
Installing a Television Over a Fireplace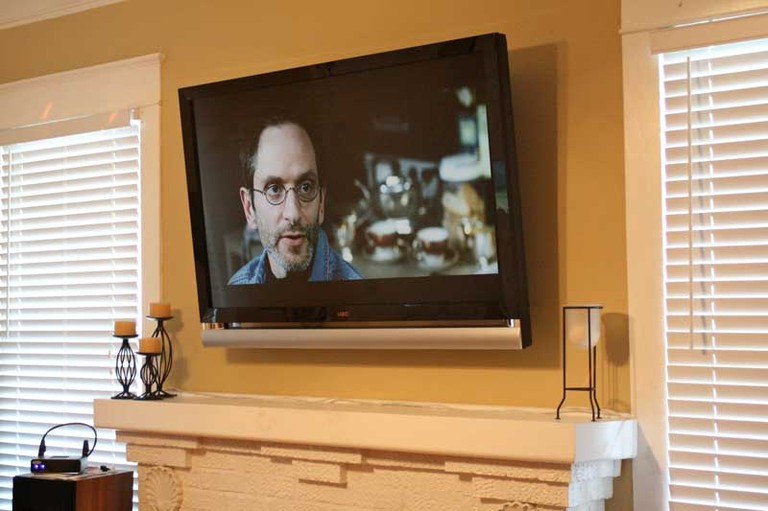 Install a TV Over Your Fireplace
Nothing has come up in local conversations with friends and family as much as what it takes to mount a flat panel television over a fireplace. Be it plasma or LCD TV, the big contention is that having a room with a centrally-focused fireplace results in a dilemma: Where do you put your flat panel TV if not above the fireplace? While some have stuck them off to one side or the other, either corner-mounted or placed within clunky built-ins, the best place, aesthetically-speaking is to mount the television over the top of the fireplace. This brings up a unique set of questions, concerns and choices, however, and we'll attempt to address each and every one of these in this article and practical how-to guide. What we won't necessarily address is the nitty gritty of how to use a spade bit to cut holes or how to cut and repair drywall. We'll point you on the path but, lest we turn this into a boring step by step tutorial on how to renovate your home, you can look up the nitty gritty details on your own.
Should I Install My TV Over the Fireplace?
The first thing that we want to address is should you install your flat panel TV over your fireplace? It's a good question – and one you should ask. There are a number of concerns with this particular installation and we recommend you go over a few basic factors:
How much use do you typically give your fireplace?
If it receives ample use you really need to ensure that heat from the fireplace doesn't reach excessive levels for anything mounted above it. Ensure that you have plenty of physical insulation so that wiring located behind the wall and adjacent to the chimney isn't heated beyond manufacturer's recommended levels. This is typically not an issue unless you have a problem with your chimney and - for better reasons than damaging a few cables – you should have that checked periodically.

How steep is the viewing angle?
Though we will almost always prefer a central location for a television as opposed to a corner position, there are mantels which are simply too high to support a television in certain seating arrangements. If you sit too close or are otherwise craning your neck at an excessive angle, then mounting a TV above the fireplace may not be such a hot idea (we were waiting for a chance to use that pun). In general, try to ensure that your primary viewing positions are at least 12 feet away from the TV. If you are closer than that, expect to strain your neck to see the picture (picture yourself in the front row of the movie theater). Some may find this acceptable while, for others, it will get old very quickly.

How difficult is it to run power to the location?
The answer to the question "Can I run power here" is almost always "yes" – and simply a matter of difficulty. For some, running power will be made possible via an attic access. For others, there will be greater repair required as some portion of a wall will need to be removed in order to provide side access for power to be run across to the proper location. If your fireplace is entirely brick, stone, or other material and does not have a framed-in wall above the mantel, then you may need to use an exposed decorative conduit or other means to successfully deliver power from one location to another. Still other options, like FlatWire's pending 120VAC solution (which is pending UL approval) offer additional solutions.

The above should be considered well and all arrangements made before undergoing an install of this magnitude. In our specific test example we had attic access to run power and were also able to benefit from a fireplace that exists largely outside the house, providing us with a framed 2x4 stud wall section above the mantel. This makes running wire, both 120VAC and low voltage, far easier.
First Thing's First: Plan Your Installation
We started by laying out the desired connections for our over-the-fireplace television. There were two things we wanted to accomplish – and neither was going to be without its challenges. First, we wanted the flat panel TV to be able to communicate with two separate locations. Secondly, we wanted to ensure there was an Ethernet connection available for streaming functions which are becoming increasingly available on televisions these days.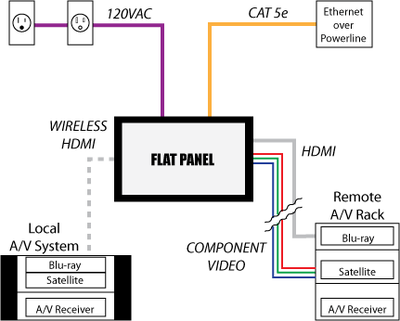 For many, installing a television over a fireplace won't involve this many connections, however you may want to consider future options, even if your current needs don't require quite this level of flexibility. It is far easier to do everything up front, while you are running your cabling, than to go back in later and have to add additional wiring. The above diagram is merely what we chose to do in our particular instance, and your personal needs and imagination may vary with your room and requirements.
By way of description, you'll note that the above diagram includes 5 basic connections:
120VAC Power
You have to get power to your television. The safest way to do that is through the use of a system that allows you to plug a standard extension cord into a supply power socket which then takes that power and delivers it, via standard recessed receptacle, to your television. There are several companies that offer this, and we specify more on this below.
Cat5e (Ethernet)
We feel it's important to run a network connection to your television. There is so much going on in the area of streaming media services these days that it is highly unlikely that all but the most inexpensive TVs won't have at least some level of streaming media or networking technology in the next few years. We chose to use a Monster Cable PowerNet 200/300 system that transmits ethernet over our home's existing power lines. In this way, running power to a location behind the TV also gives me a source for connecting the television into my home network.
HDMI and Component Video (YcbCr)
I chose to run both HDMI and component video from a remote A/V rack into the TV. This allows me to send that television duplicate content from my primary theater room, or simply use it in conjunction with some of the unique equipment available to me in that location (like my Xbox 360). The use of component video allows me to make use of the "faster" analogue video connection for gaming – a connection that doesn't invoke tons of video lag as HDMI often results in. Because this particular run was close to 50 feet in length, I opted for a PureLink HDC Fiber Optic HDMI Cable System that is self-powered and handles full 1080p resolution.
Wireless HDMI
This last connection was a choice I made based on the complexity of getting an HDMI cable from the television's location above the fireplace to my corner-located in-room A/V equipment. Due to windows and the particular nature of the framing of that corner, it really made a lot of sense to simply utilize a wireless HDMI system. We tested out several systems, including one from Gefen that handles up to 1080i reliably via line-of-sight. That was a touchy system that didn't deal well with interference or anyone physically coming between the transmitter and receiver. Add to that the fact that this particular model couldn't be wall-mounted, and you'll see why we switched to a Philips Wireless HDMI solution that would fit behind the actual display.
There are near endless possibilities for wiring up your television, and some will want to also run a separate coaxial line for antenna or cableTV if they don't plan on using a set-top box as we intended. All of our HDMI and component video runs originated from an A/V receiver. This freed us up to send a virtually unlimited amount of sources to our TV. In the case of the remote A/V rack, it features a Denon AVR-5308, which has dual HDMI outputs and can simultaneously transmit the same signal across component video (if the source is analogue, that is). For the wireless HDMI source, we're taking it from a Pioneer VSX-23TXH A/V receiver with dual HDMI outputs.
Gabby posts on September 30, 2015 12:46
ARES24, post: 1067450, member: 59358
From my experience electric fireplaces are hazardous and woefully inefficient. 2 of the 6 that I have removed had large portions wire sheathing melted right off of them.
Wood burning fireplaces IMO are the best from a cost and ambiance perspective (provided you cut your own firewood ), but have to be refueled and do occasionally smoke.
Gas fireplaces are the easiest, mostly efficient and cleanest. Be sure to get a unit with a blower as mentioned earlier in this thread.
ARES24 posts on January 15, 2015 21:04
From my experience electric fireplaces are hazardous and woefully inefficient. 2 of the 6 that I have removed had large portions wire sheathing melted right off of them.
Wood burning fireplaces IMO are the best from a cost and ambiance perspective (provided you cut your own firewood ), but have to be refueled and do occasionally smoke.
Gas fireplaces are the easiest, mostly efficient and cleanest. Be sure to get a unit with a blower as mentioned earlier in this thread.
Gabby posts on January 15, 2015 16:31
I see this thread is a bit old…just trying to figure things out before buying and spending $$$. We are looking at a new fireplace insert (elec. or gas) to update our old wood burning fireplace. Then while we are updating get a flat screen and hang over the mantle ( as low as is possible) due to not having any other wall space the TV would look good on. My hubby is concerned about the heat factor and equipment overheating. I thought elec. may be the way to go. It has got to be better than wood burning…more a controlled heat.
lavath posts on December 16, 2012 00:37
wow… the first thing I think is too much white-ish paint. even over the bricks. sorry but I need 5 posts to show my home theater build page I made
onewattephend posts on November 25, 2012 01:18
Outfit Such As A Design Without Having The Tension
Fashion is a marvellous spot exactly where you get to take time from the day time while focusing on oneself. It could be a really interesting and fulfilling time, but some don't know where to begin. Keep reading for many helpful tips concerning starting fashion in your lifetime right now.
the north face outlet
When you are a mom, design is one of the final thing on your mind, But know that it must be possible to look good and practical concurrently. Whether or not getting the youngsters on the recreation area, sporting events or any other function, beautify your personal style with a great T-Shirt, knee-span skirt and a pair of smooth sandals!
When selecting sun glasses or cups, allow your skin form become the perfect manual. If you have an oblong design, any form will appear good. But if you have a circular deal with, choose rectangle frames or sq structures. Avoid circular picture frames. You could select circular support frames in case you have an angular or center-molded experience, to soften your look.
A good style tip that relates to many people are not to get lazy and wear your sporting shoes or boots when you're not in fact carrying out any sporting activities. Fitness shoes are naturally great for the gym nevertheless, you must hang up them up after and placed on a couple of more casual boots.
For the slimming outcome, generate color disables. For instance, put on a skirt, garden hose and shoes that happen to be all the same shade. This will likely make the graphic perception of the prohibit of shade, which can make you gaze leaner than you really are. This can even be ways to create a striking declaration.
You don't ought to invest a ton of money to get modern. There are lots of department shops that bring equivalent variations to famous designer trends. Other shops offer you higher-fashion manufacturers at the best prices because they buy above manage types. An alternative choice is getting a sewing equipment and recreating your preferred designs.
Wines colors, like serious purples and darkish reds, are already popular all season and therefore are envisioned to be fashion for your slip and winter months also. Burgundy layers, mahogany dresses and plum skirts are typical some very nice choices. Make absolutely certain to acquire red wine-shaded accessories also.
An effective idea if you're seeking to boost your style is to relax about the logo design patterns if you're keen on specific manufacturers. It looks foolish when you're usually using a shirt using a huge extra fat logo about the front. Subtlety is key right here so you may want to strengthen it downward at times.
Always outfit effectively for the season. You cannot anticipate to dress in the identical stuff all year long due to the conditions modifications. Through the summer and spring seasons, wear soft textile apparel that may be decrease minimize with dazzling hues. Through the drop and winter time, use organic hues and materials, bed linen, 100 % cotton, and leather.
Thrift stores can be a jewel trove. You can find exciting, quirky antique parts that may change heads. Not only will you stay ahead of the group, you will save some amount of money also. You could be normally the one to rejuvenate a craze and bring a clothing collection directly into fashion!
Whenever you acquire sun glasses, try to find support frames that will synchronize with your summer time apparel. You ought to actually need only 1 or 2 sets to get you with the entire period. You can use other accessories to highlight oneself, or possibly a specific location. Several sets of hues are needless, and dear.
In choosing clothes, think of what season you will be. If you look great in reds and grapefruits, you are a "summer" and in all probability will appear very good in virtually any hot colour (like discolored). If you look good in blues, you will be probable a "winter months" and look good in whites and greys at the same time.
north face backpacks
A bulging tummy can make your design practical experience a awful problem. When you fall under this group, you must make sure you do one thing to fix your trouble, as using the correct clothes will never repair the problem in the end. Try out a mixture of balanced and healthy diet as well as a great workout routine.
There are several approaches to consider trend, with no one way is wrong or right. It's all about locating yourself and what you're more comfortable with undertaking. Each and every different appearance can be thrilling and trendy, and you just have to discover what's right for you. Remember the following tips as you work on identifying your individual preference in fashion.
the north face outlet
Post Reply
Confused about what AV Gear to buy or how to set it up? Join our Exclusive Audioholics E-Book Membership Program!