A Home Theater in Stargate Atlantis
A Home Theater in Stargate Atlantis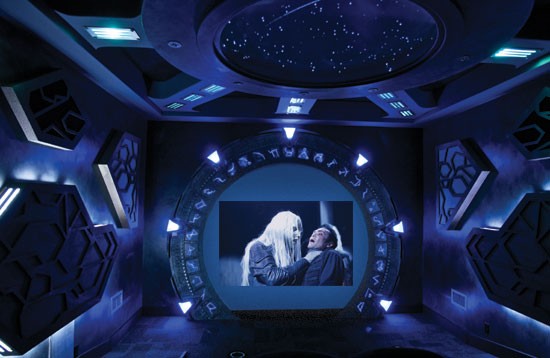 A home theater can be a great escape, but how about escaping all the way to the planet Lantea, the fictional home of the TV series Stargate Atlantis?
Jacob Yarmuth's very cool theater in Louisville, Ky., has the Stargate — or at least a replica of the one used in the Stargate TV series and movie to commute across the universe. It surrounds a 10-foot diagonal circular screen that shows a 96-inch diagonal image. The circle within the Stargate can also light up blue, mimicking the water that appears in the show's Stargate prior to transport.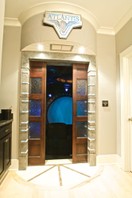 To say Yarmuth is a Stargate fan is an understatement. He loves sci-fi, and his two Sony megachangers that house up to 800 DVDs can attest to that. The theater, explains Phil Chaney, president of the Louisville division of Visual Concepts, uses a blend of styles from Stargate Atlantis, the original Stargate SG-1 TV series, and the 1994 movie. There are even air pocket doors that open like those on Star Trek and a star dome that shows comets streaking across the sky.
The audio/video system performance more than matches the futuristic decor. Atlantic Technology's THX series speakers pump out seven-channel sound and are accompanied by two Polk Audio IW155 in-wall subwoofers, while JVC's impressive RS-1 D-ILA (Direct-drive Image Light Amplifier) produces smooth 1080p images. A second light projector is used to create the water scenes in the Stargate. The audio and video is governed by a Marantz SR8002 receiver, and that's tied to a Control4 automation system.
And yes, much like the magic of fictional Stargate, a lot of real-world magic went into constructing this theater: 
Wave your hand in front of the Atlantis logo outside the theater, and a motion sensor triggers the air pocket doors to open, like on Star Trek. The pocket doors are attached to pneumatic pumps powered by an air compressor.
The Stargate is made from MDF (medium-density fiberboard), with the symbols, or glyphs, of Lexan (a plexiglass-like resin). The glyphs and other effects in the room are backlit with large, old-style Christmas tree bulbs.
Hidden behind the custom-made perforated screen are three Atlantic Technology THX front speakers. Atlantic Technology's THX in-wall speakers are in the side and rear walls, along with two in-wall Polk subwoofers in the side walls.
Confused about what AV Gear to buy or how to set it up? Join our Exclusive Audioholics E-Book Membership Program!