Inside Segway Dean Kamen's Off-the-Grid Island Home
Inside Segway Dean Kamen's Off-the-Grid Island Home
by
Steven Castle
—
December 22, 2009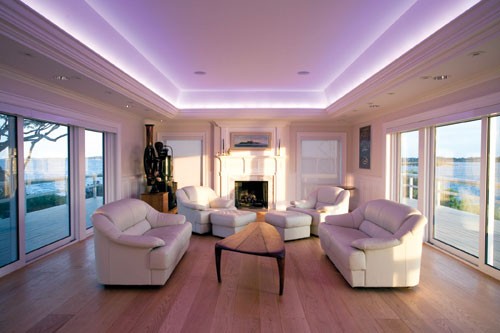 Photo credits: John Brandon Miller
He calls himself Lord Dumpling, and his island "nation" has a zero-tolerance policy for incandescent lights. In fact, he claims to have the first fully self-powered nation. He is Dean Kamen, inventor of the Segway electric scooter and other devices, some of which are responsible for making his island home self-sustaining—along with a lot of LEDs (light emitting diodes).
Kamen's vacation home is a lighthouse on North Dumpling Island, off the Connecticut coast but technically a part of New York state. In the 1990s Kamen jokingly seceded in a zoning dispute over the installation of a wind turbine. He was later allowed to install the 10-kilowatt turbine, and signed a "non-aggression pact" with former President George H.W. Bush.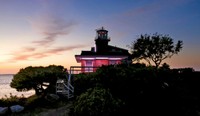 All was well between the "countries" until a couple of years ago, when the U.S. Coast Guard decided to cut the undersea cable that powered the lighthouse. Kamen's island would have to be self-sustainable, with solar panels powering the lighthouse.
"I applaud the decision to do that and to be greener, but I realized that within a few months, I was going to be entirely cut off," Kamen says. "Lighting is my major need for power on the island." So he talked to his friend, Fritz Morgan at Philips Color Kinetics. Philips is one of the country's leading LED makers, and was awarded a grant for LED development by the U.S. Department of Energy.
"I wanted to design and build the world's neatest home lighting system, and at the same time make the island more plausibly zero-carbon and a net producer of energy," says Kamen.
More efficient lighting had to be a big part of that. Only there was one problem: "Not until last year was the technology available to do a whole house with LEDs," says Morgan. Even Philips' advanced LEDs were sold largely for low-light solutions under cabinets or for highlighting exteriors, for example. Reliable and efficient overhead recessed lighting just wasn't widely available. In fact, Kamen's house is using some of Philips' PAR 38 recessed LED lamps, which won't be available commercially until 2010.
Whole Lotta LEDs
According to Morgan, roughly 350 lighting fixtures on the island will be replaced with LEDs when the project is complete. Several 13-watt PAR 38 LED lamps replaced the existing 60-watt recessed incandescent bulbs in the living room, kitchen and hallways. Philips' eW Profile lighting strips went under the cabinets in the kitchen. Surface-mounted downlights were installed in the basement, and soft eW Cove lighting was installed in the soffits.
Outside, Philips' ColorBlasts replaced flood lighting, and some ColorGraze lamps were used to downlight the brick exterior of the house. Some Color Blasts were placed around the replica Stonehenge—yes, Stonehenge—on the property.
"We wanted to accent details throughout the island, so we added a bunch of accent and effects lighting," says Morgan. "Even after adding that, we still use a total of about half the consumption he had before," from about 10 kilowatts to 5 kilowatts.
"I have to admit that going in, I thought we would have some problems with lighting everything, and there's a lot of wood tones in the house," says Morgan. "The downlights worked better than expected. Some were actually too bright, so we installed dimmers. Some of the PAR lamps we made were for medium floods, so we had to put some diffusion films on them, because the beams were too narrow."
Jeremiah Josey posts on January 09, 2010 16:39
Way to go Dean!

This is a great story. It's thanks to people like Dean Karmen that we get to experience marvellous "miracle" technology as "common place" after millions of dollars and millions of human hours have been spent perfecting it, both operationally and economically. His Segway is an example of that. These LED lighting systems are another example, invented by someone else, but requiring people like Dean to step up and pay to use it to keep development viable and ongoing. Halving his power requirements!! Wow, how many power stations don't need to be built if that was common place? Lots!!



That's one of the great things I love about technology: that it takes only one person, or a small team, dedicated and skilled, and thick skinned to plough into an idea or concept until its finished. Hey, wasn't Thomas Edison like this to invent the electric light bulb.. How many prototypes… over 1,000??? And the cost of the early units… Whoa!! Momma mia!!

I work in the heart of the post-modern industrial age: the Middle East, and I'm putting in more veins – pipelines – to keep the black blood flowing. It's an amazing concept crude oil. Straight out of the ground. It's so easy here there's no need to pump it. There's enough pressure to drive it all the way to the settling tanks. It's a struggle just to keep the black gold in the ground! So primitive, yet so new, modern and well, essential to absolutely everything we do nowadays (the kind of essential like "Made in China" has become: cheap price always trumps chump quality). So I get a very good perspective on what's going on technology-wise and how it affects the world. From Nokia Mobile phones made in China – now India (I have both. Used to have one made in Finland…) – to new a innovative ways to make stuff from crude oil (like the Rocky Mountain Institute have documented so very well, Google their web site), to crazy new ways to make renewable crude oil, and of course better ways to do what I do now.

From the audio perspective, it's the same. A great friend of mine and his team has cracked the electrostatic puzzle and now have a beautiful sounding – and beautiful looking - full room speaker (100% sweet spot: full live stage sound from any position in the room!) Just magic!! Nakamichi had signed them up for production just as the Japanese icon went sideways… :o( God willing they will rise again, and we'll get to read about them here. And I'll tell you who they are

Well done Dean. Go the innovators!

Jeremiah Josey
(at wordpress)
Knucklehead90 posts on December 25, 2009 13:49
I'm sure this gives Mr. Kamen tremendous bragging rights over his carbon footprint too - while cruising above the fray in his private jet.

Typical of off-grid homes is not-so-green technologies such as lead-acid batteries for storage of the gathered solar and wind power generated electricity. And the manufacturing of some of these 'green' products such as copper and aluminum and other metals and materials used in making one man's island 'green'. Many of these materials are mined from the depths of the earth - not picked like an apple. These are some of the things eco-freaks don't want to think about when it comes to the 'green' revolution. When these technologies are placed in the context of the real world they are not so green.

The efforts to make us more 'green' is laudable. But until it becomes cost effective only those like Mr. Kaman will be using them - at least until politics drive up the prices so high that we are forced to move to these less cost effective methods of powering our homes. The day where each will have a hydrogen generator light enough to lift like a suitcase with enough power for the entire home is far off into the future - don't level my dams and raze the coal - gas and nuclear generating plants just yet. As Mr. Kamen has probably experienced on a few occasions the sun doesn't always shine and the wind isn't a constant.

Do you think a Prius is 'more green' than a gas powered car that gets 40mpg? You may want to re-think that one.

Just MHO of course.
m_vanmeter posts on December 23, 2009 10:07
Mr. Kamen is a wonderfully gifted inventor, but aside from his experimental work to desalinate water, there is nothing new here.

Living "off the grid" is not new, people have been doing it successfully for years….just read a couple issues of "Homepower Magizine". LED lighting is not new and Philips is definately not the only source. Matter of fact, they are pretty far behind the LED curve in replacement lighting.

So, while interesting what a guy can do with his well earned money, there is little in the way of new or unusual information here.
BMXTRIX posts on December 23, 2009 09:47
I'm not sure where the audio/video portion of this fits in, but if I had crazy money like that I would have been looking at some of the new OLED lighting products which have come to the market and are now available. Entire walls of glass made out of OLED which can produce light.

I was doing a little digging around on it last week and the technology is pretty cool. Not sure if it can handle actual lighting duties the way LED can, but I would think that going with just ONE technology really isn't the way to do things.

I think Lucas was one to say: Keep switching up the way you do things and people won't figure out how you do it.
GO-NAD! posts on December 23, 2009 06:26
It is certainly very impressive. However, I've lived by the ocean all my life and I for one, would feel quite vulnerable. Although it may be very efficient, I would be concerned about the reliance on the technology he is using, in such an isolated spot. He may be as one with Mother Nature, but she is an unpredictable mistress….
Post Reply
Confused about what AV Gear to buy or how to set it up? Join our Exclusive Audioholics E-Book Membership Program!