Danny Bonaduce's Lame Home Theater
Danny Bonaduce's Lame Home Theater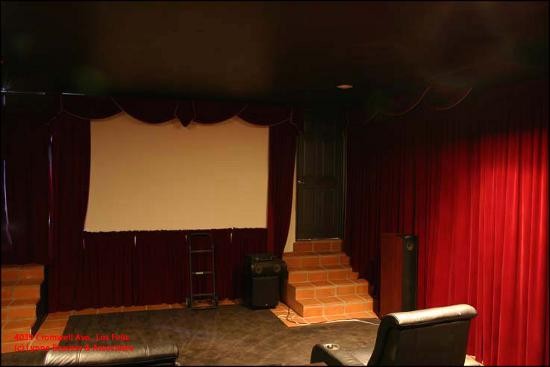 Photo credit: Lynne Beavers & Associates
Where can you watch reruns of "The Partridge Family" in style? An article at CE Pro says In Danny Bonaduce's Hollywood-area home. But given the lame layout, difficult room configuration and lack of any real advanced technology showing up in any of the photos, we'd have to respectfully disagree and say that Danny should definitely consider spending a bit more money next go-around. The child star from the classic 1970s TV show, now a famous disc jockey, has listed his Spanish-style home in the Los Feliz area of Los Angeles for $4.2 million. According to the L.A. Times, the 1926 four-bedroom, six-bathroom home is new fully restored. The 8-seat dedicated theater in the home isn't exactly lavish. In fact, it's a bit of a joke. The small projector sits in "the money seat" at armrest level in the front row of the theater. There are freestanding tower speakers that act as the front left and from right speakers, as well as the rear surrounds. The subwoofer is placed conspicuously in front of the screen.
We're not sure if that's a projector or a clock radio. In either case it's in the money seat!

Honestly, it's kind of a mess... but the age of the home surely has something to do with the theater design. An old Spanish-style home like that probably has thick masonry walls that would have made installation of in-walls or in-ceilings difficult or costly. Likewise, for a drop-down projector. That concrete construction is also the likely reason the acoustical treatments in the room are simply hidden with red curtains.
There also appears to be a questionable placement of a flat-panel TV in the kitchen. The screen is directly behind the kitchen sink in a garden window where the daytime viewing must be difficult.
Bonaduce, 51, reportedly bought the house with his ex-wife for $2.6 million in 2005. Let's give him kudos for having a theater room at all - but he can certainly do much better. Hey, Danny - this article isn't a personal attack - we're for you, but feel free to email me with any questions or for some recommendations on your next theater. We'd be happy to help!
Confused about what AV Gear to buy or how to set it up? Join our Exclusive Audioholics E-Book Membership Program!