Building an HTPC - Not a PC
Building an HTPC - Not a PC
Building an HTPC, or Building a Computer?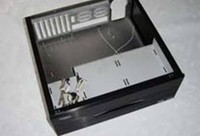 One thing I insisted on when building this HTPC was a clean, integrated look with the rest of my system. I wanted the HTPC to look like another piece of audio gear, not just a computer sitting beside my home theater equipment. What does this mean to cost? It can actually mean quite a lot. In the pricing matrix above, you'll notice that with the PCI Vision II Case, you increase your HTPC cost by $329. Add a vacuum fluorescent display and the price is bumped by another $89. So why opt for the more expensive case? Because it looks GREAT - and you will have purchased a quality component that will stand the test of time. If you're serious about home theater, you will definitely want to consider spending a little extra to make sure that your HTPC looks as good as it performs.
OK, Let's Start with the Case, Then.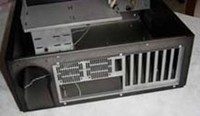 That's right, you simply can't build an HTPC without a case. Now, you'll have to ask yourself just one question: Do I want a PC hooked up to my entertainment system, or do I want a sleek, integrated piece of gear that looks as good as the rest of my equipment? My answer to this question is pictured on the right. No way was I going to be satisfied with just a PC - I wanted it to look sleek. And why not, this is a valid piece of my entertainment center and should be treated as such.
Probably the best HTPC case I've seen to date is Projection Systems, Inc's Vision II. The Vision II just looks solid. In fact, it appears to be built more ruggedly than any of my other components, including my 7-channel amplifier. The Vision II is about 7" tall and fits a full ATX motherboard inside, unlike some other HTPC cases that force you buy the miniATX for factor. One of the biggest advantages of this is the ability to use an older PC you may have lying around, which is exactly what I did.
The Vision II is quiet. Its 1/4" thick faceplate and solid 17.25" x 17.375" galvanized chassis hides nearly all of the hard drive and CPU fan noise inside of the case - where it belongs. The chassis features a removable top and independent removable side panels for easy component access and installation. The side panels lock into place and are held down by the cover. The top cover slides into retaining groves and is held securely with 2 thumb screws on the back panel. No tools whatsoever are needed for removal.