Building a Home Theater PC - A Targeted Guide
Building a Home Theater PC - A Targeted Guide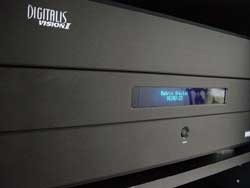 Building an HTPC
Intended Goals for This Article

Output RGB/VGA to LCD projector for DVD playback on large screen
Attain Dolby Digital/DTS pass-through to receiver
Play MP3s, MPEG-4 video from library
Play PC games with premium sound
Browse the web
Additional HTPC Articles May/Will Address

Installing Software and Configuration
DVR Functionality
Integrating Cable TV & program guides
Introduction
I have always had a fascination with computers - I think it started in second grade when we were allowed to design simple ASCII art programs on a Commodore Pet. With the advent of current technology, and the inevitable merging of the computer with the entertainment system, my fascination has recently manifested itself into a near-obsession with the Home Theater PC, or HTPC. The idea for this article came from talking with lots of people who weren't familiar HTPCs and what they meant in terms of entertainment devices. This article will not only explain HTPCs and their strengths, but will also serve as a basic guideline for building your own Home Theater PC. Along the way, we'll clue you in on where to obtain certain components to build a working model of your own.
Whether you are into building PCs or not, one thing this document will do is give you a better understanding of why HTPCs are coming to your home, and what all the hoopla is surrounding the technology. Avoid it if you want to, but even the major manufacturers of home theater equipment are getting into the game by producing a whole new line of wireless and networked technologies designed to accomplish at least some of the functions of a good Home Theater PC.
OK, So What Exactly IS a HTPC?
Simply put, a Home Theater Personal Computer accomplishes some or all of the following:
Allows you to store digital audio & video files for playback
Facilitates the pass-through of digital audio and Dolby Digital/DTS signals to your receiver for accurate surround sound processing
Allows playback of DVD, CD, VCD, SVCD, MP3 and other formats
Outputs high-resolution video to your HD television or LCD/DLP projection system (alternatively, an HTPC can also output S-Video or component NTSC video, but we feel this defeats one of the main advantages of the HTPC)
Allows you to output computer-only content to your display system (i.e. games, streaming content, internet browsing, etc)
Add your preferred use here...
How much of this it accomplished depends upon your goals and your other system components. In talking with others about HTPCs, I have found many different reasons for setting one up:
Allowing high quality video to display on an HD monitor
Allowing DVD playback on an LCD/DLP projection system
Desiring to convert NTSC input signals to HD for high-resolution playback
Wanting to browse the internet in your living room
Wanting a single location for all entertainment media
Desiring high-quality surround audio playback for games
All of the above!
Confused about what AV Gear to buy or how to set it up? Join our Exclusive Audioholics E-Book Membership Program!