Using a 103-inch Plasma for Video Gaming
Using a 103-inch Plasma for Video Gaming
by
Lisa Montgomery
—
January 22, 2010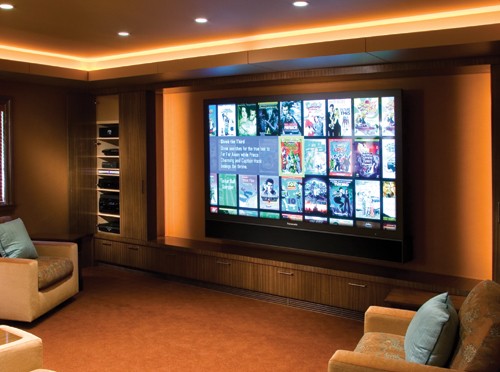 Photo by Michael Neveux
What happens when you have three grade school kids and want a whole home audio video system that can handle a variety of entertainment needs, with ease-of-use and durability? Simple - you call in the pros. Patrick Calderone is the owner of Audio Video Experience (AVX), the custom electronics design and installation firm hired to rig a home with a variety of family-friendly electronic systems. At last count, the home had: two Microsoft Xbox 360s, two Sony PlayStation 3s, two Nintendo Wiis and one Nintendo Game Cube.
"Pat warned my kids that if they didn't turn off their Xbox when they were finished, it would burn out," says Janet Crown, the owner of a recently renovated 12,000-square-foot home in Los Angeles, Calif.
That's Pat as in Patrick Calderone, who is the owner of Audio Video Experience (AVX), the custom electronics design and installation firm hired by Crown to rig her place with a variety of family-friendly electronic systems. As the audio/video expert on the two-year project, his advice was taken seriously by Crown's three grade-schoolers.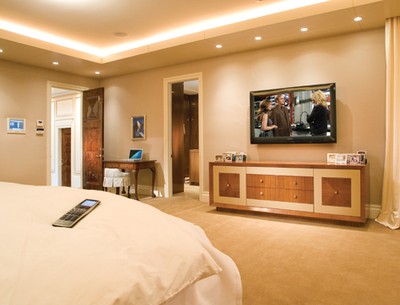 "If they'd remember to turn off the lights even one-tenth of the time that they remember to shut off their video games, we would be the most electrically efficient house in town," she laments.
Parental Control
It would take more than conscientious use of the Xbox for Crown to feel completely at ease with the impact of technology on her kids. Her goal was to install a user-friendly, reasonably indestructible audio/video system that was simple to operate and that would network the TVs, video games and computers. "I wanted this house to be a place where my kids could be kids, and not live in fear of breaking something if they touched it," she says. "I also wanted to be able to monitor what they were watching, listening to or Googling."
Calderone recommended a Crestron control system, which turned out to be a perfect parental companion. From 12-inch color Crestron touchpanels, Mom is able to monitor every TV, iPod and game console in the house. "If the kids get a little volume happy outside, I can adjust the volume right from the touchpanel," she says. The same goes for the movies her kids watch or the games they play. Crown can see what's happening, interrupt the video if necessary and even turn things completely off.
That's a particularly handy feature, considering how the residence is laid out. The kids' main video game playing area, for example, is located in a space above the garage, away from the common areas of the house. "It's a place where her 5-, 9- and 11-year-old can really let loose," says Calderone. He and his team outfitted the room with two Sony 46-inch LCD TVs, Sonance in-ceiling speakers, RTI remotes, Wi-Fi, and of course, the usual fare of gaming systems: Xbox 360, PlayStation 3 and Wii.
There's even a spot just for the adults. "Janet wanted to include a Nintendo Wii in the bar area right off the backyard for entertaining," says Calderone. Here, AVX hooked the console to a wall-mounted 58-inch Panasonic high-def TV. Leon speakers used for front surround channels fire from a single housing that was custom-built to fit the width of the TV, and a pair of Focal in-ceiling speakers pump out the rear effects.
The Really BIG Screen
Installing the 103-inch Panasonic plasma was the most arduous task of this extensive project, says Calerdone. (Click here to view slides of the installation and end result.) It took three days of preparation, a specially constructed support system, and a half-dozen men to mount the beast to the wall.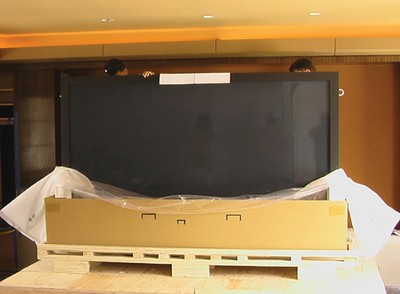 The hard work paid off. "The home theater has become a neck-and-neck favorite with the whole-house music system," Crown says. "When the music or plasma is playing, it changes the whole atmosphere of the house."
The theater, in addition to all the new wiring, A/V equipment and the custom finishes, has taken the plain-Jane house and turned it into something much more suitable for the Crown family. Certainly, spending two years in the trenches with contractors would push most people over the edge, but for Janet Crown, every second of the process was worth it to have the family home of her dreams.
Confused about what AV Gear to buy or how to set it up? Join our Exclusive Audioholics E-Book Membership Program!
gmichael posts on July 08, 2011 10:21
Bigger IS better….
Audioholics posts on July 08, 2011 09:54
I wonder if they experienced what I refer to as "size creep"… Hey look at that 60-inch… Oh, there's a 70-inch… Woah… 84-inches…. hm… for only $70,000 more I can get the 103-inch plasma… let's go for it!
Nemo128 posts on February 08, 2010 14:08
I game like mad on my 50" plasma, sometimes going for 8+ hours on weekends. No burn in.
Patrick_Wolf posts on February 02, 2010 20:57
As 720p doesn't look too great on larger TV's, it seems like on a 103" 1080p wouldn't look too great…
Serj22 posts on January 22, 2010 19:05
That seems like a good idea. In fact, it's such a good idea, that I am contemplating not throwing rocks at all my windows and trying to flip my car over to see what happens. Thanks for this new idea!
Post Reply