Vestalife Ladybug iPod System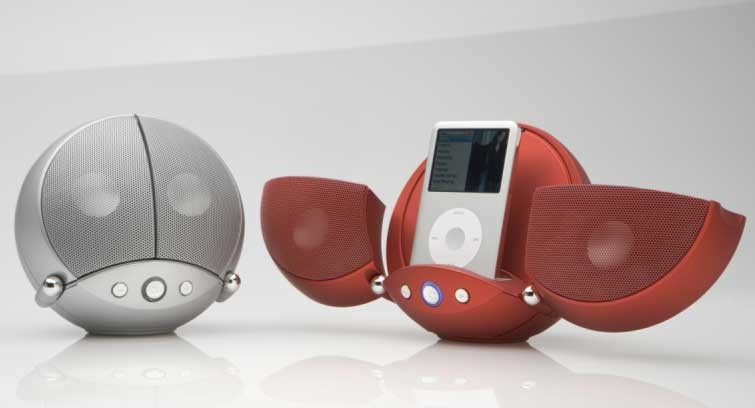 Vestalife Ladybug iPod Dock & Speaker
Summary
Product Name:

Ladybug iPod Speaker System

Manufacturer:

Vestalife

Review Date:

January 07, 2008 19:05

MSRP: $TBD
First Impression:

Pretty Cool
1.5-inch mid-high drivers
3-inch subwoofer
Class-D amplification
AC or battery powered (4 x AA)
USB connection for PC syncing
Universal iPod dock with connectors for nano, 4G & mini
Auxiliary analogue input

Executive Overview
Sometimes you just cover a product because it looks cool. iPod speakers and docking systems are a dime a dozen these days, but that only seems to drive manufacturers to come out with more and more outrageous and creative designs. Vestalife debuted a new Ladybug-inspired iPod speaker and docking system that shares the same name. The Ladybug has speakers which fold out in an arc - just like the wings of a ladybug (at least how I think they do). The system includes a universal iPod dock that even supports the iPhone and iTouch. When connected to AC, the system will also charge the docked iPod.

The mid-high drivers are only 1.5-inches in diameter and there is a built-in subwoofer that fires out the back-side of the system.  The small stature of this system makes it very convenient to bring along from place to place. It will run on 4 AA batteries so it's made for portability (especially with how the speakers fold in to a single spherical device. The system is powered via Class-D amplification and LED indicators provide feedback when adjusting volume levels. A full-function remote is included as is a tote bag. The system has an automatic shut-off, so even if you are using batteries you don't have to worry about it running them down when not in use.
If you are one of the three people in the US not to actually own an iPod, you can actually utilize an auxiliary input jack to connect non-docking iPods, CD players and other mp3 players to the system. There is an AV output for audio/video output and a USB connector allows you to sync your iPod to your PC without having to remove it from the system's docking cradle.
Docking connectors are provided for iPod nano, 4G iPod and the iPod mini. This is a neat little system and shoudl be a fun product to have hit the stores in 2008.
For more information please visit www.vesta-life.com.

Unless otherwise indicated, this is a preview article for the featured product. A formal review may or may not follow in the future.
Confused about what AV Gear to buy or how to set it up? Join our Exclusive Audioholics E-Book Membership Program!