Speakal iExecutive Audio System Review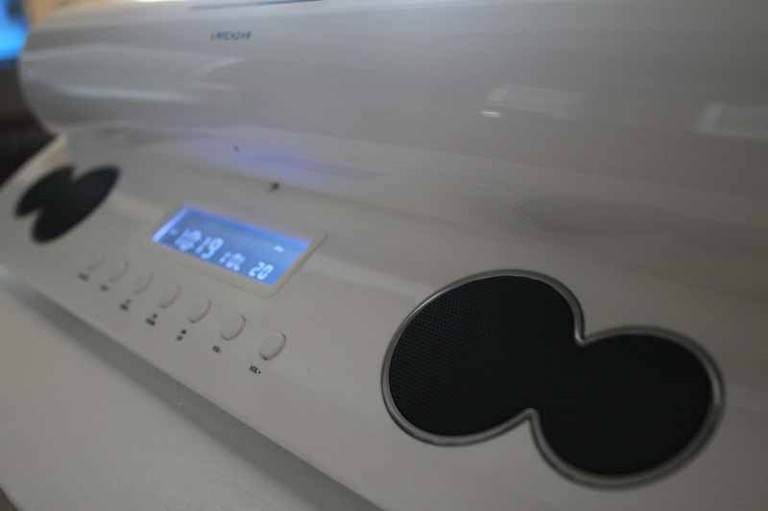 Speakal iExecutive Audio System
Summary
Works with all iPhones (Including iPhone 4)
Made for all iPods with dock connectors
Auxiliary 3.5mm input connector
Plays music from MMC and SD memory cards
Plays music from USB drives
Built in 15W Subwoofer
Full sound separation and amplification
Equalizer with 5 presets
Digital clock with dual alarm
Video output
Product Dimensions: 17 x 13.3 x 4.6 inches
Shipping Weight: 11 pounds
Executive Overview
One of the best things about an iDevice is its transportability. Your entire music library (or at least the important stuff) can travel with you wherever you go. If you, like us, use a lossless codec, you can even have good quality music to take with you to listening tests. But sometimes you just want to listen. You don't need the best quality reproduction, you simply need some background music.
From the people that brought you iPig, iPanda, and miSoccer, comes the latest desktop iPhone creation: the iExecutive. The iExecutove is an iDevice dock that is, thankfully, not shaped like an executive. Rather, the iExecutive looks more like a white, pregnant PS3 and is designed to serve as the "ultimate iPhone, iPod and Audio accessory for the contemporary office." As you can see, it has a white gloss finish and an unusually curved design. The dock is located on top in the center and a small LED display is below. The LED is easy to read from all angles and gives the required information for source, volume and the clock. Speaking of the clock, it was easy to set, but since the LCD doesn't have a variable backlight, we don't recommend the iExecutive be placed next to your bed. The physical controls are located underneath and give you access to Play functions as well as volume. Power is turned off via the remote or with a simple switch located on the backside of the unit.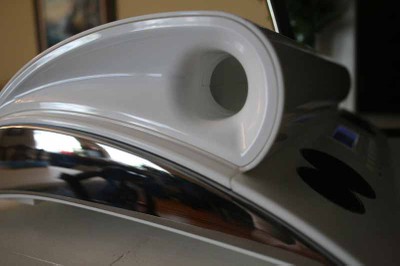 On either side are speakers plus an integrated 15 watt ported "subwoofer" for additional bass. The marketing for the iExecutive borders on the comical and the unit is said to "stand out in your world and become an integral and conversation piece that blends in with your house and office décor." How something can both "stand out" and "blend in" at the same time is a bit confusing. We think it does more of the former than the latter, particularly given its size (roughly 17" x 12" in area). It's REALLY big and you need a considerable amount of desk space to fit it.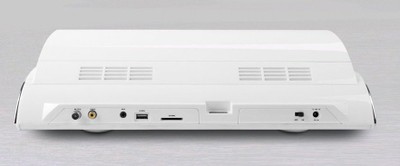 But just because it has a weird shape doesn't mean it doesn't have a lot of functionality. The aforementioned "subwoofer" is down-firing and ported (which is what "Bass-Reflex" means). We're guessing there is a folded long port in there for additional bass. The iExecutive is compatible with all iPhones (including 4) and iPods with dock connectors. For other media players, there is a 3.5mm connector as well as an MMC/SD memory card slot and even a USB port for connecting a thumb drive or external storage unit.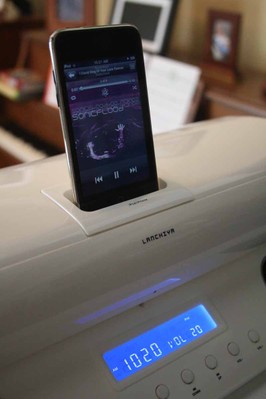 There is an FM radio, but the functionality for it is a bit odd. You can press the skip button to advance stations in 0.1 MHz increments at a time or hold it down to scan more rapidly. Unfortunately, whenever we stopped, the station would take great delight in jumping back to 87.5 Hz. I suppose you could store some presets, but it looked to be a very cumbersome process. The iExecutive comes with a compact remote (one of those credit-card sized ones) which you can use to navigate the navigation menus and play functions of your iOS device or control the iExecutive itself. There are unique buttons for each of the input types (iPhone/iPod, Radio, SD/MMC card, USB) and you can adjust your sound with 5 equalizer presets as well as separate bass and treble tone controls that adjust in peculiar 2dB increments. Of course there are also hard buttons located on the front of the device just below the display. The iExecutive seems much more than just an iPhone/iPod dock with all these features. Unique for this type of product was the ability to output video from your iOS device via a composite connection to your display. With an optional Bluetooth dongle (not included) you can also connect your devices wirelessly.
Listening Tests & Use

We did quite a bit of listening with the iExecutive and found it to be about what we'd expect. Bass was strengthened by the ported discrete bass driver. It didn't have any slam, but there was plenty of low boom to accentuate your music. Highs were clear and crisp, but could get downright crunchy if you turn the unit all the way up to 60 - and of course, if you're doing that your office is either in a large warehouse or you should be in the market for a hearing aid. Using the unit was simple, once you got the hang of it. We never did figure out a convenient way to use the FM radio, but it is possible with enough time and it was certainly able to dial into our local stations with the included antenna. The lack of Bluetooth functionality (forcing it to be an add-on) was a disappointment, particularly since there simply isn't a place to locate the add-on. It's not mentioned on the site and we saw no information on how to obtain it, or what the price might be. Given the price of this unit, it felt like something that should have been included. Another missing feature were the inserts for the dock. Many products come with them, but the iExecutive left it up to you to use your own. Unfortunately, ours were already in-use, which leaves your iPhone or iPod in a precarious position where it could bend the dock connector. For those who pick up this product, you may want to look into a third-party dock insert or a solution like a dockXtender cable.
Conclusion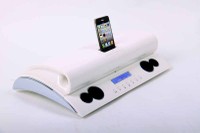 When the marketing departments write the copy on these sorts of products they try to sell you on the idea that this dock will be everything you ever need. We don't believe that and neither should you. One thing that sticks out is the price. At the Speakal online store it is listed for $229, though you may find it cheaper depending on how good a shopper you are. You may have a hard time taking a company that put out an iPod dock in the shape of a pig seriously, but the iExecutive looks like a pretty solid offering - if you have the space and can deal with a few quirks. It's certainly a statement piece - we're just not completely sure what that statement is.
For more information, please visit www.speakal.com.

Unless otherwise indicated, this is a preview article for the featured product. A formal review may or may not follow in the future.
Confused about what AV Gear to buy or how to set it up? Join our Exclusive Audioholics E-Book Membership Program!