Speakal Dr Who and Top Gear iPod Speakers Preview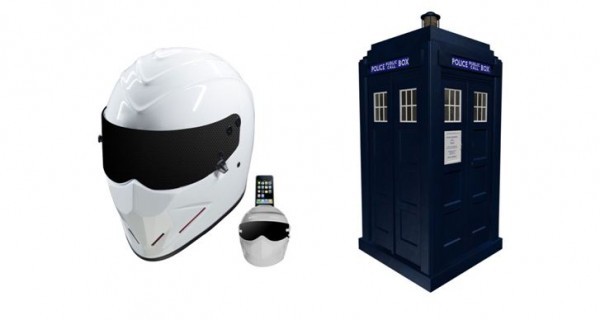 Speakal Dr Who and Top Gear iPod Speakers
Summary
Executive Overview
Speakal is a company that seems to be driven by its passion for innovative design and design-savvy products. This week they upped the ante a bit and broke into new ground by giving Top Gear and Doctor Who fans a couple of unique speaker systems that boast amazing sound and outlandish style. Top Gear enthusiasts can rev up their favorite tunes with a true to life helmet that docks and rocks your audio device with a built-in digital amplifier, 25W of total output, and a built in subwoofer - just don't try and put it on your head.
Doctor Who fanatics will rejoice in the T.A.R.D.I.S replica speaker featuring powerful bass and premium speakers with Bluetooth playback.  Fans of this classic BBC series can now travel back in time on their playlists and be the envy of any science fiction enthusiast. I know I'm already jealous - being a major Dr. Who fan myself. I want this on my desk - are you listening, Speakal?
"Top Gear and Doctor Who have some of the most die hard fans of any program in the world. We're proud to offer their fan base these unique and lifelike replicas of their favorite BBC icons."
- CEO David Solomon
For more information about Speakal visit www.speakal.com.
About Speakal
Speakal Corporation is a privately held, United States company, based in Culver City, California that earned its worldwide recognition by delivering consumers unique product designs that combine intelligent technology, high quality sound, durability, and functionality. Established in 2008, Speakal was able to expand their reach and presence in the United States, Canada, Asia, Europe, and the Middle East markets.  Speakal continues to gain market share by introducing new audio product designs and diverse product lines that relate to the different end-users life styles and that hold special value for them.  For more information, please visit www.speakal.com.

Unless otherwise indicated, this is a preview article for the featured product. A formal review may or may not follow in the future.
JoypeJoinee posts on May 12, 2011 07:40
American Dating

Want to meet a man!
My Videos youtube com/watch?v=213JKask5E4
itereinny posts on March 18, 2011 10:58
JaBear posts on March 14, 2011 21:53
better hope like hell my wife doesn't see this product otherwise im gonna have some lame sounding tradis in my house that we will never ever use
anocer posts on February 12, 2011 17:22
Damnit… now I must have that TARDIS iPod dock……..
Engadget
says its coming in April for $130-150, totally doable.
I was just thinking about how I'd like a dock the other day.
Hopefully, it'll have some sort of time-keeping feature…
after all, TARDIS stands for Time And Relative Dimensions In Space.
Mishelsoup posts on January 16, 2011 13:19
sweet deal
Post Reply
Confused about what AV Gear to buy or how to set it up? Join our Exclusive Audioholics E-Book Membership Program!