Crazybaby Mars Portable Flying Bluetooth Speaker Preview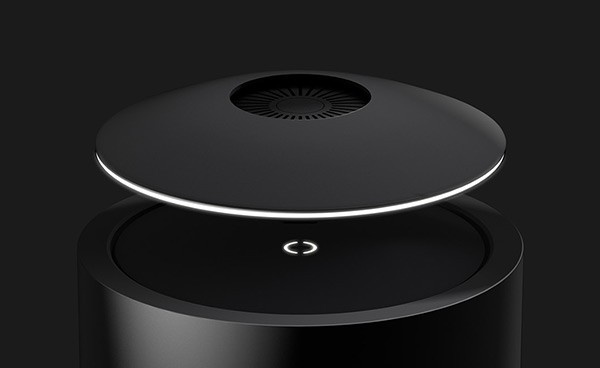 Crazybaby Mars Portable Flying Speaker Preview
Summary
Bluetooth aptX codec for CD-quality sound
Built-in Microphone
10,000 mAh battery for 8-hours of operation and charging portable devices
Aluminum Construction
Waterproof (3 feet for 30 minutes)
Auto-volume feature via optional app
Can pair multiple units for stereo or multi-room operation
Mars Craft (Main Speaker)
Rated Frequency Response: 200Hz-20KHz
Weight: 1.5 pounds
Dimensions (Dia x H): 120mm x 33mm (4.72" x 1.3")
Mars Base Station (Subwoofer)
Rated Frequency Response Mars Base Station: 50Hz-180Hz
Dimensions (Dia x H): 132mm x 200mm (5.2" x 7.87")
The Crazybaby Mars retails for $249 ($149 for the first 500 Indiegogo supporters) and features a 4.5" driver in a cylindrical subwoofer module which is rated down to 50Hz and also houses a 10,000 mAh battery, both for portable operation, and for charging your other devices via USB-style ports.  Atop the subwoofer is a 1.75" driver encased in an aluminum saucer designed to look just like a classic flying saucer, a la, The Day The Earth Stood Still.  Cute enough, but here's the real conversation starter: it can actually fly.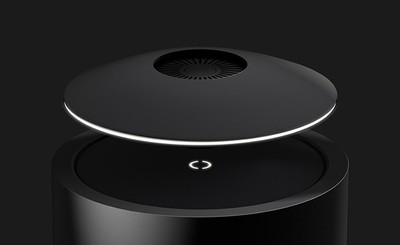 Crazybaby Mars Craft Portable Speaker
Well, flying might be overstating it.  The "Mars Craft" speaker module levitates over the "Mars Base Station" subwoofer, lowering itself to dock when it's low on juice, recharging, and then "taking off" when it's once again fully charged.  Still, if your looking for a statement piece, floating speakers are a good start.  Of course, there are some claims that this floating design has audio benefits such as "delivering sound unimpeded by other surfaces" but we'll say that it's main benefit is getting your friends to say, "Huh?  Cool."
Beyond defying gravity, the Crazybaby Mars has a few other tricks such as aptX Bluetooth for CD-quality wireless sound, a 360-degree omni-directional sound field to give the maximum sweet-spot for listening, a microphone for placing voice-calls, and the ability to pair multiple Mars units for stereo or multi-room operation.  The "saucer" portion can be used independent of the subwoofer so you can pocket the smaller Mars Craft for portability on the go, and then dock it with the Mars Base Station for full-range sound when you return.  There's also a nifty auto-volume feature that uses proximity to a cellphone to increase the volume as you move away from the unit for a more consistent audio level.
Conclusion
As a portable/wireless speaker, the Crazybaby Mars has quite a few features going right, but it might not stand out from the crowd in it's price point.  That is, until it flies.  We can say, with certainty, that this speaker will be a conversation-starter whether perched on an executive's desk, or floating above an Ikea "Lack" side-table at a dorm room party.  Why not check out the Crazybaby Indiegogo campaign for the Mars portable speaker, fire up Basement Jaxx's "We Are Not Alone" or David Bowie's "Starman", and decide if you're ready for lift-off.

Unless otherwise indicated, this is a preview article for the featured product. A formal review may or may not follow in the future.