Corsair SP2500 PC 2.1 Speakers Review
Corsair SP2500 PC 2.1 Speakers Review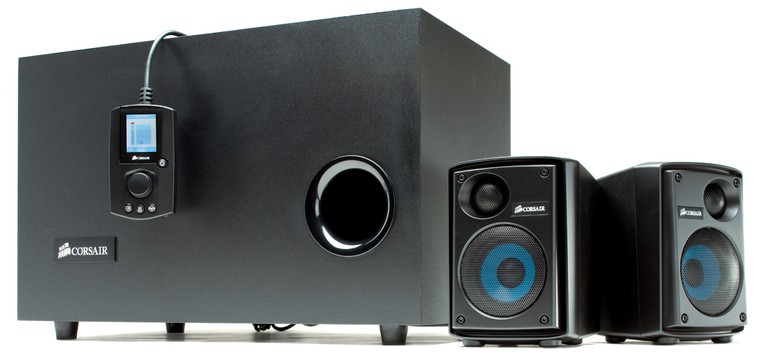 Corsair SP2500 PC 2.1 Speakers
Frequency response: 35Hz – 20kHz +/- 3dB
232 Watts RMS total power (FTC)
Subwoofer dimensions: 18.1 x 10.2 x 11.7 inches (46 x 25.8 x 29.7 cm)
Satellite dimensions: 4.25 x 4.7 x 6.25 inches (10.8 x 12 x 15.9 cm)
8" 120W (IEC60268-5 24hr continuous rating) subwoofer with durable rubber surround
Fourth-order closed bandpass enclosure design
Bridged dual 60 Watt class-D amplifiers with integrated DSP for 120 Watts of power (measured via FTC "RMS" method)
Ultra-efficient integral power supply with 100V – 240V AC input
Bi-amplified, two-way design with detachable audio cables
3" 16W (IEC60628-5 24hr continuous rating) midrange drivers
1" 40W (IEC60268-5 24hr continues rating) ferrofluid-cooled silk diaphragm tweeters
56 Watts RMS per satellite (FTC)
- 40 Watt midrange class-D amplifiers with integrated DSP
- 16 Watt tweeter class-D amplifiers with integrated DSP
Pros
No audible distortion
Excellent bass
Clear treble
Headphone out and Aux in on remote
Cons
Slightly recessed midrange
Low LCD quality on remote
SP2500 Build Quality, Features and LCD Remote Control
I'm always on the lookout for good PC speakers. The challenge, of course, is that most manufacturers are looking to squeak out decent performance from plastic and paper, without a terrible amount of engineering and certainly without the benefit of much power or attention to the things that define good quality speakers. Corsair has bucked the trend in a number of ways with the SP2500 PC 2.1 Speakers. First of all, they have a subwoofer the size of a small refrigerator. Secondly, they put out a couple of Class-D powered 2-way speakers. Compare this to most anemic plastic sub enclosures and "full-range" speakers. The other thing they add is a wired remote control with an LCD-screen and discrete control over subwoofer and satellite speaker volume.
Build Quality & Features

The Corsair Gaming Audio Series SP2500 speakers include a pair of bi-amplified two-way satellites with 1" ferro-cooled silk dome tweeters and 3" midrange drivers. The 8" subwoofer uses a fourth-order bandpass enclosure. The subwoofer, as we mentioned, is extremely large for a 2.1 PC speaker system and is made from 1/2-inch MDF, not plastic. It's well-braced, with corner pieces that are glued in place, but lacks any batting and the driver is unshielded. The satellites are shielded and designed to reduce the interference which is possible with a CRT monitor. The cabling is all well laid out and protected and the Class-D amplifiers are all located on the rear-mounted amplifier plate. Since the port is front-firing, the sub is extremely easy to place - well, except for its size, which is quite robust.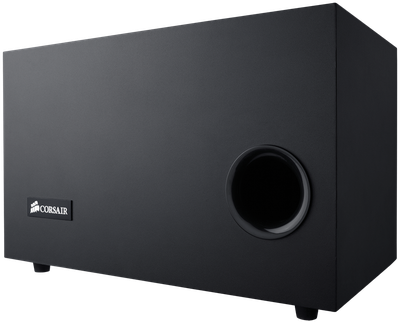 The SP2500 provides more than 230 watts RMS of output power RMS, and it is measured using the FTC method. Our opinion is that the FTC is rather lax in their rating of AV receivers, but with regard to PC speakers - honestly, it's just nice to see some standards used instead of the more common "peak" wattage numbers. Corsair told us that this product was designed and engineered in their newly installed audio lab and they are actively pursuing digital audio solutions on a larger scale. The results speak for themselves. Rather than a simplified speaker system with elementary design parameters, the SP2500 2.1 Speaker System includes a digital signal processor (DSP), six Class-D amplifiers, and active digital crossovers, as well as an easy-to-use wired remote with a ~1.3" color LCD display.
Setup and Remote Control
There wasn't much to setting up the SP2500 speaker system. The speaker cables are terminated into specific, colored connectors that make it such that it's all but impossible to wire the system up incorrectly. The remote control is connected to the subwoofer via a serial connector. The SP2500 just needs the audio from a sound card or other audio source in order to work. Since it has three analogue inputs (including a pair of RCA inputs and two 3.5mm jacks) you have a ton of options. Of the two additional 3.5mm Aux-In jacks, one is on the sub and one is on the controller. This makes it incredibly easy to connect and disconnect an iPod or other mp3 player as needed - right on the desktop. The SP2500 also has a USB connector, but rather than make it connectible to your PC or Mac, this just facilitates future updates to its library of preset EQs and DSP programs.
With the controller, you can select your source (AUX1, AUX2, Line-in), control the volume (satellites and subwoofer can be independently controlled), and adjust the pre-set EQs and DSP programs. Some of the DSP modes are ingenious, like the night mode that pulls a bit more bass into the satellites, allowing you to drop the volume of the subwoofer. We also loved how you can plug headphones right into the remote. Doing so kills the output to both the sub and speakers - as it should - and allows you to instantly switch to your phones for "stealth" listening. All of these controls are easy to use, provided you're looking directly at the LCD screen, veer off to the right and the contrast will dip low enough to make it difficult to read. But honestly, I don't see this as a real-world problem so much as an observation.
SP2500 Listening Tests and Conclusion
This was a fun system to listen to  - it actually delivers significant bass, and we didn't notice any audible distortion, even when cranking it up to full volume. Coincidentally, we would say that this system plays loud - very loud for a PC or gaming speaker system. And we loved the fact that it simply put out sound without turning the output of the tweeters into mush. When it played loud, the audio was usable, and we also liked how setting the bass level independent of the tweeters allowed you to "flavor" the sound, but didn't mean that the bass didn't track with the overall volume when you raised or lowered the system.
CD: Dishwalla - Pet Your Friends


"Counting Blue Cars" is a track I'm quite familiar with, and it's one I use to listen to the interaction between snare and bass. I felt the snare was missing a little bit of its midrange tone, being instead very snappy. Still, it didn't sound anemic or boxy, just a natural result of the lack of a bit more needed surface area on the driver. When the electric guitars set in during the chorus the mix really thickened up and I enjoyed the rich encapsulating sound. These speakers can handle a thick mix without compressing the sound or running out of steam. Guitar solos came through clean and the top end of cymbals and finger noises on guitar strums had a nice crisp sound that was authentic and natural. "Charlie Brown's Parents" revealed a wide, accurate soundstage that surprised me. The stark vocals came right out of the center, while the meandering guitar filled out the right side of the mix. The bass in this track really reveals "boom and sizzle" syndrome, and there was indeed some of that here - the subwoofer didn't have enough delineation from the mains that left it sounding a little boomy whereas on a larger system you'd hear more punch and less boom. Even with this, the speakers really sounded... well, pleasing. It's just fun to kick back and hear tunes on the SP2500 - much more so than almost any other 2.1 system I've listened to in a long time.
CD: Mission Impossible Soundtrack
This is simply an excellent piece, and we loved the bass emphasis that these tracks, especially the "Main Theme" put forth - causing us to feel the bass through the 3/4-inch wood floors that run through our office where we were testing the system. Danny Elfman and crew's score for this film is a tad formulaic, but it's truly enjoyable on a number of levels. It's not terribly cerebral and  the instrumentation is very particular and flows in and out of the mix dynamically, giving the entire CD a really moving and flowing feel that does well to conjure up imagery from the film.
CD: Switchfoot - The Beautiful Letdown

This is one of my favorite albums. Though some of the vocals are purposefully distorted, the rich mix reveals what a system will do with a lot of information - and the soundstage is typically very wide and intricate. With the Corsair 2.1 Speaker System it was immediately clear that the speakers were able to handle lots of modern compressed content and still present a cohesive soundstage. This was demonstrated perfectly with "Meant to Live" and "Dare You to Move" (with the latter being intensely wide and spread out across the soundstage that was my desk). The bass on "Dare You to Move" was actually quite natural and punchy. Vocals were clean and perfectly placed in the center, with the doubled guitars aligning in perfect stereo from the left and right speakers. "The Beautiful Letdown" had a great sample of male vocals and it was nice to listen to the well-rounded performance that delivered a fairly accurate presentation of the track. It also featured a nicely "thumpy" percussion line that showed off the subwoofer nicely.
Conclusion
I wrote this entire review while listening to the Corsair SP2500 2.1 Speaker System. I honestly couldn't help it - it's fun to listen to and a system that I can't imagine anyone would be disappointed with. It's only real deficiency, and we have yet to see a PC speaker that has overcome this, is its lack of powerful midrange. We haven't heard any 3- or 4-inch speakers that could handle the level of midrange a larger, more capable, speaker can. It's somewhat the law of physics - and you know how easy those are to violate... Still, the Corsair system is one the company should be very proud of - especially at a price point of $249. At that price these should fly off the shelves and we can heartily recommend it as a very capable 2.1 solution for those looking to get better sound with their office PC or laptop. Hook this thing up to your workstation and you might find yourself working longer and harder - just to hang out those extra few minutes in the office and listen to more music!
SP2500 2.1 PC Speakers
MSRP: $249
Corsair
46221 Landing Parkway
Fremont, CA 94538
www.corsair.com
Read Consumer Reviews on


About Corsair
Founded in 1994, Corsair supplies high performance products purchased primarily by PC gaming enthusiasts who build their own PCs or buy pre-assembled customized systems. The company's award-winning products include DRAM memory modules, USB flash drives, power supply units, solid-state drives, cooling systems, computer cases and headset and speakers systems.

The Score Card
The scoring below is based on each piece of equipment doing the duty it is designed for. The numbers are weighed heavily with respect to the individual cost of each unit, thus giving a rating roughly equal to:
Performance × Price Factor/Value = Rating
Audioholics.com note: The ratings indicated below are based on subjective listening and objective testing of the product in question. The rating scale is based on performance/value ratio. If you notice better performing products in future reviews that have lower numbers in certain areas, be aware that the value factor is most likely the culprit. Other Audioholics reviewers may rate products solely based on performance, and each reviewer has his/her own system for ratings.
Audioholics Rating Scale
— Excellent
— Very Good
— Good
— Fair
— Poor
| Metric | Rating |
| --- | --- |
| Build Quality | |
| Appearance | |
| Treble Extension | |
| Midrange Accuracy | |
| Bass Extension | |
| Imaging | |
| Soundstage | |
| Fit and Finish | |
| Performance | |
| Value | |