Audioengine A5 Build Quality
Audioengine A5 Build Quality
As a reviewer, one gets a chance to see, hear and play with a variety of equipment - some good and some not so good. Every now and then a product comes into your hands that takes you by surprise. The Audioengine 5 is one of those. Let's face the facts; in the world of MP3 players and portable music systems, most of them leave a lot to be desired. This is not true of the Audioengine A5. Most MP3 music systems are constructed of plastic and are really nothing more than a glorified boom box - not true of the A5. Most are designed with fidelity as an afterthought (or in some cases no thought at all). This is absolutely NOT true of the Audioengine 5. Nearly all would be snubbed by anyone interested using this type of product for high-quality music listening. If one snubs the Audioengine 5 then you could truly be called an audio snob. Perhaps you think I have set the bar a little high for powered speaker system? Maybe you think I am insane for even suggesting such a thing could be worthy your time? Think again and read on to get the details.
Description & Build Quality
Let me first start with what the Audioengine 5 is not. The Audioengine 5 is not a boom box or plastic injection molded speaker system with a tiny little underpowered amp that reaches annoying levels of distortion almost as soon as it is turned on. The fact of the matter is, the Audioengine 5 is a different breed altogether and in a class all by itself. This is refreshing indeed.
The Audioengine 5 is set of self-powered, high quality two-way monitors with inputs for an iPod or any MP3 player, laptop or desktop. It does not have a remote, does not cook your breakfast, do your laundry or walk your dog. It does , however deliver big-time on quality and that is a bit rare in this market.
The first thing I noticed when unpacking the A5 was the weight. The left speaker, which contains the amp, weighs in at a hefty 14lbs and the right one at 9lbs. The finish on the A5 is a beautiful high gloss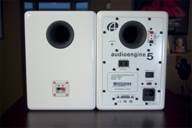 piano finish that I know from personal experiences is not all that easy to achieve. This brings me to one of my several but minor complaints. I wish they offered them in black, as I am not a fan of white or silver audio components. However, since these are marketed towards the iPod, it is certainly understandable. It is a very nice finish nonetheless.
The speakers cabinets are constructed of 1 inch thick MDF and are well braced internality. Having built my share of speaker cabinets both for myself and while working for a small speaker shop in Florida, I can say that these were designed and built by someone who cares. The drivers consist of 5-inch Kevlar woofers and 20mm silk dome tweeters, both of very good quality. Audioengine states that the drivers are designed and built by them, something that is very rare for a product such as this (typically this means they were built to their specifications and not necessarily manufactured in-house). The drivers are also magnetically shielded for use next to CRT-based displays. Fit and finish on the A5 is top notch.
Looking at the back of the left speaker reveals the AC input, power switch, voltage select, output to right speaker, aux AC outlet (for use with air tunes or a DC power adapter), and audio input. The right speaker has just one speaker terminal, which leads me to my next minor complaint. The speaker terminals are the cheap spring clip type and are so small I could not get my fingers inside to press down the clip and insert the wire at the same time. I had to have my 10-year-old son do it for me. As good as everything else is on these speakers, they are in need of some real binding posts.
Editorial Note on Binding Posts & Finish Color (as of 04/27/08)

Audioengine has informed us that since the time of this review, they have upgraded the speaker terminals to high quality binding posts and now also offer a black cabinet finish.

On the top of the left speaker there resides another audio input and a USB charging port.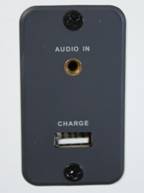 Audioengine chose not to use the iPod 30-pin dock connector and I think that is a good move. I am not real fond of that connection myself. It would no doubt just raise the cost and is not needed in this reviewer's opinion (plus Apple will just change it in 6 months anyway). On the front there is a power on LED and a volume knob. No bells, no whistles - just what's needed.
Taking a peek on the inside of the left speaker reveals the amp section and crossover. Aside from the high quality drivers, this is what separates the A5 apart from the competition. You are not going to find a torroidal coil and crossover such as this in a plastic boom box (no electrolytic caps wired in series here). The A5 boasts a 45-watt amp with 70-watts peak power. While I did not take amplifier measurements, one look at the coil and the output transistors and I have no doubt it would meet or beat that spec.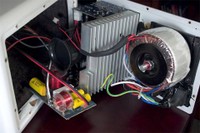 Confused about what AV Gear to buy or how to set it up? Join our Exclusive Audioholics E-Book Membership Program!