Expressionist PLUS Full Review
Expressionist PLUS Full Review
The Altec Lansing expressionist PLUS speakers are beautiful speakers to look at. When it comes to desktop multimedia speakers I have to admit that I'm a sucker for good looks and put that as a high priority when selecting a pair of speakers. After all, you're going to be looking at them all day (if you're like me) and for critical listening you can always saunter over to your theater room. Still, if you can meld good sound with good looks then you're way ahead of the game – and this is the direction Altec Lansing chose to take with its new expressionist PLUS speakers.
This 2.1 systems comes with a 5.25" subwoofer, whose diminutive size still allowed it to push quite a bit of audio and create a well-rounded sound that was, overall, very pleasing to both the eyes and ears. I was particularly fond of the shape of the subwoofer in relation to the satellite speakers. The small satellites, with their 2" "full range" drivers look like smaller versions of the sub turned on its side. It's a great concept and I had to admit the system looked really good as a package – something I do not say about most multimedia systems. It's evident form the get-go that the design was carefully thought-out and much time was taken to get at least the physical parameters of the design figured out.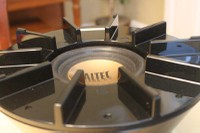 Starting again with the sub, we liked how it's 5.25" driver was down-firing, but after tapping it with our finger we quickly determined that the resulting resonant frequency would indicate a rather limited low frequency extension from this device. Given its size and design limitations that wasn't exactly unexpected.   Flipping the subwoofer upside down we noted the beautiful acrylic fins which served as the feet on which the subwoofer stood, allowing the air below to escape as needed. Unlike the photo depicted on the Altec Lansing website, our sample had black acrylic fins to match the enclosure color, not clear acrylic. As they are on the bottom of the sub – and many will find it better to place the sub on the floor, I don't think this is a major concern. The top of the sub has a large power button that can be rotated to control subwoofer volume. I found it to be easy to use and it was a very practical solution that was much better than a small volume dial at the bottom of the sub (something we've seen – and lamented - on competitive products).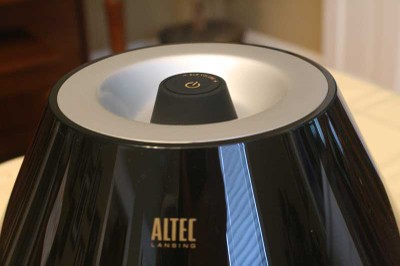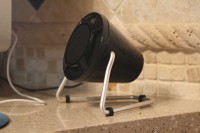 The satellite speakers are well-made, with stainless steel legs that allow for the conical speakers to be aimed up at the listening position. Three plastic feet are affixed to the metal legs in order to protect delicate surfaces and keep the speakers from moving about too much. The left speaker also contains a volume control, which we found a tad difficult to use without causing the speaker to move or having to grab the face of the speaker with our whole hand. The speakers are hard-wired to each other and back to the subwoofer. They allow for a reasonable amount of distance between the speakers and we found that placing them was easy and offered us a lot of flexibility, especially when we moved the subwoofer to beneath our desk area.
Setup
Configuring multimedia speakers is a breeze if they do not contain a fancy digital control center.  We simply unpacked the system, set the speakers on our desktop and connected the satellites' multi-pin DIN connector to the subwoofer as indicated. Our sub was placed below the desk on the floor, however it's certainly beautiful enough to occupy a spot on your desk should you find you have enough room. Next we connected the subwoofer's Input jack to the audio output of our iMac using the included 1/8-inch stereo audio cable. Finally, we connected the DC power adapter to the sub and turned it on using the button on top of the sub. We used our ears rather than an SPL meter to set the desired subwoofer level. When you are dealing with a multimedia speaker system, it's best to simply configure the sub using a selection of music until you have a good median starting point. You can always adjust the subwoofer's level to taste later – and we did this several times during our evaluation period. One thing that stood out ot us was the odd volume controls. Mounted on the top of the left speaker, we found them to be a tad difficult to adjust without moving the speaker in the process with your hand. As a result, we found ourselves placing our entire hand around the speaker while we adjusted volume. Some way to simply top the controls lightly would have been welcome.
Listening Evaluation
The sub put out a considerable amount of volume, surprising us and causing us to want to find examples of bass-heavy music with which to test the system. It didn't take long before we lined up several tracks to tickle our ears and test the limits of this sub.
CD: Yello – the eye

You'd think we could do the entire evaluation with just this CD, however I did manage to include quite a bunch more music. For this album, however, we stuck with several key tracks which showed us the imaging of the expressionist PLUS system was exceptional and did a fantastic job of anchoring vocals to the center and presenting a wide soundstage. In the opening track, "Planet Dada" literally tosses sounds into the left and right channels and it sounded crisp, punctuated and clear, with each item appearing as I know where it should (having heard this track an almost endless number of times). Next up was "Soul on Ice" whose deep, dark vocals present a compelling sound that is often not reproduced well by systems that can't connect the satellites to the mains. In the case of the expressionist PLUS we felt there was a slight peak right around the apparent crossover point of 180Hz, but it was subtle. The vocals had some excellent texture and the following track "Junior B" also caused us to sit back and just enjoy the female vocals that emanated silkily from the speakers.
CD: ZOEgirl Life

I love the beautiful, and largely clean vocals of ZOEgirl and "Waiting" was a beautiful song in which we were able to listen to a fuller mix whereby the Altec Lansing system needed to put out a solid bass line, punctuated kick and snare and simultaneously support solid female vocals and a backing track. The result was a solid mix, not sloppy or distorted as can often be the case. We felt that these speakers were quite good for casual listening. It was fun to hear music reproduced on the expressionist PLUS system and the well-rounded sound really started to grow on us.
I think that it's important to note that overall, bass wasn't flabby – in fact it was quite solid in the range that the system could reproduce. We through some challenges at it, like some select tracks from Seal and The Eagles which quickly pointed out the lower limits of this system's bass capabilities, but nothing was unexpected and the system definitely hit it's specs. Would we like a larger subwoofer with more power and a bigger driver and box volume? Sure, but this would cost much more than the $99 the expressionist PLUS can be found for and would make this a very different type of product. I'd like my Jeep Liberty to get 30 mpg and accelerate from 0-60 in 4 seconds, but... I think you get my point.
Conclusion
When I first saw the Altec Lansing expressionist PLUS 2.1 speakers I felt that they were exceptional looking and hoped that they would sound at least half as good as they look. For $99 I found that these speakers perfectly hit that balance between form and function – and at a bargain price. While they may not be the best speakers we've heard at this price, they are most certainly better looking. In my opinion having a good-sounding set of speakers that also happen to look stunning is a winning combination.
Altec Lansing expressionist PLUS Multimedia Speakers
$99
Altec Lansing
535 Route 6 & 209
Milford, Pennsylvania 18337
About Altec Lansing
For more than 70 years Altec Lansing has been viewed among audiophiles as the world's
most valuable and innovative audio brand and boasts a unique history of innovation that includes the introduction of first talkie film speakers, the first iPod docking station and the first "Works with iPhone" speaker system. Altec Lansing makes a wide range of audio systems for the home and office; a line of headphones for personal listening; and the popular line of inMotion® speaker systems for portable digital players. Altec Lansing, a division of Plantronics, Inc. (NYSE: PLT), is headquartered in Milford, PA.
The Score Card
The scoring below is based on each piece of equipment doing the duty it is designed for. The numbers are weighed heavily with respect to the individual cost of each unit, thus giving a rating roughly equal to:
Performance × Price Factor/Value = Rating
Audioholics.com note: The ratings indicated below are based on subjective listening and objective testing of the product in question. The rating scale is based on performance/value ratio. If you notice better performing products in future reviews that have lower numbers in certain areas, be aware that the value factor is most likely the culprit. Other Audioholics reviewers may rate products solely based on performance, and each reviewer has his/her own system for ratings.
Audioholics Rating Scale
— Excellent
— Very Good
— Good
— Fair
— Poor
| Metric | Rating |
| --- | --- |
| Build Quality | |
| Appearance | |
| Treble Extension | |
| Treble Smoothness | |
| Midrange Accuracy | |
| Bass Extension | |
| Bass Accuracy | |
| Imaging | |
| Soundstage | |
| Dynamic Range | |
| Performance | |
| Value | |
Confused about what AV Gear to buy or how to set it up? Join our Exclusive Audioholics E-Book Membership Program!
Recent Forum Posts: