Yes Symphonic Live (DTS) Concert DVD Review
Yes Symphonic Live (DTS) Concert DVD Review
by
Steve DellaSala
—
December 07, 2006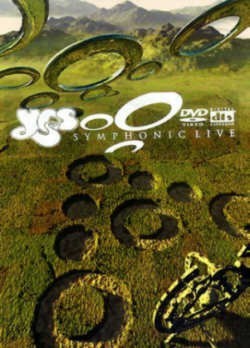 DVD Concert/Movie Summary
Are you ready for the best Yes concert DVD to ever hit the market? Folks, I have them all; I own Yessongs, Live in Philadelphia (1979), Live From the House of Blues, Anderson - Bruford - Wakeman - Howe, and even Keys to Ascension and none of these even come close to the audio, video and production of Yes Symphonic Live. From the song list, to the visual and audio quality, this is the best DVD Concert in my massive collection and to make it better, it also has a DTS sound track.
I've been a Yes fan since I was a wee pup, thanks to my older brothers, and I've also been following them in concert for over 20 years. To compliment this remarkable production, Yes' performance is the best I've EVER heard and seen. Steve Howe, Jon Anderson, Alan White and Chris Squire play and sing as if they are 20-years old again, but better. Regretfully, Rick Wakeman did not make this affair, and I'm not exactly sure why. Some say it was for health reasons. But, fear not, Rick is touring with them this month, but minus the orchestra.
Song List
Close to The Edge
Long Distance Runaround
Don't Go
In The Presence Of
Gates Of Delirium - AWESOME !
Steve Howe Guitar Solo
Starship Trooper
Magnification
And You and I
Ritual - Again; AWESOME!
I'veSeen All Good People
Owner of a Lonely Heart
Roundabout
Then, the icing on the cake is the orchestra, which adds a whole new dimension to old classics, such as Close to the Edge, Long Distance Runaround and Starship Trooper. As if that's not enough, Yes also went out of their way to perform some rare, concept songs, such as Gates of Delirium and Ritual, to which the orchestra's hard work results in two 20 minute affairs that are like a roller-coaster ride you will never forget. As the DVD cover states, "Be warned. This is no dry 'rock plays the classics' affair." Without hesitation, if you're a Yes fan, or even if you just enjoy great DVD Concerts, this is a must-have in your collection. It is indeed worthy of being played loudly on even the best Audiophile System.
Be sure to visit the Yes Home Page
Audio Performance

From the mix to the overall sound quality, this DVD Concert has one of the best sound tracks I've heard. The Producer, Perry Joseph, did an awesome job of mixing the track. It is clear without any harsh sound and the detail in the music is amazing. Throughout the concert, the cameras change to different musicians. In doing so, the sound track actually has a slight increase in volume to hear the instrument a bit more, without being over powering. Very nicely done!
Video Performance

The video production is outstanding and very creative. The stage has a great deal of character and detail, and the video producers did an outstanding job in capturing it all. There are times that they use the mirrors as part of the image and it creates a wonderful effect.
Special Features

The DVD does have a number of options and special features, some of which are worthwhile. This includes a "Dreamtime" documentary and bonus video of "Don't Go." The one nice thing about this video is that it allows you to turn off the animation so that it remains on the concert. Within each song, there are special animations that you can view during the music. For the most part, they are nice to look at one time, but it's great that they allow you the option to turn it off.
Overall Impression

As indicated above, its awesome and well worth the money. The video and audio production are unmatched in previous Yes DVD concerts.
Happy Listening!
Confused about what AV Gear to buy or how to set it up? Join our Exclusive Audioholics E-Book Membership Program!