Steely Dan's Two Against Nature (DTS) Review
Steely Dan's Two Against Nature (DTS) Review
by
Steve DellaSala
—
December 07, 2006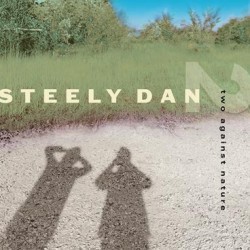 Concert Summary
Steely Dan is one of my all time, favorite bands. Their music offers tremendous diversity, style and talent that's found in few bands today. Furthermore, their music has endured the test of time and even their most recent work, "Two Against Nature," is destined to be a classic. This concert DVD captures one of the rare times when Steely Dan actually took their talent on the road.
Its filled with many old time greats and plenty of their latest material. There's a bit of humor thrown in between songs with Walter Becker and Donald Fagen interviewing band members and talking about their fans. The performance is solid, the sound track is great, but the video quality could be better.
Song List
Green Earrings
Cousin Dupree
Bad Sneakers
Janie Runaway
Josie
FM
Gaslighting Abbie
Black Friday
Babylon Sisters
Kid Charlemagne
Jack Of Speed
Peg
What A Shame About Me
Pretzel Logic
Be sure to visit the Steely Dan Home Page
Audio Performance

The DTS definitely offers an improved sound track over the Dolby Digital. The overall sound quality of this concert is worthy to be played loudly on any HiFi system. The tell tale sign for me is when listening to Walter Becker's guitar. On the new studio album and in this concert DVD, Walter plays a Roger Sadowsky guitar. This guitar has unique pickups that offer a subtle but distinctive sound and fidelity to Walter's playing. I was surprised to hear that characteristic sound so greatly captured as it is in this DVD concert.
Video Performance

This is my only criticism of the DVD. When compared to other DVD concerts I've reviewed and have in my collection, this DVD does not offer the same caliber of video image. It lacks the crisp detail that can be found in the Eric Clapton and Yes DVD concerts reviewed on this site.
Overall Impression

This is a must have for any Steely Dan fan. The audio quality makes up for the slightly lacking video quality and is worth cranking loudly. I've also found this concert DVD useful to play during parties. It offers the perfect party music and a chance to show off my Home Theater system to friends.
Happy Listening!
Confused about what AV Gear to buy or how to set it up? Join our Exclusive Audioholics E-Book Membership Program!