Eric Clapton Live - One More Car One More Rider
Eric Clapton Live - One More Car One More Rider
by
Steve DellaSala
—
December 07, 2006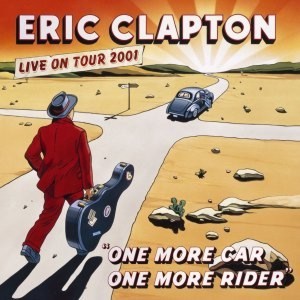 Introduction
For the "One More Car One More Rider" Live on tour 2001, Eric Clapton backed himself up with some of the finest Jazz musicians in the industry. For starters is the amazing Steve Gadd on drums. You may remember him from Steely Dan, Al DiMeola (guitar), Chic Corea (keyboard) and the list goes on. Eric's band is fully armed with one of the foremost jazz basist's, Nathan East. Nathan has appeared on hundreds of albums and in numerous Grammy-award winning performances including Eric's MTV Unplugged and his 1997 Song of the Year "Change The World". He was also co-founder of the group Fourplay (signed to Warner Bros), with Bob James (piano), Lee Ritenour (guitar) and Harvey Mason (drums), whose Grammy-nominated albums have earned Gold status and continue to top Billboard's Contemporary Jazz charts. His outstanding contribution to popular music has been recognized with distinctions that include Britain's Ivor Novello Award, ASCAP Awards for songwriting, NARAS Most Valuable Player for several successive years and MVP at the International Rock Awards. If that's not enough, Eric has none other then Billy Preston hammering away on the Hammond Organ. For those to young to know, Billy Preston is sometimes known as the "fifth Beatle" due to his work on "Let it Be" and "Abbey Road." In addition to the Beatles, his accomplishments are highlighted by a string of hits, including collaborations with some of the most celebrated names in the music industry: Aretha Franklin, Sammy Davis Jr., Quincy Jones, The Jackson Five, The Rolling Stones and The Beatles, not to mention his beginnings as a Gospel musician. Without question, Billy Preston adds the sole to this awesome concert.
Song List
Key To The Highway
Reptile
Got You On My Mind
Tears In Heaven
Bell Bottom Blues
Change The World
My Father's Eyes
River Of Tears
Goin' Down Slow
She's Gone
I Want A Little Girl
Badge
Hoochie Coochie Man
Have You Ever Loved A Woman?
Cocaine
Wonderful tonight
Layla
Will It Go Round In Circles?
Sunshine For Your Love
Over The Rainbow
Concert Summary
Like a good bottle of wine, the older Eric Clapton gets, the better he becomes. The "One More Car One More Rider" DVD concert is a wonderful display of a legendary guitar player that continues to refine his playing, even after his magnitude of success obtained over so many years of fine playing. The Concert starts with just Eric Clapton on acoustic guitar. For me, that would be more then enough, but that's just the beginning. After his first bluesy lick on acoustic, on comes the band. That's when Eric reaches for the semi-hollow body Gibson Electric and plays something startling; a jazz riff. With the band he has backing him up, I guess it should be expected. Then it's back to the acoustic with full band for several wonderful tunes. The first 30 minutes or so is very subdued and relaxing and shows Eric's refined side of playing. Then itâs on to his fancy painted Fender Stratocaster and the blues. Man, there's still no one that can play the blues like that man. Mixed in the blues tunes are classic Clapton tunes that include Badge, Cocaine, Wonderful Tonight, Layla and Sunshine For Your Love. The whole concert is an experience and the DVD does a remarkable job of capturing the magic.

Audio Quality
I was originally turned on to this concert when it appeared on Direct TV as part of their free monthly concerts. Even though satellite and cable grossly compress the signal, the sound track still sounded great. I then rushed out to purchase the DVD. Without question, this is a fabulous mix. It's recorded in DTS and is smooth listening all the way through.
Video Quality

The video quality on this DVD concert is outstanding. The clarity and detail are apparent even on a large windscreen TV. Very nicely done.
Overall Impression

Stunning. It starts mellow with just acoustic, builds a bit with some semi-hollow body electric guitar and bolts you with major blues. When that's all done, Eric comes back for some smoking hits. A full 128 minute delight
Confused about what AV Gear to buy or how to set it up? Join our Exclusive Audioholics E-Book Membership Program!