HD DVD Review: Eastern Promises Starring Academy Award Nominee Viggo Mortensen
HD DVD Review: Eastern Promises Starring Academy Award Nominee Viggo Mortensen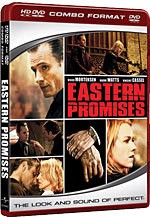 Eastern Promises HD DVD
Starring: Viggo Mortensen, Naomi Watts Directed by: David Cronenberg
Studio: Universal
Media Release: December 28, 2007
Aspect Ratio: 1.85:1
Audio Formats
English Dolby TrueHD 5.1 Surround
English Dolby Digital Plus 5.1 Surround
French Dolby Digital Plus 5.1 Surround
Movie 4 of 5 ****
The latest film by David Cronenberg is a violent suspense-thriller that tours the subculture of the Russian mafia. It's the story of an English/Russian midwife named Anna Khitova (Naomi Watts) who learns more than she ought to about the Russian mob while trying to locate the family of baby whose mother died in childbirth.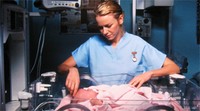 Anna finds the deceased mother's diary, and takes it home hoping her Russian father can translate it for her so she can find clues on where the woman came from. When he refuses, she recruits the help of a restaurant owner, not realizing he is also the leader of a London arm of the Russian mob.
We're dropped into a suspenseful mystery when we learn the mob patriarch, Semyon (Armin Mueller-Stahl), is implicated in the deceased mother's diary for running a slavery ring in the city.
In true Cronenberg style, the Canadian director gives unflinching brutality that is never the source of excitement that way violence is often played out in thrilling action movies. He has a way of showing violence that is ugly, painful and more realistic.
The casting in this film is masterful, particularly in the case of Viggo Mortensen who plays a driver and bodyguard to the son of the mob's patriarch. We're treated to strange ceremonies of this world's peculiar subculture, which values honor among thieves and views prison time as a job requirement to ascend the ranks of the organization.
Mortensen disappears into his role so completely that it's possible you won't even recognize him as the man who played Aragorn in The Lord of the Rings.
This film gave me tremendous respect for Mortensen's acting and his relationship with Cronenberg. This is the second film the two have worked on together, and I wasn't as impressed with History of Violence as I was with Eastern Promises.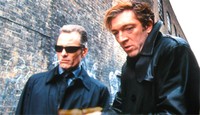 Writer's Note: I just found out that Viggo Mortensen was nominated for an Academy Award this morning - lending some authenticity to my ravings of his performance. I won't say if he deserves the Oscar but this is definitely a career altering role for Mortensen.
Right after seeing this movie, I wanted to see it again. I found it powerful and moving - yes it's violent and bloody at times, but it's not an action film. The tension in the story is the constant threat of violence to the main characters. The storytelling is powerful, characters are believable and acting is top notch – this is the breakthrough role for Viggo Mortensen.
Video 4 of 5 ****
Universal produced near perfect 1.85:1/1080p/VC-1 video on this HD DVD release. The film is a credit to the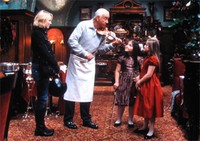 format. The movie isn't exactly a visual showcase because the scenes are mainly indoor or in the shadows of the city of London, England. But the video quality is more than up to the task. The colors were remarkable and well defined, beads of sweat became visible in the tense scenes and the shades of black that were critical to the film, as it moved through the shadowy and dangerous world of the Russian mob, were perfectly captured.
Audio 3 of 5 ***
With available Dolby TrueHD 5.1 and Dolby Digital Plus 5.1, the audio is balanced and effective. Though it's not the kind of movie to give much opportunity to test your surrounds and subwoofer - the surround effects are subtle and never overpowering.
The dialogue was always clear, and with a well-matched speaker system you shouldn't find yourself adjusting the volume to hear people speak.
Special Features 2 of 5 **
There is a definite lack of special features with this film, and that's okay. It seems all blockbuster films these days want to load you down with either an extra disc or dozens of superfluous vignettes. Here, there are only three short and forgettable features.
Web Enabled features: Consists of nothing more than trailers for other Universal films on HD DVD.
Secrets and Stories: 10:30. It's a kind of advertisement for the film, filled with the typical promotional material where cast and crew talk about how great everyone else involved with the project was. We hear how Naomi Watts was the first choice for the role she played and how they were so lucky she was available. Just once I'd like to hear something like, "Well… since we couldn't get Nicole Kidman we went with Watts instead."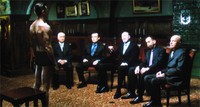 Marked for Life: 6:41. A short vignette where some of the actors (most notably Viggo Mortensen) get to talk about the tattoos and culture of the Russian mafia. Mortensen and Cronenberg talk in great detail about what the tattoos mean and the stories that are told on the skin.
Overall 4 of 5 ****
I highly recommend this film to anyone who likes action movies, thrillers, mystery or even art-house cinema, this film fits somewhere between them all. The HD transfer is brilliant and the multi-channel surround sound is well done. Although the movie isn't the sound and visual showcase of most Hollywood blockbusters, the HD DVD presentation is nearly perfect.
Cronenberg treats the film's subject matter with surprising delicacy. The story's themes are that of finding one's roots, family, loyalty and what one person might endure to build a better life.
I believe I can say without spoiling anything that the film's real protagonist succeeds in providing that better life. Even though she had help and it wasn't necessarily for herself, the story ends on a bittersweet note that will keep you thinking well past the credits.

Recent Forum Posts:
birdonthebeach posts on January 23, 2008 07:48
Great review. You have nailed my biggest pet peeve about "making of's" that end up on so many DVDs. They are all just clips of the movie interspersed with the actors and director talking about how great each other is, and what an honor to work with so and so, and on and on and on….. I'm like you - either give us some dish, or give us a true making of, that actually shows true behind the scenes stuff.

We enjoyed the movie - certainly worth it's spot in our Netflix que.
Buckeye_Nut posts on January 23, 2008 01:31
I enjoyed the movie and thought it was good all the way through until it ended,and then I felt cheated and unsatisfied.

I rate it average
kragnorok posts on January 22, 2008 23:21
I gotta say, I really enjoyed the movie, the shower scene was really well done for that kind of scene, captured the rawness. Only thing I have to say that disappointed me was the ending, just wasn't a big fan of the abruptness of it. Other than that I enjoyed it.

If I have any spoilers in here just tell me Ill edit it, but I dont think I give anything away lol.
majorloser posts on January 22, 2008 20:32
Tomorrow, post: 362550
This was an entertaining and gritty movie and is worthy of your 4 stars. IMHO, Mortenson is one of the finest acting talents around.
Make that three votes.
The fight scene in the shower made the wife happy
Addy posts on January 22, 2008 20:21
killer movie loved it all
Post Reply