The Departed HD DVD Review
The Departed HD DVD Review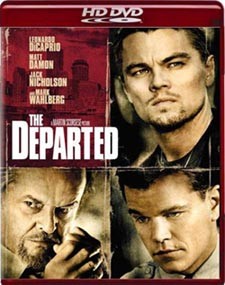 The Departed HD DVD
Format: HD DVD
Disc Resolution: 1080p, 2.4:1 aspect ratio
Display: Epson Pro Cinema 1080 (1080p)
Reference System: Reference System 2
Reference HD DVD Player: Toshiba HD-XA2

Introduction
The Departed is a film that captured our attention for several reasons. First off, as an Academy Award winner it stood out for its apparent merit as a film. Secondly, the number of A-list actors in the film are mind-blowing and I knew the film would be enjoyable regardless of plot due to the sheer presence of the talent on the screen. The last reason we chose this disc was due to the fact that surely for such an eventful film as a Scorsese masterpiece the audio and video quality must have been meticulously attended to in the mastering process to HD DVD. The review as a whole will cover our findings in more detail.
Statement of Calibration
When reviewing HD DVDs it's important to have an accurately calibrated system. If the review system is not calibrated properly then it is near-impossible to know if you are describing assets or flaws of the disc, or assets and flaws of your reference display or audio system. In Reference System 2 there are several things that aid in the review process. The display is calibrated to ISF standards (and re-calibrated at least once per month). The audio system is a known reference system - as are the acoustical qualities of the treated room. This means that if the reviewer encounters an audio anomaly, he'll be able to determine whether it exists on the disc or is simply an artifact of the room or listening setup. Without these conditions in place it is all but impossible to deliver a technically-focused review and we try to do our best to eliminate outside variables from what we discuss within the review itself.
Overview
We'll introduce this HD DVD review of The Departed by stating that, fortunately, most of the HD DVDs we've seen have from 'Good' to 'Excellent' video quality. This makes it very difficult to find levels of visual distinction between discs from a purely technical point of reference. Still, descriptive elements are the key here and we can break down each section and give a nice overview of the disc performance from a number of specific angles.
Color Saturation/Quality
The greatest asset of The Departed was its color saturation and depth. Colors were almost oversaturated and everything was very vivid and vibrant. Skin tones were a tad overblown, but not distracting. In the same way that some food is over-seasoned in order to appeal to weakened palates, The Departed maintained a veritable smorgasbord of rich, deep color and I noticed no banding or break-up of gradients throughout the film.
Picture Noise
In this, the film excelled. Shot on film, The Departed had a very minor amount of film grain and noise present within the picture. It was so clean, in fact, that I kept looking for signs of overdone noise reduction (ghosting or smearing) - and there was none. Whether it was detailed concrete walls or road pavers, or even blue sky or solid objects, noise was absent except for some interior scenes where light levels were lower (which will typically bring out film grain in any case). For some interior shots, like when Madolyn receives the envelope from Costigan, you can see a definite amount of grain in the picture. Trace amounts of grain were also present in the interior bar scenes - but it was to such little consequence that the effect was much like watching something shot with a DV camera in much better lighting conditions. Also, when you paused playback, you could see some of the noise that all but disappeared during normal playback.
Detail
Jack Nicholson's character wears an awesome striped suit near the end of the movie and you couldn't ask for a more natural resolution and detail test. The pin striped went from regular spacing to infinity on his shoulder where they appeared to meet. Joe Kane should consider putting this on his next test disc as it truly showed off any moiré issues one could have with respect to resolution and output. There was also no detrimental edge enhancement or halos present in the film.
Audio Options
Audio options include Dolby TrueHD (English 5.1), Dolby Digital Plus (English 5.1, French 5.1, Spanish 5.1); Subtitles (English, English for Hearing Impaired, French, and Spanish). The default audio track is Dolby Digital Plus, so be sure to switch over to Dolby TrueHD if you are using HDMI and a compatible receiver (Dolby TrueHD will be rendered perfectly if your receiver can handle uncompressed 5.1 PCM.) The audio soundtrack was subdued - this wasn't so much of an action movie as a thriller. Surrounds were used primarily for ambience effect, and scenes like those in warehouses and interiors were nicely filled with reverb.
Audio Resolution
There was a definite difference between Dolby Digital Plus and Dolby TrueHD in my opinion. This was especially apparent during the soft ambient scenes where dialogue occurred in a wide open, reverberant space. I really enjoyed listening to both soundtracks back and forth to determine how each differed from the other. Dolby Digital Plus is exceptional, however it seemed to lack the depth and resolution of TrueHD.
Special Features
Behind the Story: The True Story of Whitey Bulger, Southie and The Departed (0:21:06).
This feature showed a nice behind the scenes look at where the story for the film came from and how the film adapted this true story to the screen. In a sense, The Departed, departed from the truth enough to make it more interesting of a story, but also managed to capture the essence of the people, the location and the historical issues involved in the real-life history of Southie and Whitey Bulger. The story is more about Southie (South Boston) than the real Whitely Bulger story, but it does touch upon his place in Southie and what he did there.
Crossing Criminal Cultures (0:24:02)
This is a discussion of what drew Scorsese to the movie (which is really a remake if a Chinese movie titled Infernal Affairs.) It's an interesting short, and deals mostly with the filmmaker and his relationship to the events and themes in the movie. It's nice that it touches upon some of his other films and influences, so fans of Scorsese will likely enjoy this section.
Additional Footage/Deleted Scenes (0:19:23)
Scorsese intros these deleted scenes as more of "additional footage" since he considers them to be quite good, but simply unable to be included due to the need for a final concise cut. Scorsese intros all the clips as opposed to the more common commentary or "talk-over" option seen in many standard DVDs. It was nice, though a bit extended… Scorsese strikes me as someone who thinks everything he shoots is masterful and these "melted away" scenes must have been tough for him to lose. My favorite is a huge intro by Scorsese that dwarfs the actual scene consisting of DeCaprio sitting on a bench smoking a cigarette… truly amazing stuff, lol.
There is also a theatrical trailer in standard definition.
Menu System
The menu system is simple, but elegant. There is a short "gas-release" or "hiss" sound that activates whenever a submenu slides out. Navigating between the main menu sections yields a subtle plastic 'tock' sound. Menu sound is on by default but can be disabled if you so desire.
Of final note, there is a nice promo scene at the end where an entire rack of Macintosh gear is flipped on to play the condemning evidence against Matt Damon's character. It was such an obvious product placement and seemed oddly out of place, but no self-respecting audioholic would let a review go by without mentioning it.
Screen Shots
Summary
While I felt the plot of this movie a bit lacking, I actually picked up more the second time I watched it. I'd recommend it as a reference video disc, but I also have a sneaking suspicion that many HD DVDs will be recommended as such. The audio is a bit placid - this is not a very dynamic movie for surround audio. If you are looking for something the wow your guests in terms of a 5.1 sound stage, look elsewhere. Overall, this disc is beautiful, well executed and will do well on anyone's software shelf. If you're a Scorsese fan, you'll enjoy the extras and let's face it, I could watch all these stars sitting around a table playing poker and it would be enough for me.
Confused about what AV Gear to buy or how to set it up? Join our Exclusive Audioholics E-Book Membership Program!
Recent Forum Posts:
Leprkon posts on May 31, 2007 19:09
GlocksRock, post: 272795
But Heat had DeNiro and Pacino in it, so naturally it's gonna be better.
This is true. One could also argue that "Heat" did not get a single Academy Award nomination (let alone win), therefore it would also naturally be better…
GlocksRock posts on May 31, 2007 08:57
Leprkon, post: 272699
Doesn't compare to "Heat", but it was better than most.
But Heat had DeNiro and Pacino in it, so naturally it's gonna be better.
Leprkon posts on May 30, 2007 19:53
Doesn't compare to "Heat", but it was better than most.
j_garcia posts on May 30, 2007 17:42
Someone else said that too…I'll have to check it out.
ned posts on May 30, 2007 17:15
I encourage you to watch the original Trilogy Infernal Affairs. IMHO, the story line as miles away from the Departed.
Post Reply