Crouching Tiger, Hidden Dragon Blu-ray Review
Crouching Tiger, Hidden Dragon Blu-ray Review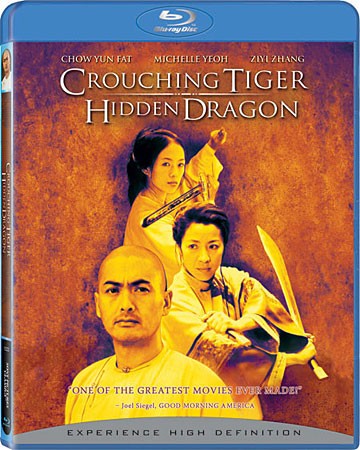 Crouching Tiger, Hidden Dragon on Blu-ray
Wuxia and Ang Lee
For many kids growing up in the 1970s and 80s, Kung-Fu films were a staple of late-night TV, they were the video-games of their day. Although often poorly acted, grossly dubbed (to English), the classic Kung-Fu flick took you on a journey through an exotic land and featured supernatural fight scenes. But it wasn't just the graceful if unbelievable pugilism that made the movies appealing. The backdrop of old China was a place of mystery and wisdom where questions were answered with another, more introspective question. It was a place where a Kung-Fu master could recognize your style and maybe even identify your school by simply observing the way you move.
A modern version of this genre is called Wuxia and features the same mythical Chinese martial art fantasy, but ads the wire harness for special effects. The wire-work lets actors suspend themselves in the air so they seem to fly or run up the sides of walls. Crouching Tiger, Hidden Dragon is for many westerners the first time they'd seen Wuxia, although the same Hong Kong-inspired action scenes were used in The Matrix.
Directed by Ang Lee, Crouching Tiger, Hidden Dragon was the perfect film to introduce westerners to Wuxia and the perfect film to re-introduce kids of all ages to the inherent thrill of Kung-Fu movies. Lee is a master at exploring characters in film and has brought his style of human drama to a wide range of colorful backdrops including: the first (much maligned and in my opinion misunderstood) Hulk (2003), Brokeback Mountain (2005), and the Jane Austin adaptation Sense and Sensibility (1995). If you're interested in more work by Lee I highly recommend The Ice Storm (1997) a tragic slice of a middle class family's life that thinks it's got problems, until those problems are rendered superficial by one New England night in an ice storm.
The Movie
Crouching Tiger, Hidden Dragon was arguably Ang Lee's best and most successful film yet. It won four Oscars in 2000 including best foreign language film and it was nominated for several more. Ironically the movie wasn't as popular in China, probably because Lee made it as a sort-of gateway Wuxia for a western audience.
The movie is filled with gorgeous outdoor sets featuring the wildly varying terrain found throughout the vast nation of China. Within the mythic story that seems torn from the pages of a half remembered fairy tale, Ang Lee explores Jane Austin-like dramatic territory he so deftly mastered with Sense and Sensibility. Many of the story's more potent points involve traditional Chinese cultural mores, unrequited love, class division and empowered women in a patriarchal society.
And of course – Crouching Tiger, Hidden Dragon features some of the best martial arts sequences ever made! Lithe characters move effortlessly through the air while they strike, spin and kick with hands, feet and exotic traditional Chinese weaponry in a dance of deadly precision.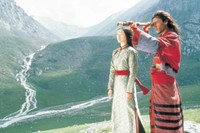 Set in 18th century China, Hong Kong superstar Chow Yun-Fat stars as warrior monk of the mystic Wudan-style, Li Mu Bai who learns through meditation that he really wants to put his violent warrior past behind him and move on to a more personal phase of his life. Opposite Chow Yun-Fat stars veteran martial art film actress Michelle Yeoh as Shu Lien another warrior monk that shares a history with Li Mu Bai and may share more history yet to be written. The story begins with Li Mu Bai's mystical sword Green Destiny is stolen by Lady Jen (Zhang Ziyi), a beautiful young aristocrat by day, but deadly martial artist/thief by night, Green Destiny becomes the MacGuffin that takes us on an unforgettable epic journey that is brought to crisp, high definition life through Crouching Tiger, Hidden Dragon on Blu-ray.
Buying the Blu-ray Disc
This is one of the most long awaited films to Blu-ray. Sadly, Sony has decided to turn it into a blatant customer gouge by not offering as a standalone product to its North American audience. The disc is being shipped through a three-movie box set along side two other martial art films that have already been released to Blu-ray: House of Flying Daggers and Curse of the Golden Flower. All worth seeing on their own, but Crouching Tiger, Hidden Dragon deserved to be released on its own. 
Teasing Blu-ray fans with box sets that force us to buy more than we really want is a low-down, dirty way to do business. Although it's become par-for-the-course, it makes a little more sense when it's released with related first-time-to-Blu-ray films like The Godfather or Dirty Harry Collections. You can probably expect Crouching Tiger, Hidden Dragon to hit store shelves alone soon or you can order it alone online from several sources.
Here's a tip to Sony: If you really wanted to get rid of some older unsold copies of House of Flying Daggers and Curse of the Golden Flower, why not just include them for free with a new copy of Crouching Tiger, Hidden Dragon at a reasonable standalone price.
Video
1080P AVC Mpeg4
2.35:1 Aspect Ratio 
The film was shot by director Ang Lee with a purposeful soft sheen. Lee wanted it to impart a legendary feel by giving it the look of an oil painting on film. The digital transfer seems to respect Lee's vision with a softer tone. The dialed down sharpness with light grain and deep black works throughout the picture and gives it the look of classic cinema.
There are plenty of wide panoramic outdoor scenes that look spectacular even if the color palette is somewhat limited, it's true to the look-and-feel that Ang Lee wanted to capture. 
Audio
Mandarin 5.1 Dolby TrueHD
English 5.1 Dolby TrueHD 
The soundtrack to the film is as nuanced as the story. Be prepared to enjoy a superb, detailed soundtrack with interesting directional effects that never get too conspicuous. Although at times the dialogue suffers from being a little soft compared to some of the bombastic musical scores. The action sequences are a treat with audible queues whipping from front to rear with all the acuity of a Kung-Fu master.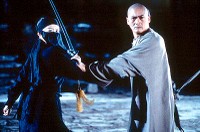 Your Audio options include a soundtrack simply called Chinese 5.1 TrueHD. I can't tell if someone at Sony Home Pictures Entertainment is trying to tell us that Mandarin is the one-and-only language for China, but contrary to what has been published on the box, there is no Cantonese soundtrack. The audio track referred to as simply Chinese is actually Mandarin – your other language choice is American.
Blu-ray Extras
Sadly, there are no Blu-ray extras on this disc. All the special features including the audio commentary by director Ang Lee and screenwriter James Schamus are from the original 2001 DVD release. The video features are all in standard def and includes: An interview with Michelle Yeoh and a making-of featurette. 
Overall
If you're a big-time fan of Chinese martial arts cinema, this movie's Blu-ray release is must have. It represents more than just a significant audio and video improvement over the original DVD, the video transfer to digital has been crafted to support the vision of Ang Lee. The disc's lack of BD-exclusive extras isn't a deterrent, I'd rather see them put more effort into the audio and video quality of the film itself than put any resources into bringing extra content to HD.
The only gotcha' is the underhanded way Sony has chosen to release this disc, as a bundle with two other previously released Blu-ray discs you may not even want. I'd love to send the message to Sony that we consumers don't appreciate this by absolutely not recommending it. But the movie is just so good and the transfer is so well done that I can forgive it this time. 
On the bright side, it probably won't be long before Sony re-releases the movie by itself.
Confused about what AV Gear to buy or how to set it up? Join our Exclusive Audioholics E-Book Membership Program!
Recent Forum Posts:
j_garcia posts on July 29, 2010 12:44
jeffsg4mac, post: 737684
I am honestly not a fan of this movie. I think that "House of Flying Daggers" is superior in every way cinematically. Cinematography in Tiger does not even come close to that in Daggers.
Sorry, have to completely disagree on that one. CTHD has some moments where it stumbles story wise, but overall it is still a better film. The cinematography is better in CTHD without a doubt and if you want to get into that, Curse of the Golden Flower is better in that respect than either of them, but isn't quite as good of a movie. I've watched CTHD and HOFD at least 10 times each. To each their own.
Michelle Yeoh's native language is most likely not English. Anyone who has seen her early films (and she has quite a few) knows this. IMDB says she was born in Malaysia.
darien87 posts on July 29, 2010 11:41
Wayde Robson, post: 737757
I wonder if the actors didn't dub themselves??
I have seen some foreign movies where the actors dubbed themselves. Jacke Chan does this a lot. But I am almost positive that this wasn't the case with CTHD.
I also seriously doubt that Michelle Yeoh's native language is English. She has a pretty thick accent and she makes the common mistakes with English that many other Asian speakers do. Her English is certainly very good, I just don't think it's her first language.
Wayde Robson posts on July 29, 2010 02:41
jostenmeat, post: 737717
Next is to research foreign versions for a BD that keeps the theatrical dubs. If anyone knows, please send PM, thanks.
I wonder if the actors didn't dub themselves??
jostenmeat posts on July 28, 2010 21:39
Next is to research foreign versions for a BD that keeps the theatrical dubs. If anyone knows, please send PM, thanks.
jostenmeat posts on July 28, 2010 21:30
zhimbo, post: 737544
I agree with this 99% of the time.

1. I have found - occasionally - that some films that have quite a bit of dialogue AND also begged to be appreciated visually sometimes benefit from switching to the dubbed track. "Metropolis" (the anime film from 2001, NOT the silent film from 1927) comes to mind. I first saw it with subtitles, but I sometimes got lost because I was too busy gawking at the visuals ("Holy cow! Look at that enormous fish in the tank! That's amazing!…Wait a minute, what are they talking about?").

Actually, this is probably best handled by a second viewing where you already know the story.
Good point. While I will never willingly put on a dubbed version, it was pretty tough at times with a movie like Red Cliff 1/2, or certain animations like Tekkon Kinkreet.
Wayde Robson, post: 737698
"The way the English is spoken just doesn't jive with the movie." ~ Isiberian

"Native language is ALWAYS better." ~ darien87

Conventional wisdom is to watch a movie in its native language. I agree that's the way to see what the director intended and that's generally good enough for me.

But I don't think of CTHD as a pure Chinese/Mandarin movie. It was more popular in the west than Asia. Apparently one of the criticisms is that it was too western.

Chow Yun Fat is a native Cantonese speaker and Michelle Yeoh is a native English speaker and I don't believe she even speaks Mandarin, at least she has never spoken Mandarin in any movie I've heard of. Don't they dub themselves in English?

I don't shy away from subtitles in any movie. But I don't simply follow along that something is lost every dub simply because it's conventional wisdom that it should.

If something is lost in the dub, I'd be interested in knowing specifically what it is in what scene ? . . .
I read something pretty interesting when checking out some comparative screenshots between superbit and BD. It was stated that Ang Lee and the English language screenwriter spent a tremendous amount of time on the translation to the subtitles. There is at least one person who is wondering if they changed these original subtitles to the "dubbed" subtitles. Crazy, eh? Someone stated that they spent so much time on the translation to get it all right, that it took more time than the screenplay itself.
So there are TWO translations, the dubbed and the subtitles. I think there are some people that demand that if this movie is to be dubbed, that it should be done with the "subtitle" version, as that will be the most accurate.
Don't ask me which one is currently being used! I hope to view this in the relatively near future.
OK, nevermind, it is said that this bluray is using a dumbed down version of subtitles, thanks to Sony. Watch the DVD if you want the theatrical subtitles!
Post Reply