Batman Begins DVD Review - Widescreen
Batman Begins DVD Review - Widescreen
by
John Hopkins
—
December 07, 2006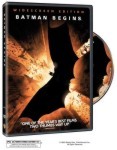 Batman Begins DVD Review - Widescreen
Label:
Warner Bros. Home Video
Price: $19.98 | Get the Best Price
Yes, yet another comic book based movie, but a darn good one. This movie is quite different from its predecessors. It takes on a much darker, much more serious side to the tale of Batman. Batman Begins explains Batman's origins by highlighting his fears, his training, and his ideologies. The film details the reasoning behind Bruce Wayne's great responsibility to protect the innocent from those who have made Gotham a city of fear.
Review Methodology
Review material is evaluated twice. I wait a period of two days between sessions. This allows me time to properly reflect on what I've observed. The first evaluation is less critical. I allow myself to become immersed within the medium, just as anyone not writing a review would be, but remain focused enough to take a few notes. The second evaluation is a much more careful assessment. I take notes in more detail and often pause and replay certain areas of significance.
Prior to each review, audio and video levels are tweaked with both the preamp's (NAD T 163) test tones and the Digital Video Essentials calibration disc. M ain, center, and surround speakers are set to small with the low pass crossover set to 80Hz. Bass management is provided by the preamp for DVD Video and by the DVD player (Pioneer 563A) for SACD and DVD-Audio. A component video connection is used with 480p progressive scan engaged. For SACD and DVD-Audio a 5.1 analogue connection is used, and for DVD Video an optical connection outputs DTS or DTS-ES when available. With certain material, the two-channel mix is examined to form a point of reference, but ultimately the surround mix is under review.
Audio Quality
Audio quality is, for the most part, above average. I felt like the dialogue was muddled at times during some of the earlier scenes with Liam Neeson. His voice seems under pronounced on occasion in the Star Wars films as well, so maybe it's something he's not doing as an actor in general. Otherwise the audio and score are very effective. Action, packed sequences are very explosive and gut pounding, and the remaining dialogue is easily discernible. The music is fitting and not overly used to foreshadow coming events. This film provides some healthy exercise for your entire home theater system, room and walls included. If you have items on shelves nearby, be wary of falling objects. There were brief moments when my subwoofer reached excursion, and reminded me of its limitations with deep impact movies like this one.
Video Quality
Video quality is average at best. The film is intentionally shot on the cool side, but it has a tendency to be less brilliant, and lacks the crisp detail seen on some of the better looking DVDs out there. I'm not sure if this is a failure in the transfer or simply because the all digital realm has spoiled my expectations of what a film can look like. That said, it is what it is, simply run of the mill. There aren't any annoying artifacts, blocking or bleeding of note. Darks are reasonable, but could be more tightly controlled during night sequences. Camera visuals are excellent in most scenes, but there are a few moments where I found myself wondering why they went with certain shots. Colors were intentionally muted and manipulated for effect, so I'll not criticize them. Overall, video quality is a little disappointing, particularly for a movie on this scale.
Surround Implementation
During the introducing sequence the are a literally thousands of bats flying around to create the Batman emblem and you hear the chaotic sound that they make in great detail in the surround channels and elsewhere. In the fight sequences when Batman battles his opponents a tremendous amount of surround is used to emphasize the way that the Dark Knight quickly moves around and disappears going from thug to thug. These are just a couple of the many very nice surround moments that occur throughout this film. I was a little disappointed that film did not include DTS soundtrack option though, and I suppose if I am to be left with no choice I'd say this a better than average Dolby 5.1 surround mix. I never noticed anything that would lead me to think it was compressed, or tinny, rather just curious as to why such a major release wouldn't have included it.
Extras
This version under review has very few extras. Menu features consist of a video trailer of the film, as well as scene and subtitles selection. There is also some DVD-ROM functionality using the Interactual Player software that provides links to the official site and a Batman Begins game demo. This version doesn't bother with liner notes. Though, I think it is important to understand that there is also a deluxe version available that was released simultaneously. That version devotes an entire second disc to extra goodies for around $5-10 more. So for that reason, I'm not going to penalize this disc for being stripped down because the intention was to offer customers a choice. A model I hope other future DVD releases will soon adopt rather than staggering the release of the deluxe version later.
Summary
The film does a great job in presenting a gripping tale. The viewer is frequently at the edge of his seat. This isn't the off the chart visual experience that many home theater owners look for, but it does have many very explosive and audibly pleasant moments. I found it to be an extremely entertaining film all the way through, with very little exception. The cast is loaded with talent, even in the smaller roles, and though this is the first time I've seen Christian Bale perform he appears to have seasoned talent. My final rating reflects my appreciation for the DVD as a whole even with its deficiencies in visual clarity, and as I spoke of earlier, its lack of extras. I would recommend you buy it with these caveats applied. Batman Begins concludes with an open ending to allow for a sequel. Should there be one, I'll look forward to it assuming it is as entertaining as this film. Batman Begins is a fun movie that has excellent replay value. It makes for a great home theater experience that most families will thoroughly enjoy.
Technical Information
Release Date: 10/18/05
DVD type: Dual Layer
Run time: 180 minutes
Aspect Ratio: 2.35:1 Anamorphic
MPAA: PG13
Audio Formats: Dolby Digital 2.0, Dolby Digital 5.1
Subtitles: English, French, Spanish
Confused about what AV Gear to buy or how to set it up? Join our Exclusive Audioholics E-Book Membership Program!