Yamaha DVD-S2300 MK2 Technology Overview
Yamaha DVD-S2300 MK2 Technology Overview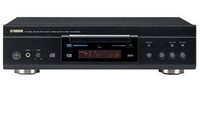 We are at a bit of a crossroads in technology right now as some of the digital rights management rules change and digital transmission of DVD-Audio and SACD finally become a reality. As of right now (but not for long), the choices remain to go analogue or utilize a proprietary digital format for audio. Digital video output specifications are also in a state of flux as DVI and HDMI are being discussed (and possibly both utilized) as standards. Since many people are still in possession of analogue displays (CRT direct view or rear projection) this is not a limiting factor at all. In fact, it's the newer technologies that have yet to prove themselves and deal with issues and difficulties long ago solved by their analogue counterparts (resolution conversion and enhancement, for example.)
Which brings us to Yamaha. The company who produced some of the finest value projection systems on the market is now the company releasing its next-generation high-end universal DVD/SACD player. Let's discuss some of the more apparent features:
Faroudja DCDi 480p (progressive) Output
DCDi is a specific digital technology Faroudja introduced a several years ago in their broadcast up-converter. DCDi is a digital video mode algorithm that stands for D irectional C orrelation D e i nterlacing.
MP3 Multi-Session Support
The DVD-S2300 MK2 supports playback of MP3 files written to disc in a hierarchical format, with entire albums (chapters) stored in folders (titles). Playback of MP3s is possible within the bitrate range of 32kbps - 320kbps at either 44.1kHz or 48kHz sampling frequencies. Random Play and Program Play will not function with MP3 discs.
Completely Independent SACD and DVD Circuits
This is one of the nicest features of the unit. It is often mistakenly thought that a universal player lacks the dedicated features to excel at both SACD and DVD-A, however with truly dedicated processing circuitry you are getting (quite literally) two players in one.
Yamaha's DVD-S2300 MK2 differs from the original DVD-S2300 by:
Adding an RS-232C port with extended IR command/control capability for use with a touch panel system.
Producing a reported improvement in the trackability of hybrid discs.
What really stands out in this abbreviated feature set is the inclusion of the FLI2200. The single-chip FLI2200 was introduced as a mass-production item in August of 2001 and retains the same deinterlacing and post processing advantages of its predecessor. The FLI2200 uses motion-adaptive deinterlacing that selects optimal filtering on a pixel-by-pixel basis to produce the best resolution without introducing motion artifacts. Possibly the best use of this technology is with film mode, which enables proper handling of 3:2 and 2:2 pulldown as well as bad edit detection/correction (the mismatching of incorrect fields, creating a comb error).
Faroudja's proprietary DCDi technology identifies edges at any angle in moving images and interpolates along the edge to produce smooth, natural images without the staircasing or jagged edges produced by other deinterlacing technologies. The FLI2200 also incorporates motion-adaptive cross-color suppression that removes coloration artifacts produced by commonly used video decoders. On-chip 10-bit DACs are also present, allowing high-resolution analogue output.
We'll go into more of these in detail, but it's not a bad start for the DVD-S23000 MK2 to supply a high-quality Faroudja engine, support most mainstream Audio and Video formats, and have complete separation of its DVD-Audio and SACD circuitry - all for under $1000. We've seen far less in more expensively priced units and were enticed by the thought that Yamaha may have provided a true high-end universal transport for a value price.
Confused about what AV Gear to buy or how to set it up? Join our Exclusive Audioholics E-Book Membership Program!