BDX2700 Build Quality and Setup
BDX2700 Build Quality and Setup
It's hard to stay on top, and Toshiba is finding itself adrift amidst a veritable sea of Blu-ray players with its BDX2700. While not supporting 3D (for that you'll want to look at the $279 BDX3000), the Toshiba player has everything else you could possibly need: high quality BD playback, upscaling of standard definition DVDs to 1080p, network software like Netflix, Pandora, VUDU and (if they are still in business) Blockbuster Video on Demand. The one feature that sticks the neck f the BDX2700 above water and makes people take notice is its integrated Wi-Fi. That feature alone, means that if you have a wireless router that supports 802.11 a/b/g or n, you don't need to run a cable to your TV in order to enjoy streaming movies from Netflix or VUDU, or enjoy streaming music from Pandora.
First Impressions and Build Quality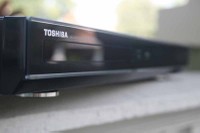 Toshiba has included the same glassy front on the BDX2700 that it includes in some of tits top of the line televisions. This gives the player a top-shelf look and ensures it blends well in a minimalistic, aesthetically-focused setting when it's placed out in the open. It's also not very deep. At just over 8-inches form front to back, this is one product that doesn't make a nuisance of itself if you need to put it in front of your flat panel or hang it on a wall shelf below the TV. In short, it's flexible and made to go just about anywhere. Heck, if they had shaved off just another inch I'd probably be recommending users just mount it to the wall behind their TV and call it a poor-man's integrated BD player.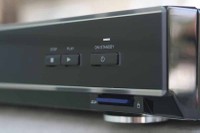 When you get up close to the BDX2700 you'll note the tray cover is blended near-seamlessly with the glassy front face. The Power, Play, Stop and Eject buttons, while not capacitance-style like some other players we've seen, are tasteful and allow you a little tactile feedback when you push them, so you know it worked. The only other item of note on the front is the SD card drive, which came loaded with a formatted 4GB SDHC card in our review system. This card is dedicated for BD-Live storage, but you could insert another in order to play back media files like photos, music or compatible movie files (it supports FAT16 and FAT32-formatted cards).
The rear of the Toshiba BDX2700 has all of the connections you'd expect, and a few more. For those with legacy audio systems, the BDX2700 has 7.1 analogue outputs. With Ethernet, Wi-Fi and 7.1, this is a really well-rounded player.

Set-Up & General Use
One of the nice things about the Toshiba BDX2700 is that it is incredibly easy to set up player. In fact, it has an interface Wizard that takes you through the critical setup process one step at a time, using a series of basic questions. Since it also gives practical defaults, just about anybody could set up this player once activating the wizard. The Quick Setup wizard is located in the Settings menu so it shouldn't be too hard to find. What might be even more helpful, would be if the Wizard was the first thing to pop up when you turned the play on for the first time. We've seen this on some TVs and it's a useful function for those just setting up a Blu-ray player for the first time and unfamiliar with what they need to do.
The Quick Setup menu takes you through the following basic configurations:
Language (English, French, Spanish) - all primary North American languages

Resolution (HDMI Auto, 1080p, 1080i, 720p, 480p, 480i)

TV Aspect (16:9 Wide, 16:9 Pillarbox, 4:3 Pan & Scan, 4:3 Letterbox)

In the scheme of things, these are really the key settings critical to getting new users up and running with the correct settings to have everything show correctly on the screen. The downside, of course, is that without any explanations provided, consumers may not be able to understand which settings they should use given their particular systems and televisions sets.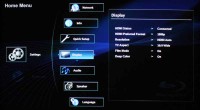 The Home Screen of the BDX2700 is made up of only two items, until you add more for it to consider. The way it is laid out, it populates itself with more items as they become available. That way, you can't select a BD-ROM when there isn't even one in the player. It's a nice way of eliminating useless error messages and we really enjoyed the layout. As we mentioned, the menu begins with Settings and Connected. Settings is of course where you will configure the player, access the Quick Setup and format your SD/SDHC cards, and Connected is where you can access the Network features like Netflix, Pandora, VUDU and Blockbuster.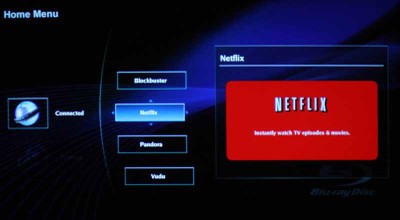 If you want to connect this player to a legacy system, Toshiba has included, as we indicated earlier, full 7.1 analogue outputs. Getting 5.1 analogue outs these days is a tough thing to find, so 7.1 is a rare gem at this price. The player has very minimal configuration for its analogue outputs, allowing you to apply basic bass management in the form of Large or Small speaker sizes. You can also set the crossover frequency (80Hz, 100Hz, 120Hz, Off). And get this, you can use either pink noise, a 1kHz sine wave, or white noise for your test tone to configure the speaker levels (we recommend Pink noise).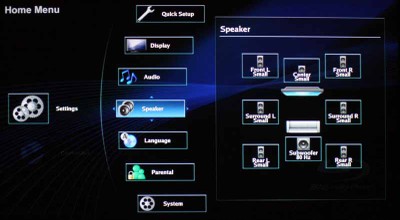 Adding content to an SDHC card and inserting it, or plugging in a USB thumb drive will bring up additional items like Video Audio and Pictures, depending upon what is available to view or listen to. The menu system is setup like most new GUIs have been heading of late, what I call the "horizontal & vertical" navigation methodology. You can spruce it up, but your basic left-to-right and up-and-down is still the best way to maneuver through menu systems. Just ask the PS3, Denon, Yamaha, or just about any other manufacturer who has to deal with these types of configuration systems.
Playback wasn't exactly snappy, but that seems to be a factor of Blu-ray - at least with most players we've experienced. The Toshiba had its added quirks, too. It took approximately 37 seconds to get a disc to play when the player was off. From power on to ejecting the tray took about 15 seconds, and from an open tray to playback took around 32 seconds. At one point the BDX2700 seemed reluctant to Eject a particular Blu-ray HD music disc. After testing other discs, and checking others who use the player, we are certain this was a glitch with our particular player-to-disc combination. With other titles it didn't occur.
Confused about what AV Gear to buy or how to set it up? Join our Exclusive Audioholics E-Book Membership Program!
Recent Forum Posts:
cwall99 posts on October 26, 2010 16:05
Like JJMP50, I'm looking for a BDP with analog outs. I already have an Oppo 980-HD, but that only plays DVD. The important thing about my Oppo player is that it gives me the ability to play my growing collection of SACDs and DVD-A music.
I digress. I'm definitely interested in the analog outs as I have a legacy AVR (it's hard to believe that a 3-year old receiver is considered "legacy," but ok). My Pioneer Elite AVR supports HDMI 1.2, so I'm presuming that if I want to get the best possible audio and video performance out of this BDP, then I should:
Use the Toshiba's onboard DACs and its analog outs to my AVR

Use the HDMI cable to send the video signal directly over to my television

If that's a correct assumption, here's a question I have about the analog outputs: while my AVR is 7.1 capable, I'm only pushing 5 speakers with it. I have it configured though to bi-amp my front left and right speakers. I presume that because I'm driving only 5 speakers, that I only need five interconnects to get the analog out from the BDP to my AVR (ASAP or PDQ - sorry, couldn't resist).
Oh, one other thing… since you didn't rate the Toshiba's bass management very well, would it be best to set up all the speakers as large on the BDP and then use the bass management on my AVR to actually determine what parts of the audio signal get sent to each speaker?
Could be a good machine for my application.
cwall99 posts on October 26, 2010 16:00
OOops, double-post. See my actual post, below.
JJMP50 posts on October 25, 2010 06:59
Which one to chose?

After reading this I see that it has everything I am looking for:

Wifi
7.1 analog outs (I'm using an older Yammy)
Netflix..etc.

The others on my list (I won't list the Oppo because its above my budget):

Panasonic BD85
Samsung BD-C6500
Sony BDP-S770

Note: I will not buy any LG device after having a terrible experience with my Range/Microwave. I would prefer to get a Yammy/Pioneer/Onkyo/Denon device but none of their's seem to have above features unless you start getting to the Oppo's price range in which case I'd just get the Oppo. Any thoughts, suggestions or additions?
Post Reply