Toshiba BDX2700 Blu-ray Player Review
Toshiba BDX2700 Blu-ray Player Review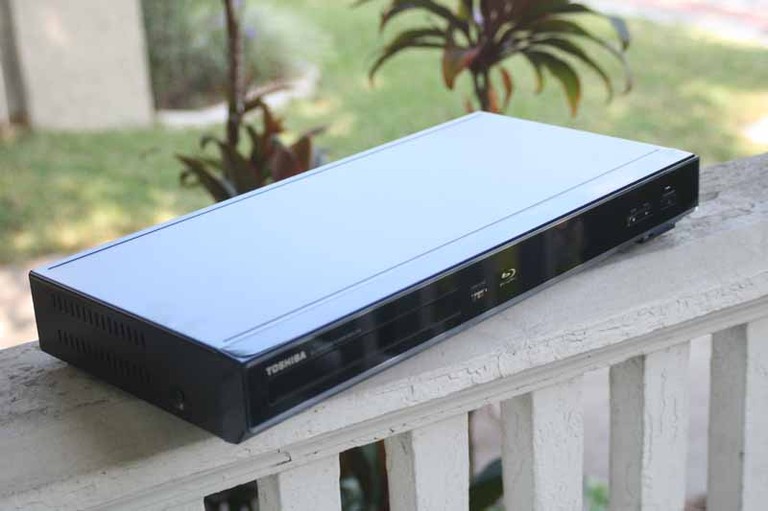 Toshiba BDX2700 Wi-Fi Blu-ray Player
Media: CD-R, Blu-ray Disc, BD-RE, BD-ROM, CD-DA, CD, DVD-Video, DVD-RW, DVD-R, CD-RW

Software: Netflix, VUDU, Blockbuster, Pandora

Video upconversion: up to 1080p

Audio decoders: Dolby Digital Plus, Dolby TrueHD, DTS HD Master Audio Essential

Connectivity: USB 2.0, HDMI (1.3), component, composite

HDMI CEC

Optical S/PDIF Digital Audio Output

7.1 Analog Audio Outputs

Network: LAN & Built-in Wireless 802.11 a/b/g/n

BD Profile 2.0

Dimension: 16.9"(W)" x 2.5" (H) x 8.3" (D)

Weight: 3.8 lbs.

Pros
Decent networking features
Wi-Fi 802.11a/b/g/n support built-in
Great deinterlacing and scaling
Great styling
Cons
Creates lots of RF interference over HDMI
Loud transport
Low build quality
Introduction
It's hard to stay on top, and Toshiba is finding itself adrift amidst a veritable sea of Blu-ray players with its BDX2700. While not supporting 3D (for that you'll want to look at the $279 BDX3000), the Toshiba player has everything else you could possibly need: high quality BD playback, upscaling of standard definition DVDs to 1080p, network software like Netflix, Pandora, VUDU and (if they are still in business) Blockbuster Video on Demand. The one feature that sticks the neck f the BDX2700 above water and makes people take notice is its integrated Wi-Fi. That feature alone, means that if you have a wireless router that supports 802.11 a/b/g or n, you don't need to run a cable to your TV in order to enjoy streaming movies from Netflix or VUDU, or enjoy streaming music from Pandora.

Confused about what AV Gear to buy or how to set it up? Join our Exclusive Audioholics E-Book Membership Program!
Recent Forum Posts:
cwall99 posts on October 26, 2010 16:05
Like JJMP50, I'm looking for a BDP with analog outs. I already have an Oppo 980-HD, but that only plays DVD. The important thing about my Oppo player is that it gives me the ability to play my growing collection of SACDs and DVD-A music.
I digress. I'm definitely interested in the analog outs as I have a legacy AVR (it's hard to believe that a 3-year old receiver is considered "legacy," but ok). My Pioneer Elite AVR supports HDMI 1.2, so I'm presuming that if I want to get the best possible audio and video performance out of this BDP, then I should:
Use the Toshiba's onboard DACs and its analog outs to my AVR

Use the HDMI cable to send the video signal directly over to my television

If that's a correct assumption, here's a question I have about the analog outputs: while my AVR is 7.1 capable, I'm only pushing 5 speakers with it. I have it configured though to bi-amp my front left and right speakers. I presume that because I'm driving only 5 speakers, that I only need five interconnects to get the analog out from the BDP to my AVR (ASAP or PDQ - sorry, couldn't resist).
Oh, one other thing… since you didn't rate the Toshiba's bass management very well, would it be best to set up all the speakers as large on the BDP and then use the bass management on my AVR to actually determine what parts of the audio signal get sent to each speaker?
Could be a good machine for my application.
cwall99 posts on October 26, 2010 16:00
OOops, double-post. See my actual post, below.
JJMP50 posts on October 25, 2010 06:59
Which one to chose?

After reading this I see that it has everything I am looking for:

Wifi
7.1 analog outs (I'm using an older Yammy)
Netflix..etc.

The others on my list (I won't list the Oppo because its above my budget):

Panasonic BD85
Samsung BD-C6500
Sony BDP-S770

Note: I will not buy any LG device after having a terrible experience with my Range/Microwave. I would prefer to get a Yammy/Pioneer/Onkyo/Denon device but none of their's seem to have above features unless you start getting to the Oppo's price range in which case I'd just get the Oppo. Any thoughts, suggestions or additions?
Post Reply