Oppo OPDV971H DVD Player Review
Oppo OPDV971H DVD Player Review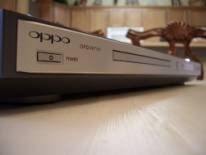 Oppo OPDV971H
Product Name: OPDV971H DVD Player
Manufacturer: Oppo
Performance Rating:
Value Rating:
Review Date: October 10, 2005 20:00
MSRP: $ 199
Hardware:
RF AMP/Servo DSP/CD Decoder/DVD Decoder: MTK1389
Memory (Flash): 16M(bit)
Memory (SDRAM): 64Mbit
D/A Converter for Video: MTK1389 108MHz/12bit & CS4955 54MHz/12bit
D/A Converter for Audio: CS4360 192KHz/24bit
Loader: Sanyo Optics DV34S
Software:
Power Supply:
Input Voltage/Frequency: 110-~240V 50/60Hz
Power Consumption in Standby: <1 Watt
Max Power Consumption in Operate: 20 Watt
Video Characteristic:
Video Amplitude VP-P (V): 1.0±0.2 (75 ohm)
S-Video Amplitude VP-P (V): Y:1.0VP-P/75 ohm, C 0.286VP-P/75 ohm
YCbCr: Y:1.0VP-P/75 ohm, Cb/Cr 0.7VP-P/75 ohm
Resolution: 720X480X30/NTSC or 720X576X25/PAL
Horizontal Resolution (TV Line): ≥ 450 lines
DVI: 480p, 576p, 540p, 720p, 1080i
Audio Characteristic:
Frequency: 20Hz~20KHz
Signal-to-Noise Ratio: >90db
Dynamic Range: ≥ 80 (1KHz)
Total Harmonic Distortion: <0.01%
Unit Dimension:
16.5" x 10 5/8" x 1 7/8"(420mm X 270mm X 47mm)
Net Weight: 2.5Kg
Pros
Excellent video performance when using DVI output
Basic DVD-Audio support
Nice small form factor
Cons
Component video outputs only support 480i
Atrocious manual that goes through the settings labels without explanation
Menu button on remote located out of reach
Sub-par bass management and distance delay options for DVD-Audio
Runs hot
Slow button response and cycle time
Inaccurate black/white level setting for factory default
Macroblocking enhancement bug present when properly calibrated
Introduction
It seems as if everyone is talking about the Oppo ('oh-poe') OPDV971H DVD player. The main attraction behind this new player is its DVI output and ability to upconvert DVD source material to both 720p and 1080i (in addition to the expected 480p). It is also HDCP-free, making it a player that is compatible with both HDCP and non-HDCP equipped displays. On board Faroudja DCDi processing (via an FLI-2310 chip) makes for an even more impressive package as the picture coming off of this $199 DVD player can rival other players priced much higher.
Confused about what AV Gear to buy or how to set it up? Join our Exclusive Audioholics E-Book Membership Program!