BDP-83 Build Quality, Connections, and Video Processing
BDP-83 Build Quality, Connections, and Video Processing
Last year we reviewed the Oppo DV-983H universal DVD player which, while a couple years too late to market, was still an impressive product that redefined the price points for universal players. Now, with the only other universal Blu-ray/DVD player coming in at almost 10x the price, Oppo has finally beat the market and brings a true universal disc player to the home theater market that not only plays Blu-ray discs, but also DVD-Audio, SACD and, of course, DVD videos and CDs.
This is exciting for a number of reasons. First, a universal disc player means that you only need one piece of hardware on your shelf in order to play back anything from CDs, to DVDs to SACDs, DVD-Audio discs, and now Blu-ray discs. Those of us who have been chasing technology for years (not to mention plain old early adopters) have quite the collection of players on our shelves. Replacing these with a single device is extremely enticing and getting a top-notch Blu-ray player in the process is just the gravy on top.
Unpacking & Build Quality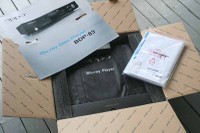 I don't normally include pictures of packaging, but the Oppo BDP-83 showed up with such flair and overly attractive packaging that I simply had to include some shots. First off, the player comes in an earth-friendly bag that is the same type they allow you to buy for your groceries in lieu of paper or plastic. The player is padded on three sides by foam and a printed box bearing the Oppo logo contains the included HDMI and analogue video cables, remote and two-prong power cable. The user manual sits on top and a 4-color graphic of the player sits atop and is the first to greet you when the box is opened. Oppo has also included the new Spears & Munsil HD Benchmark Blu-ray Edition.
The player itself looks great. The front features brushed aluminum, with the tray and display panel flanked by the IR sensor and Eject button. A four-way navigation control pad sits to the right of the front panel and there is a front USB connection for quick viewing of flash drives. The power button, which sits on the bottom left of the player glows red when power is connected and lights up blue when pressed and the player powers up. You can't power up the player any other way than activating the power button or pressing the Eject button on the player or via the the remote. Hitting Play, for example, simply won't work.
Connections
As we mentioned above, the player has front USB connections. On the back there is another USB connection for playback of movies, music or photos. The reason for both connections is to allow for more flexibility and both can actually be utilized at the same time. On the back panel you'll also find HDMI, component video, and composite video connections. For audio, Oppo has 7.1 analogue audio outputs as well as a dedicated pair of analogue stereo outputs. On the digital audio side there are both optical and coaxial digital for use with legacy systems. With a player like this I would imagine (and recommend) most users stick to using the HDMI and analogue audio outputs. The HDMI is sufficient for all modern AV receivers and processors and the analogue audio outputs are perfect for legacy systems.

In addition to the outputs mentioned above, the Oppo BDP-83 also sports an Ethernet jack, RS-232C control port and a hardwired IR in and out jack. While our sample came with the 9-pin RS-232C port, this option is marked as ultimately being optional on the Oppo website.
Video Processing
While the DV-983H universal player uses two chipsets, the Xilinx SPARTAN chip (standard definition processing) and the ABT1018 chip (video scaling up to 1080p and HD processing), the BDP-83 uses only one - the ABT2010. Now that Silicon Optix is no longer in business, Oppo's decision to go with Anchor Bay Technologies is looking like a brilliant move. In this player it's the second generation ABT2010 chip that handles the deinterlacing and format conversion for both DVD and Blu-ray applications. Per Anchor Bay's website:
The [ABT2010] features all of the processing power of Anchor Bay's Video Reference Series™ (VRST) technologies, including Anchor Bay's proprietary Precision Deinterlacing™ that provides five-field motion adaptive and edge adaptive processing for an artifact-free viewing experience; 10-bit Precision Video Scaling II™ that can independently scale an image horizontally and vertically to achieve outstanding picture quality for today's high-definition video displays; MPEG noise reduction; picture enhancement; and Progressive Re-Processing (PReP™) technology, a breakthrough processing method that reverts the progressive video signal output from source equipment to its original interlaced format, and then converts the interlaced signal to progressive format using Precision Deinterlacing. The ABT2010 supports HDMI 1.3 with 12-bit [per channel] output resolutions.
Because the ABT2010 can apply itself to both standard and high definition (Blu-ray) content, the chip can support deinterlacing for all interlaced resolutions up to 1080i/60, five field motion adaptive deinterlacing, excellent jaggie reduction, 2:2 and 2:3 pull-down, and tons of cadence detection.
Confused about what AV Gear to buy or how to set it up? Join our Exclusive Audioholics E-Book Membership Program!
See also:
Recent Forum Posts:
j_garcia posts on April 06, 2010 20:10
Update on my issue with Max Payne BD and the new beta firmware: I dropped by their office here and they confirmed the issue. The disc plays fine with the 1224 firmware but not with the current beta release. They are looking into it. It played fine on the BD-80 with the current production firmware.
adk highlander posts on April 06, 2010 09:32
I've come across a bit of info that will be helpful to anyone using the IR input on the back of the BDP-83. It
DOES NOT
use a standard 3.5mm mono plug.
If you use a standard plug it can cause damage to the player.
Tip is 5v+, ring is signal and sleeve is ground and on most other setups the tip is signal and sleeve is ground.
PearlcorderS701 posts on April 05, 2010 18:38
PENG, post: 706354


PearlcorderS701, post: 706223
LOL reading your quote I realized I made a typo again. Instead of ……couldn't give up….., it should have been …..couldn't keep up…… Regardless, it is appreciated either way you understood it.


Can you try and put this comment into context again? I totally lost track of what we were talking about…:o
PENG posts on April 05, 2010 08:38
PearlcorderS701, post: 706223


PENG, post: 705924
Understood.




LOL reading your quote I realized I made a typo again. Instead of ……couldn't give up….., it should have been …..couldn't keep up…… Regardless, it is appreciated either way you understood it.
PearlcorderS701 posts on April 04, 2010 15:38
PENG, post: 705936


Assuming you are in the US is it possible for you to visit a best buy store and ask for a demo of the Pioneer BDP-320 or the higher Elite models? Those models did not fare as well as the Oppo 83 in synthetic tests but they do allow some adjustments for NR. Again, I find the XDE produces sharper pictures in general but the Pioneer and the Samsung produce smoother, slightly more noise free pictures. I only mention this again as I believe you said you prefer to have the video processing done in the player. The Edge is nice but it does cost a few bucks and it is a stand alone unit.


Sure, I can get to a local Best Buy (I am in the U.S.) and demo these players – I have heard that these offer better noise reduction (well, more effective) than most players out there. I will try and check this out; thanks for the lead.



You meant it's like the stock market months before it crashed in 2008?

You have to admit though, Oppo never really 'hypes' their stuff up, it has been a few enthusiastic users who might have exaggerated their superior performance to some degree. IMHO this sort of thiings happen with all sorts of products, including cars, vacuum cleaners etc., not just BD players.


I suppose there's something to be said about this.
Post Reply