Marantz DV-9500 DVD Player Review
Marantz DV-9500 DVD Player Review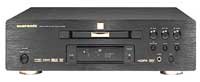 Marantz DV-9500
Product Name: DV-9500
Manufacturer: Marantz
Performance Rating:
Value Rating:
Review Date: April 18, 2005 00:00
MSRP: $ 2099
6 ch Equal Quality Audio Circuits
216MHz/14Bit Video DAC
NSV Video Noise Reduction
HDMI digital output
DTS 96/24 Decoder
Exclusive Power Supply Circuit for Audio
SACD Distance Compensation
Lip Sync capability
Dolby Headphone
Specifications
Freq. Response (Digital Audio)
4Hz - 88kHz (DVD-Audio, fs: 192kHz)
S/N Ratio: 130 dB
Dynamic Range: 110 dB
THD (1 kHz): 0.0008%
Pros
Outstanding audio performance of CD, DVD-A and SACD formats.
Bass management & Digital Delay compensation for DVD-A and SACD PCM.
Solid build quality.
Features for every need.
Cons
Doesn't retain last played DVD/CD track when unit is powered off.
No light on the remote.
Bass Management Issue for multi-channel SACD DSD
Additional functions needed on remote.
Poor fast forward and reverse.
Introduction
If you're an audio/video enthusiast then you probably have had an eye out on all the universal players that have been hitting the market over the last couple of years. Although many companies have released various universal players with steady price drops it is nice to know that there are still good high end products to fit the needs of the most discriminating AV enthusiasts. Marantz is one such company that has been in the high end industry since their inception in the 1950's. The Marantz DV-9500 not only fits into the most premium home theaters but it also has features for those that are building a system one piece at a time. Even for the 2-channel audiophile who isn't sure about home theater the DV-9500 has excellent stereo formats.
Confused about what AV Gear to buy or how to set it up? Join our Exclusive Audioholics E-Book Membership Program!