BD390 Setup and Network Features
BD390 Setup and Network Features
As we mentioned earlier, the player is quite speedy and it took no time at all to load up a disc and begin playing our first Blu-ray movie. For our base settings we configured the system to output 1080p/24 video from the HDMI output and ignored the Speaker settings since we were using the HDMI output and connecting it to our reference Denon AVR-5308CI AV receiver. We defaulted the HDMI audio output to "Primary Pass-Thru", which sent bitstream DTS-HD and Dolby TrueHD to our receiver as well, giving us the best possible sound quality. We explained the Network settings already and indeed that was very easy to configure, even with our network password (the LG puts up a keyboard to enter in the required text password)).

Remote Control
I can't lie... this is the sexiest remote control I've ever seen with a Blu-ray or DVD player. Oh wait, that's the TV remote... The LG remote is about as bland as we've come to expect from a Blu-ray player, except that it is, at least, light in the hand and has the added benefit of a sliding cover to hide away lesser used functions like TV controls, Pic Mode and Zoom functions. Let's face it – you don't want the manufacturer spending their money on the remote control – not when you're going to use your universal remote anyway. The front and back face of the remote, when viewed up close, has an odd texture to the plastic. It's as if LG was going for a fake cracked leather look – which it pulls off with the same effectiveness Don King pulls off subtlety. Overall the remote works. The Home button is just above the directional navigation area, as you'd expect, and Disc and Pop-up menus are easy to access. The playback navigation controls are easy to use and all buttons were easy to access with the thumb. My only complaint was the lack of any detent on the back to use as a reference point to aid in sliding the remote up and down your hand when using it.

Network Features

Netflix
We'll start with the big dog. Netflix playback is exactly the same as with the Roku Netflix player. The icons, thumbnails and stream-quality display are obviously a direct port in terms of software. Registering the device with my account was simple and the system just works.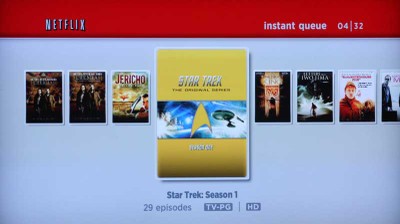 We watched several features on Netflix and they looked as good as we've ever seen it (which is to say acceptable, but not stellar since Netflix does provide a significant amount of compression to its streams. Detail was decent and at maximum quality we found the movies to be very enjoyable, even on our 47-inch flat panel television.

CinemaNow
CinemaNow is an online service where you can both rent and purchase movies for a fee. They have, for example, Inkheart, Gran Torino, and Yes Man available as a rental for $3.99. The service is nice in that you don't need a PC to set up your queue. You simply log into the system (having already set up an account online) and browse or search for movies. Whether you download or rent is up to you (and whether the movie is available for purchase).

Rent or buy movies... if they have them
We loved the way the system worked, but the selection seemed only marginally more recent than Netflix – and their rentals are free with any monthly DVD rental membership of $8.99 or more. So far with all of these services, the issue seems to be one of licensing and the movie studios not being able to figure out which direction they want to head.

YouTube
I didn't think I'd care much about this, but I stumbled upon a few video gems and quickly realized how neat it is to be able to keep up with my YouTube subscriptions on an actual television for once. With widescreen, there is plenty of room for the movie and the supplemental information beside it. Plus, you can always jump to full screen, though the inherent resolution of the movies (YouTube isn't allowing "HD" streaming of movies through this system just yet) keeps that mode from being all that it can be. Even with its limitations, streaming YouTube videos to your TV is still pretty cool, especially when you store your family movies on there and want to share those movies with others who are over for a visit (or across the nation if your family also has a nifty LG television or Blu-ray player with this feature!)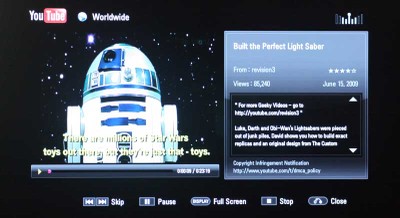 Network & USB Music, Photos, and Videos
In addition to the online streaming content, the LG390 can stream movies and music from networked drives as well as hard drives and flash drives connected to the front USB port. The port can recognize FAT16, FAT32 and NTFS-formatted drives, however you'll need to stick to FAT16 or FAT32 on any drives allocated for use with BD-Live content. We used it (accessed by simply selecting Movie, Photo, or Music from the main menu screen) and it did very well, accepting most of the current formats we'd expect, including DivX and H.264/MPEG-4. Files at up to 1080p resolution could be played back, including AVC files, but there was no mention of AVCHD support and we didn't have a file in that format to test it with.