BD390 Measurements, Testing and Evaluation
BD390 Measurements, Testing and Evaluation
Testing the LG BD390 was simply a matter of ascertaining how well the player handled Blu-ray discs (for which we had high hopes) and DVDs (for which we hoped, at the least, that it didn't screw up the image too badly). To help in our evaluation we ran some HQV Benchmarks in addition to the new Spears & Munsil Blu-ray test disc and several real-world clips. We were actually quite impressed with the results.

Audioholics/HQV Bench Testing Summary of Test Results
Perfect Score is 130
LG BD390 Benchmark total score: 86/130 (very good for BD/DVD content)

Test
Max
Points
Results
1080p
Pass/Fail
Color Bar
10
10
Pass
Jaggies #1
5
3
Pass
Jaggies #2
5
3
Pass
Flag
10
5
Pass
Detail
10
10
Pass
Noise
10
5
Pass
Motion adaptive Noise Reduction
10
10
Pass
Film Detail
10
10
Pass
Cadence 2:2 Video
5
5
Pass
Cadence 2:2:2:4 DV Cam
5
0
Fail
Cadence 2:3:3:2 DV Cam
5
0
Fail
Cadence 3:2:3:2:2 Vari-speed
5
0
Fail
Cadence 5:5 Animation
5
0
Fail
Cadence 6:4 Animation
5
0
Fail
Cadence 8:7 animation
5
0
Fail
Cadence 24fps film
5
5
Pass
Scrolling Horizontal
10
10
Pass
Scrolling Rolling
10
10
Pass
Total Points
130
86


All tests were done with the HDMI output at 1080p.
Spears & Munsil Cadence Tests
We really like the Spears and Munsil Blu-ray test disc as it provides a secondary source for testing some of the cadences and motion artifacts that we look for in video processors.

| | |
| --- | --- |
| Test | Pass/Fail |
| Cadence 2:2 | Pass |
| Cadence 2:2:2:4 | Fail |
| Cadence 2:3:2:3 PT-F | Pass |
| Cadence 2:3:2:3 | Pass |
| Cadence 2:3:3:2 | Fail |
| Cadence 3:2:3:2:2 | Fail |
| Cadence 5:5 | Fail |
| Cadence 6:4 | Fail |
| Cadence 8:7:8:7 | Fail |
| Cadence Time Adjusted | Fail |
We also use this disc to set perfect Black levels and White levels and verify that the player isn't crushing or retarding any of the DVD or BD signal. In the case of the LG BD390, we found that at its default settings we couldn't get it to pass Below Black levels to a Vizio SV471XVT. By accessing the Picture Mode (Pic Mode) menu system we were able to remedy this with a single click. We ended up boosting the Brightness one click to 26 and lowering the Contrast one notch to 24. This introduced the Blacker than Black signal and also removed a slight white crush issue we noted using the default picture settings.
Then we really started to play. With the Picture Mode we were able to adjust Block and Mosquito noise as well. The first thing we did was re-test some of the noise tests on the HQV Benchmark disc. It became readily apparent that the Low setting offered some minor help to reducing mosquito noise, however anything higher than that introduced massive blurring to the overall picture, especially at the edges. Truth be told, for the level of noise reduction gained, we recommend simply leaving Noise Reduction off as this player is one of the most crisp we've ever seen and it would be a shame to dampen that image quality even a little to gain some minor edge artifact noise reduction.

Consumers need to realize at this point that this is one of the most "crisp" players we've ever seen, with resolution and detail that are simply pristine. 

Viewing Evaluation
Testing is the "fun" part of any product review. Who doesn't like to get out some great materials and sit back for a nice listen and look? We attacked this player with both standard definition and high-definition content and made good use of its network features and USB streaming capabilities as well. You won't find much talk as the pictures did their job in demonstrating the exceptional (and we mean that) playback quality of this player. I love high definition digital.

BD: Chris Botti in Boston
This disc featured a wonderful live presentation of Chris Botti and had a varied assortment of guest musicians who really enhanced this disc. We particularly loved seeing such a nice high definition transfer that paid attention to lighting and delivered exceptional detail on the musical instruments and the talented artists playing them.

Katharine McPhee (left) and Yo Yo Ma (right)
BD: Batman Begins
A new "classic" that will forever be one of my reference test discs, this movie showed off, practically, what having a player capable of reproducing each level of Black perfectly can look like. Put this on a plasma display or an LED-backlit television and you're going to be very very impressed. We used a Marantz VP-11S1 DLP front projector as well and it looked absolutely pristine with this player.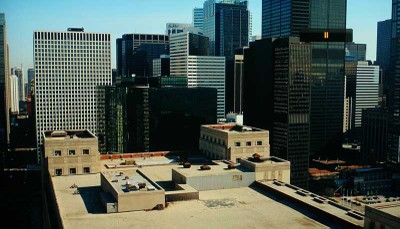 Did someone put in an order for incredible detail?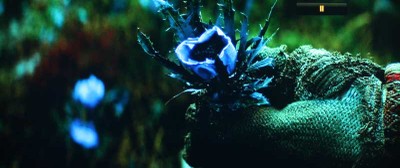 How about some exceptional black level reproduction?
BD: The Departed
This is my go-to movie for scene detail and checking to see that players do an excellent job at producing each pixel perfectly without smearing or blurring during noise reduction. There are so many highly detailed scenes in this movie that it's quite difficult to choose just one. For this round, we picked a couple different scenes that really stood out to us and offered a lot to look at.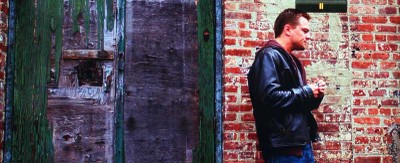 The location scouter should have won an Oscar for this scene

Detail and black levels in one beautiful shot
Netflix: Jericho, Star Trek (TOS) Season 1 and Wall-E
We love to stream Netflix movies. While the system has its flaws (not a lot of HD vide and no surround sound audio) it's perfect for getting fast free movies into your living room or bedroom. Netflix is now showing up in the top 4 flat panel television manufacturers' products, so expect market penetration and added revenues to increase R&D and only improve the services they offer. We thought that at peak quality Netflix performed as well as it is able – looking almost identical to its Roku set-top box and Xbox 360 counterparts. We streamed Jericho and Wall-E as well as the "HD" Star Trek (TOS) and found all presentations to be very good, with the more recent Wall-E looking particularly crisp for a streaming video.

This player yields excellent depth and movies take on a very 3D look
Back when this aired it didn't look nearly this good. Too bad they didn't shoot it in widescreen.

Listening Evaluation
In our reference theater we have an RBH Sound CinemaSITE which features a trio of Signature Series SI-760/R in-wall speakers and a pair of 66-SE bi-pole surrounds. Subwoofer duty is handled by twin SI-1010 subwoofers that pump out incredibly tight bass all the way down to 28Hz. We popped in some DTS music as well as the aforementioned Chris Botti concert and sat back to enjoy the show. We opted to use the HDMI audio at all times, so while we can't really speak for what the player was doing especially to the music, we can say that the resulting experience was absolutely wonderful. Our room filled with music and the experience surrounded us with natural reverb and ambience. During our movie-watching sessions we were absolutely floored by the clear soundtrack and dialogue while we experienced explosions, gunfire and flying robots evening after evening.

Conclusion
The LG BD390 is an incredible player – and one that has some pretty ground-breaking features. Forget Blu-ray, this is almost a media center in that it provides extensive access to music from a myriad of sources. In terms of comparison, I'd have to say that for HD material this player is every bit as good as the Oppo we reviewed earlier this year and offers some impressive advantages in terms of functionality. If you need a truly universal player your course is clear. If, however, you have no need for SACD or DVD-Audio compatibility but appreciate features like Netflix movie streaming, YouTube video accessibility and CinemaNow movie rentals, then save yourself $50 because LG has hit one out of the park with its $450 BD390. And, on top of that, it will connect to your wireless network! This is one player that is going to make a lot of consumers very satisfied. We can't praise it enough.

LG BD390
MSRP: $450
http://www.lgusa.com

About LG Electronics USA
LG Electronics USA, Inc., based in Englewood Cliffs, N.J., is the North American subsidiary of LG Electronics, Inc., a global force and technology leader consumer electronics, home appliances and mobile communications. In the United States, LG Electronics sells a range of stylish and innovative home entertainment products, mobile phones, home appliances and business solutions, all under LG's "Life's Good" marketing theme. For more information, please visit www.LGusa.com.
The Score Card
The scoring below is based on each piece of equipment doing the duty it is designed for. The numbers are weighed heavily with respect to the individual cost of each unit, thus giving a rating roughly equal to:
Performance × Price Factor/Value = Rating
Audioholics.com note: The ratings indicated below are based on subjective listening and objective testing of the product in question. The rating scale is based on performance/value ratio. If you notice better performing products in future reviews that have lower numbers in certain areas, be aware that the value factor is most likely the culprit. Other Audioholics reviewers may rate products solely based on performance, and each reviewer has his/her own system for ratings.
Audioholics Rating Scale
— Excellent
— Very Good
— Good
— Fair
— Poor
| Metric | Rating |
| --- | --- |
| High Definition Video Performance | |
| Standard Definition Video Performance | |
| High Definition Audio Performance | |
| Analogue Audio Performance | |
| Bass Management | |
| Deinterlacing & Scaling | |
| Build Quality | |
| Ergonomics & Usability | |
| Ease of Setup | |
| Features | |
| Remote Control | |
| Fit and Finish | |
| Performance | |
| Value | |
Confused about what AV Gear to buy or how to set it up? Join our Exclusive Audioholics E-Book Membership Program!
Recent Forum Posts:
myoo posts on August 27, 2009 03:14
upconversion hassles?

Hello, I'm pretty new to the home theater ballgame, and I'm assembling my shopping list. Trying to choose between the BD-390 and the Oppo.

Can the BD-390 be set to automatically output a signal in the format of the source? I see that it can auto-match the format of the display, but that's not what I'm after… I want my Denon AVR 3310CI(Same video processor chip as the Oppo has, I think) to do the upconversion to 1080p. It seems like a bit of a pain to have to change formats each time I play a disc with a different resolution, not to mention having to figure out what resolution the disc was originally recorded in. . .

And, will there be a significant loss of fidelity using component output to get a 480i signal to my Denon AVR (as opposed to what I'd see if HDMI throughput were possible)?

Is netflix on-demand 480i or 480p?

thanks,
myoo
Clint DeBoer posts on August 20, 2009 09:41
corey, post: 605529
I was just commenting on what seemed to me to be a somewhat odd turn of phrase & didn't expect to have my understanding of HT basics questioned.
Not my intent to insult. I often respond to things for everyone's benefit, even when I quote. Lots of people think that if a sub doesn't go down to 20Hz you don't have a lot of bass.
Clint DeBoer posts on August 20, 2009 09:37
I didn't measure it or do extensive listening sessions. I tested them in two-channel mode and they seemed to handle everything very well.
Omega Supreme posts on August 18, 2009 11:04
I noticed at the end of the review the 390 received a "Very Good" for the analog audio output. But I thought Clint did not test the analog audio outputs only HDMI. Did I miss something?
allargon posts on August 07, 2009 17:07
rgriffin25, post: 607109
You need to add a thumb drive/ external memory to use BD Live on BD370. (Not a big deal considering USB memory sticks are dirt cheap.)

The differences between the 370 and 390 are..
The BD390 has 1GB of internal memory, has 7.1 Channel analog out, and wifi capabilities. Everything else is basically the same.
You can get a 4GB DaneElec (sp?) microSD w/ USB reader at Target for $9.99 right now. It's tiny and discreet. However, the PS3 might be a better fit for you depending on the gaming and multimedia player stuff.
Post Reply