LG BD390 Network Blu-ray Player with Wi-Fi Review
LG BD390 Network Blu-ray Player with Wi-Fi Review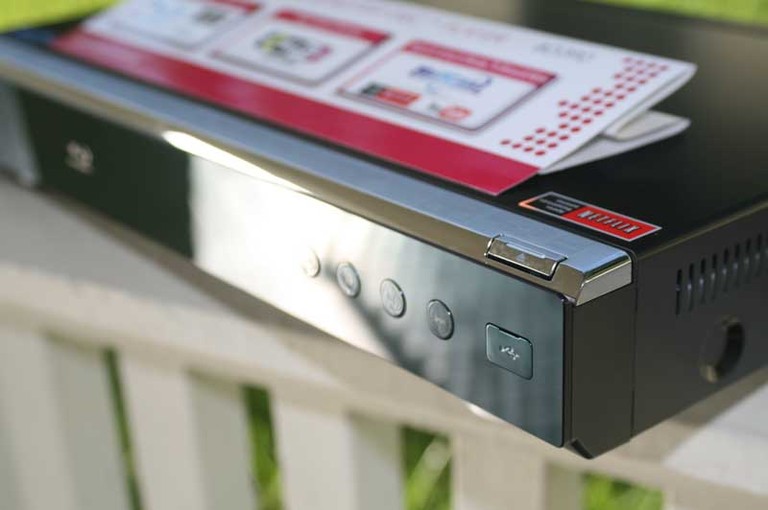 HDMI: 1.3a w/Deep Color support

Video output: up to 1080p/24/60 (HDMI); 1080i/720p/480p/480i (YCbCr)

Video DACs: 148MHz/12-bit

Audio support: Dolby TrueHD, dts-HD Master Audio, DD Plus

Audio DACs: 192 kHz/24-bit

7.1 audio outputs

SNR: 100dB

Networking: Ethernet & Wireless b/g/n

BD Profile: 2.0 (BD Live!) 1GB built-in memory

USB 2.0 port

LG SimpleLink connectivity

Display Type/Feature: VFD

Dimensions (WxHxD): 17.0" x 2.2" x 10.9"

Weight 6.0 lbs

Warranty: 1 Year Parts/90 Days Labor

Pros
Fast response
Netflix-enabled
YouTube-enabled
Wi-Fi (802.11b/g/n)
Introduction
LG Electronics is bringing networking video to its consumers in droves through the use of BD Profile 2.0 players like the BD390. This player boasts wireless n technology which means that users can enjoy Netflix, YouTube and CinemaNow movies with simple wireless connectivity. With the LG BD390, now you can bring all of this functionality to your flat screen television while also playing back standard DVD's and Blu-ray discs.

Confused about what AV Gear to buy or how to set it up? Join our Exclusive Audioholics E-Book Membership Program!
Recent Forum Posts:
myoo posts on August 27, 2009 03:14
upconversion hassles?

Hello, I'm pretty new to the home theater ballgame, and I'm assembling my shopping list. Trying to choose between the BD-390 and the Oppo.

Can the BD-390 be set to automatically output a signal in the format of the source? I see that it can auto-match the format of the display, but that's not what I'm after… I want my Denon AVR 3310CI(Same video processor chip as the Oppo has, I think) to do the upconversion to 1080p. It seems like a bit of a pain to have to change formats each time I play a disc with a different resolution, not to mention having to figure out what resolution the disc was originally recorded in. . .

And, will there be a significant loss of fidelity using component output to get a 480i signal to my Denon AVR (as opposed to what I'd see if HDMI throughput were possible)?

Is netflix on-demand 480i or 480p?

thanks,
myoo
Clint DeBoer posts on August 20, 2009 09:41
corey, post: 605529
I was just commenting on what seemed to me to be a somewhat odd turn of phrase & didn't expect to have my understanding of HT basics questioned.
Not my intent to insult. I often respond to things for everyone's benefit, even when I quote. Lots of people think that if a sub doesn't go down to 20Hz you don't have a lot of bass.
Clint DeBoer posts on August 20, 2009 09:37
I didn't measure it or do extensive listening sessions. I tested them in two-channel mode and they seemed to handle everything very well.
Omega Supreme posts on August 18, 2009 11:04
I noticed at the end of the review the 390 received a "Very Good" for the analog audio output. But I thought Clint did not test the analog audio outputs only HDMI. Did I miss something?
allargon posts on August 07, 2009 17:07
rgriffin25, post: 607109
You need to add a thumb drive/ external memory to use BD Live on BD370. (Not a big deal considering USB memory sticks are dirt cheap.)

The differences between the 370 and 390 are..
The BD390 has 1GB of internal memory, has 7.1 Channel analog out, and wifi capabilities. Everything else is basically the same.
You can get a 4GB DaneElec (sp?) microSD w/ USB reader at Target for $9.99 right now. It's tiny and discreet. However, the PS3 might be a better fit for you depending on the gaming and multimedia player stuff.
Post Reply