JH Audio JH-5 Pro Custom Earphones Review
Summary
Proprietary precision-balanced armatures
Frequency response: 20Hz - 17kHz
Input sensitivity: 119dB @ 1mW
Impedance: 21 ohms
Noise isolation: -26dB
Input connector: 1/8-inch (3.5mm), gold-plated
Executive Overview
As a long time stage and session musician, I've worn a lot of headphones and in-ear monitors (IEM's) over the years. But somehow, I never indulged in getting custom molded in-ear monitors made, instead opting for the generic fit versions made by such companies as Shure and Future Sonics. I had varying degrees of success and enjoyment using them in live music applications and usually just preferred the old school floor wedge monitors that musicians have relied upon since dinosaurs roamed the Earth. So when the opportunity came along to field-test the new JH Audio JH-5 Pro headphones, I was pretty excited. The JH stands for Jerry Harvey, the true pioneer of in-ear monitoring. Jerry is responsible for Ultimate Ears line of custom monitors prior to Logitech purchasing the company. His UE11 Pro is pretty much the standard to which all IEM's are compared to prior to starting JHA.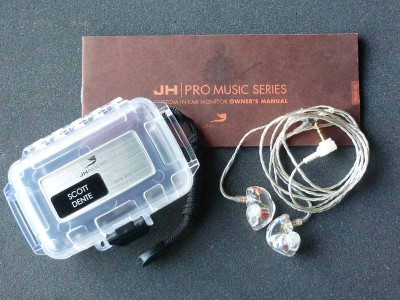 The JH-5 Pro is a dual driver unit, one of three in their 2-way line. They start at $399 before optional upgrades. The rest are the pricier, but very well reviewed 3-way systems. Although the JH-5 is their entry-level unit, I had a sense that the isolation and driver proximity that custom IEM's provide would take me to a sonic space that the generic buds couldn't. And I was right.
But first...
In order to have the JH Audio experience, one must have impressions made of their ears for the custom molds. This is accomplished by going to a qualified audiologist and having quick-curing silicone foam poured into your ears. (JH Audio has links to recommended audiologists on their website) It was a quick process that was strange, but not too unpleasant. I left the audiologist with a small box containing perfect foam replicas of my inner ears and headed straight to the post office to ship them off and begin the wait.
About two weeks later, my custom-made ear buds arrived from JH Audio's headquarters in Apopka, Florida.
From a smartly designed cardboard sleeve slid a clear Otterbox 1000 with my name embossed under the JH Audio logo. Nice touch. The box itself is watertight, floats, and is extremely crush resistant. This is a good place to keep something that is not easily replaceable and JH has chosen well. Otterboxes are cool! Opening the case reveals a black drawstring pouch and a plastic cleaning tool with a brush and wax scraper.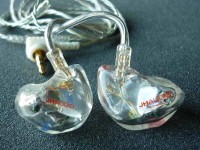 And then out came the buds. Mine are clear (there tons of color and custom options available) with a clear cord (black and length options are available) ending in a gold plated 1/8" jack. The drivers and armatures appear to be floating in the ear buds, like fossilized insects in amber. The right side has my initials, the model number and the company name in red. The left side has the same info in blue. This is very convenient, as attempting to put one in the wrong ear is a tad on the painful side. To correctly insert them is tricky at very first, but quickly learned. A twisting backwards technique seems best, effectively screwing them into your ear canal. Overall, wearing IEM's is not the most comfortable thing in the world. Mine fit perfectly, but having hard plastic in your ear feels just like you would think. I'm left wondering if softer compositions have been tried over the years. Perhaps they probably wouldn't last as long. Anyway, I got used to the feeling pretty quickly and forgot about them.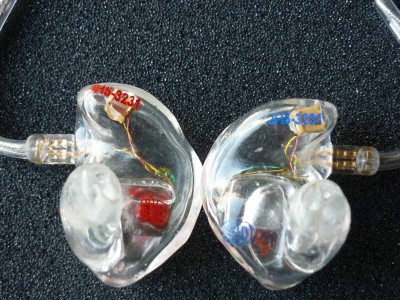 Audio Listening Tests
And the reason that I forgot about how they felt is because I started listening to music. First up was my favorite new test piece. It's Yo Yo Ma's version of the Astor Piazzola classic, Libertango. I've noticed that the sound of the cello reveals a lot about the character flaws in loudspeakers and headphones. The JH-5's were wonderfully smooth from the growling resonance at the bottom of the instrument all the way through to the airy top of the range. It was as if I could hear how much rosin was on the bow. (Yo Yo Ma's flawless technique doesn't hurt either) The accordion felt as if it was right in front of me. The music was present, swirling and breathing. Quick and tight response, with so much detail across the spectrum. Nothing mushy at all. Nice.
I switched to the stock Apple buds that come with every iPod and found out why the JH-5 Pros are $399. They sounded amazing compared to every other headphone I plugged in except for my high-end Sony over-ear headphones. The JH-5 Pro still sounded better, but it was more preference than outright victory.
Next up was Melody Gardot's recording, My One and Only Thrill. (Just do yourself a favor and get this recording). Her gut string guitar and smoky voice were like melted chocolate between my ears. I could feel the soft thunk of the sustain pedal as the pianist pressed it down in the quieter sections. The JH-5's missed nothing. Muted trumpet, brushes on the snare, the high end was gorgeous on the high hats and other cymbals without any harshness at all in the usually annoying ear bud upper midrange. I listened to the whole record and heard it as if for the first time, remembering how great it can be to listen to good jazz in good headphones. I can't even imagine what the 3-way units sound like, but I want to!
Conclusion
In the last 2 months, I've used the JH-5's in the recording studio, cutting the grass, at the gym and on the airplane. I've even put them in just to cut out the sound of my son playing his drums.
A quick word on the JHA users manual. It's as hilarious as it is informative. For something as straightforward as teaching you to put something in your ear while avoiding litigation from the person who manages to screw that up, the folks at JH Audio have a great sense of humor. I laughed out loud several times. From casual iPod listening to recording acoustic guitars, it's been pure sonic joy. $400 for ear buds? Now I get it.
Pros
Unbelievable sound for an earbud
Great isolation
Cool case
No one else can borrow them ( custom!)
Cons
Really pricey for earbuds

Intrusive 'plastic in your ear' feeling
Confused about what AV Gear to buy or how to set it up? Join our Exclusive Audioholics E-Book Membership Program!
Recent Forum Posts:
corey posts on October 21, 2010 04:57
I don't know what the stock Apple buds sound like, as I don't do iStuff, but I think it would be more relevant to compare them to buds in the $100 plus range.
Post Reply