Denon DVD-3910 Underwood Mod
Denon DVD-3910 Underwood Mod
by
Arvind Kohli
—
February 28, 2005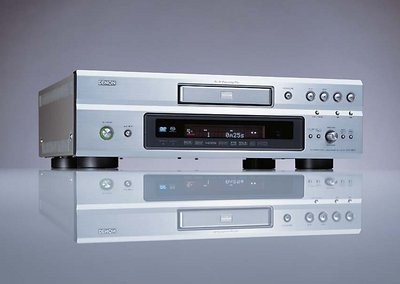 Denon DVD-3910 DVD player
Product Name: DVD3910 Audio Supplemental
Manufacturer: Denon Electronics USA
Performance Rating:
Value Rating:
Review Date: February 28, 2005 19:00
MSRP: $ 2930
Modifications

Upgrade the I-V, ANALOG FILTER and OUTPUT BUFFER op amps with dual op amps from Analog Devices, mounted to special surface mount to surface mount vertical adapters. The 3910 Level 1 Mod uses (4) pcs. of these dual op amp upgrade modules.

The output stage is biased into CLASS A.

The output RCA jacks (1 pr.) to VAMPIRE RCA jacks, using a base material of OFC-Copper (3.5 times more conductive than brass), and direct gold-plated...no intermediate nickel-plating at all!

Stock unit output signal currently exits via

a miniscule tin/lead plated PCB trace. The mod uses (4) pcs of pure 99.999% 23-awg solid-core silver DH LABS wire...with foamed teflon tape-wrap insulated.

The signal resistors (22 in all) are changed to Japanese made RIKEN OHM Carbon Comp type, with gold-plated copper leads (replacing cheap, magnetic, China-sourced, metal-film resistors).

All critical caps are changed to Electrolytic types (2) for the new (2) AuriCap metallized polypropylene coupling caps + "paralleled" BLACK GATE FK-Series coupling caps (2), replacing the generic electrolytic caps in the stock unit.

Precision 1% POLYSTYRENE film and tin foil caps (14) were used in the analog filter, replacing tantalum caps in the stock unit.

The chassis resonances have been dampened with SOUNDCOAT (2 sheets - 1sq. ft.) and external vibrations have been isolated via (4) large compliant EAR sorbothane feet.

The Power Supply and digital stages are been upgraded with (15) BLACK GATE FK, NX, STD series electrolytic caps (replacing cheap ceramic and/or generic electrolytics)...and all critical analog supply diodes (currently generic quality) have been replaced with ultra-fast soft-recovery FRED type diodes (4) Vishay-Telefunken and (5) International Rectifier HEXFREDs.

WBT 4% silver solder throughout.

The mod takes approximately 7-hours to complete.

The price of the 2-channel Level-1 mod is $1050 to customer units

New Level-1 modified machines are available for $2190

Level-2 mod improves the unit even further by adding:

Burr Brown OPA-627 Opamps in custom surface mounting boards.

Two Rel-Cap TEFLON TFT-Exotica bypass caps are added.

The price of the 2-channel Level-2 mod is $1250 to customer units

New Level-2 modified machines are available for $2450 Other available upgrades

Other Available Mods

To add an upgraded MASTER Reference Clock from either LC Audio or AudioCom will add another $480 USD installed (Clock, Custom Power Supply and Install Labor).

To perform an equivalent L-2 quality center (3rd) channel mod, adds $600.00

To do all 4 "additional" L-2 channels (3-6) would "bundle" together for $1900.

To add a pair of BYBEE "Slipstream" Quantum Purifiers to the power supply (just after the AC line input) would add $180/pr., installed.
Pros
State-of-the-art video connections including DVI and HDMI.
State-of-the-art video processing, including upscaling to 480p, 720p and 1080i.
Outstanding 2-channel audio playback quality.
Plays both hi-rez audio formats, SACD and DVD-Audio.
Compatible with virtually all current disc formats and file types.
Cons
Considerable investment in light of upcoming Bluray and HD-DVD technologies.
Remote not programmable and only partially backlit.
Voids manufacturers warranty, however Underwood offers a 90 day warranty on the entire machine and one year on all their work
Introduction
Continuing on my series of disc-player reviews, I wanted to incorporate at least one "modded" unit. I am of the opinion that to extract the final ounces of fidelity a component has to be thoroughly tweaked; beef up a power supply here, change a connector there, upgrade a capacitor elsewhere, etc. Each change in itself may not yield an audible improvement or change, but layer on several changes and you can yield a substantial improvement. This pursuit is certainly as much art as it is science, and is also replete with snake-oil and dubious claims. In the end the only thing that matters is what a component sounds like, and that is what I intend to find out here.
Confused about what AV Gear to buy or how to set it up? Join our Exclusive Audioholics E-Book Membership Program!