DVD-3910 Build Quality and Setup
DVD-3910 Build Quality and Setup
Denon surprised us recently when they told us that their new DVD-3910 universal DVD player was essentially the former flagship DVD-5900 player (with a slightly scaled down power supply) and a whole lot more. The new DVD-5910 (review coming) is set to be a completely new flagship model that will raise the bar in terms of what a DVD player is capable of. In the meantime, for those wanting absolute video and audio excellence in a player priced for mere mortals, Denon's new DVD-3910 is the player that you should focus your attention on. Priced $500 below the DVD-5900, Denon's newest universal player adds HDMI and some improved bass management options to name just a few of the highlights. Here's a quick breakdown of just some of the rear panel differences:
DVD-3910

DVD-5900

DVI & HDMI digital video outputs
5.1 audio output with separate 2-channel audio output circuitry
2) s-video outputs
2) composite video outputs
Component video output

DVI digital video outputs
5.1 audio output with redundant 2-channel audio output circuitry
1) s-video output
1) composite video output
2) Component video outputs (including BNC)
Packaging & Build Quality
The factory sealed box came with the unit well-packaged. Even UPS would have a hard time damaging this unit. In addition to the player, the DVD-3910 comes with an audio/video cable, remote control unit (RC-972), two-prong power cord, IEEE 1394 cable, Denon Link cable and a pair of AA batteries. The user manual is somewhat comprehensible , though Denon is not known for their user-friendly manual writing.
After unpacking the unit I felt it to be a hefty, nicely-constructed player. Though a full 7 pounds lighter than the DVD-5900 "brick", the DVD-3910 gives the impression that there is more under the hood than your average universal player. The front panel is well laid out, with easy access to play controls as well as a pleasant surprise - a soft On/Standby button to complement the hard power button. In addition, the front panel can be used to select video output formats and there is a Pure Direct feature. The rear panel, the details of which have already been listed, is impressive as well with a clean layout and easy access and spacing for all connectors.
Being the finicky person that I am, I have to admit that the first thing I did with the player was plug it in and see what happened when the unit was placed in 'Standby' mode while the tray was open. The DVD-3910, unlike the DVD-5900, nicely sucked the disc back into the player before shutting down. Progress is a good thing.
Player Set-Up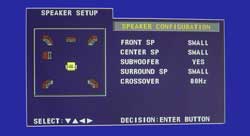 Setting up the DVD-3910, despite its complex options and available configurations is actually not that difficult, provided you know where to look and are aware of some important menu areas. Assuming you'll want to use the player for analogue multi-channel SACD or DVD-Audio playback, one of the first places you'll need to stop is the Speaker Configuration menu (a subset of Speaker Setup) where you can configure your bass management options for the player. For Reference System 2 we configured the player to recognize all speakers as Small with a crossover setting of 80Hz - this coincided with the bass management I had already configured for the Integra DTC-9.4 processor.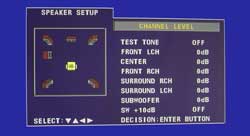 The Channel Level menu allows you to configure the analogue output levels of the universal player in order to ensure that you have a balanced sound stage and that your subwoofer output level, in particular, isn't overbearing or non-existent. To my surprise, an SPL meter revealed that the levels did not need to be adjusted at all, a big improvement from the DVD-5900, in which the subwoofer +10 boost had to be enabled and the test tones were somewhat less than accurate. The DVD-3910 showed none of these problems, and as a result, setup was a breeze. While we cannot guarantee such an easy setup with everyone's system, this was shaping up to be a great user experience. Moving on, you'll also want to set up your Delay Time in order to select the distances between the loudspeakers and the central listening position. The heavy math (approximately 1.1ms delay per foot) is done in the player so you only have to have a tape measure to get good results. The Delay Settings, unfortunately, are limited to 1 foot in the English system - we always like to see at least .5 foot increments for better accuracy. For better results, change the units to 'meters' and you'll find you can adjust to within .1 meter increments (this equates to about 1/3 foot resolution).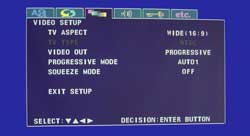 You'll definitely want to set up the player to match the type of TV you'll be using it on. I can only assume that if you are buying a $1499 DVD player, then you most likely have taken the plunge into HDTV. In either case, be sure to select Wide (16:9) as your TV a spect ratio, unless you have a 4:3 television, in which case you may choose 4:3 LB (letter box). You will also see Squeeze Mode on this screen. This is only to be used to display 4:3 content in its proper aspect ratio on a 16:9 TV - unusual, and thus I recommend leaving it on the factory default OFF. Denon has always had cryptic progressive modes - something that is a thorn in the side of anyone wanting to take advantage of the different deinterlacing options available. While we recommend everyone leave it in the Default AUTO 1 24fps Film mode, you may wish to experiment with the other modes in certain instances when you are not watching a theatrical DVD with 24fps film source on it. Here's a quick breakdown of the progressive modes:
AUTO 1 (default): Use for all theatrical DVD releases made from a 24fps source
AUTO 2: Use for 30fps film source DVDs*
VIDEO 1: Select for average video 30fps content
VIDEO 2: Select for video 30fps content with little movement
VIDEO 3: Select for video 30fps content with a lot of movement
*Note: We experienced slightly better 2:2 video cadence results with AUTO 2, but also experienced strange behavior with regards to smoothing so we're still recommending AUTO1 for now.
Of course, if for some reason you would like the display device to do the deinterlacing and video processing, you can always disable Progressive output of the player by selecting INTERLACED in the Video Out menu.
Digital output on this player (and really, all DVD players when connected to a full-feature processor/receiver) should be set to NORMAL (the default), not PCM. This will allow Dolby Digital and DTS bit stream information to be sent out of the digital coax and optical outputs. If you plan on listening to SACDs, we recommend the default brick wall filter setting of 50kHz. Of course, if you feel that you can hear bank alarms or frequently listen to radio stations without the use of a tuner then by all means Denon allows you to set the filter to 100kHz.
Confused about what AV Gear to buy or how to set it up? Join our Exclusive Audioholics E-Book Membership Program!