Bergmann Magne Turntable and Tonearm Preview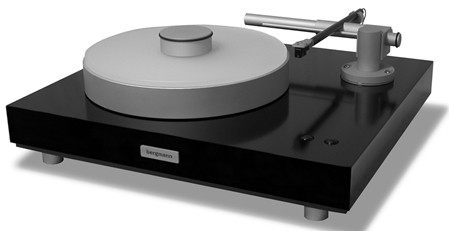 Bergmann Magne Turntable and Tonearm
Summary
Executive Overview
Aaudio Imports introduced into the U.S. market the brand new Magne Airbearing Turntable and Tonearm System by Bergmann Audio of Denmark, a leading specialist in airbearing turntables and tonearms. The Magne is a high-end entry-level audiophile turntable powered by airbearing technology. The airbearing process, of which Bergmann is an innovator, is frictionless, minimizing bearing noise and yielding exceptional stability. It's designed to yield emotionally engaging musical reproduction that transmits a vivid and transparent acoustic image.
The Magne also includes a tangential tracking airbearing tonearm, used to cut record masters; a silent, dry and smooth air supply; an external power supply, and a heavy clamp to stabilize records. In Danish, Magne means strength, and is also the name of the super-strong infant son of Thor, the god of thunder in Norse mythology.
Adhering to Bergmann's "less is more" philosophy, the Magne is built using a simple, timeless design. The Magne's air-supported bearing is frictionless, its speed is exceptionally stable, and bearing noise is reduced to a minimum. The tonearm glides friction-free across vinyl surfaces and only contacts the turntable through the stylus tip and the tonearm wire.
The Magne's plinth, or base, is a solid block of high density composition material, topped by an 18.5-pound aluminum platter, a 3.7-pound aluminum subplatter, and a polycarbonate mat, all resting on three sturdy adjustable feet. The Magne's air supply supports and centers the platter, providing a thin film of dry, smoothly flowing air, creating silent, friction-free movement. A steel spindle with a low-friction polymer bearing runs through the center of the layers.
The tonearm is a hollow tube of aluminum and carbon damped on the inside, balanced by a decoupled counterweight. A powerful belt-driven DC motor regulates record speeds, including finely tunable settings for 33 and 45 rpm.
The Magne Airbearing Turntable and Tonearm System is available now from Aaudio Imports at an estimated price of $12,000 (U.S. MSRP) for the table and the tonearm.
About Aaudio Imports
Based in Parker, Colorado, Aaudio Imports is a leading supplier of truly world-class high-end audio products to top quality dealers. Its high-end manufacturers, selected from companies around the world, also stand out from the crowd, and include Acapella in Germany, Audiotop in Switzerland, Bergmann Audio in Denmark, Einstein Audio Components in Germany, Isoclean Power in Hong Kong, Lindemann and Millennium Audio in Germany, Stage III concepts in the U.S., Lansche Audio in Germany, Weizhi Precision in Taiwan, and Ypsilon Electronics in Greece. Aaudio Imports dealers are true music lovers, selected for their product knowledge, listening skills, and desire to seek out only the best for their customers. For further technical information, visit www.aaudioimports.com.
About Bergmann Audio
Bergmann Audio is a Danish manufacturer specializing in airbearing turntables and linear tracking airbearing tonearms. Every part is handcrafted in Denmark to optimize the airbearing principle, and achieve the exceptional sound and timeless designs for which Bergmann is known. For further technical information, visit www.bergmannaudio.com.

Unless otherwise indicated, this is a preview article for the featured product. A formal review may or may not follow in the future.
emorphien posts on January 06, 2011 19:42
Airbearing, huh?
Post Reply
Confused about what AV Gear to buy or how to set it up? Join our Exclusive Audioholics E-Book Membership Program!