NeuNeo HVD2085 1080p DVD Player Review
NeuNeo HVD2085 1080p DVD Player Review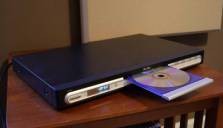 NeuNeo (Helios) HVD2085 DVD Player
Product Name: HVD2085
Manufacturer: NeoDigits
Performance Rating:
Value Rating:
Review Date: December 18, 2005 19:00
MSRP: $ 245
Support 1080P(1080 Progressive Scan), 1080i, 720P, 576P and 480P output, VGA output support 640x480, 800x600, 1024x768 and 1280x1024.
Upscale DVD playback to high definition (1080P/1080i via component, 1280x1024 via VGA).
HDMI pure digital interface.
Supports 1080i/720P/480P/576P/640x480/800x600/ 1024x768/1280x1024.
Built-in high end level scaler delivers astonishing high definition image.
System contains one 32bit Risc CPU, one 24bit video processing CPU and one 24 bit RISC audio processing CPU. Total power equal to 1Ghz Pentium CPU.
Fast 16bit 149Mhz Video DAC and 192 kHz 24 Bit Audio DAC (32 bit/133Mhz Audio DSP).
HDCP is not required for playing copyright DVD title in high definition mode.
Brushed stainless steel front panel.

Fast forward / back forward (up to 40X) and ZOOM (up to 8X)
Easy use full color navigation system.
Fully compatible with DVD, SVCD, VCD, CD, HDCD, MP3, WMA, Photo-CD, CD-R, CD-RW, DVD+R, DVD-R, DVD+RW, DVD-RW
Built-in Dolby and DTS decoder.
Progressive scan, PAL/NTSC TV system compatible, support 4:3 & 16:9 TV mode.
Smart update function ( firmware upgradeable ).
Component, S-Video, VGA, HDMI and Composite video output.
Optical, Coaxial S/PDIF and RCA output. Support Dolby 5.1 and DTS digital output or 2 Channels analog stereo output. Built-in Dolby 5.1 / DTS decoder, 5.1 channel output.
Ultra slim and stylish design. Dimension: 17 x 10.5 x 1.7 inch (430 x 270 x 43 mm).
Package includes 1 DVD Player, 1 Remote Control, 1 pair analog Video /Audio Cable and User manual. Power 100 ~ 240 AC/50 ~ 60Hz.
Pros
True 720p/1080i/1080p upconversion via component video outputs
HVD support for true HD DVDs
Cons
Poor deinterlacing capability
No flag-less 2:3 error detection
Fisher Price remote control
Cheap aesthetics
Soft Picture
User manual missing key graphics in diagrams
Introduction
It was only a matter of time until a company released a fully "unlocked" player that upconverted DVDs to 1080p. Just think of the marketing angles: "Why wait for high definition DVD when you can have it now!" or "Who needs Blu-ray Disc when you can get 1080p from your home movie collection!" What has people so excited about the NeuNeo player (pronounced "New-Neo") is the fact that it outputs 480p/720p/1080i/1080p from its component and HDMI outputs (latest firmware required). How do they do it? Well, I assume they run very quickly from anyone representing the MPAA since this violates the DVD spec. In any case, feel free to get them while they're hot - if 1080p output over component is something you've secretly asked Santa for this year and you don't mind some odd quirks and questionable video performance.
Confused about what AV Gear to buy or how to set it up? Join our Exclusive Audioholics E-Book Membership Program!