Yamaha RX-V671 AV Receiver Review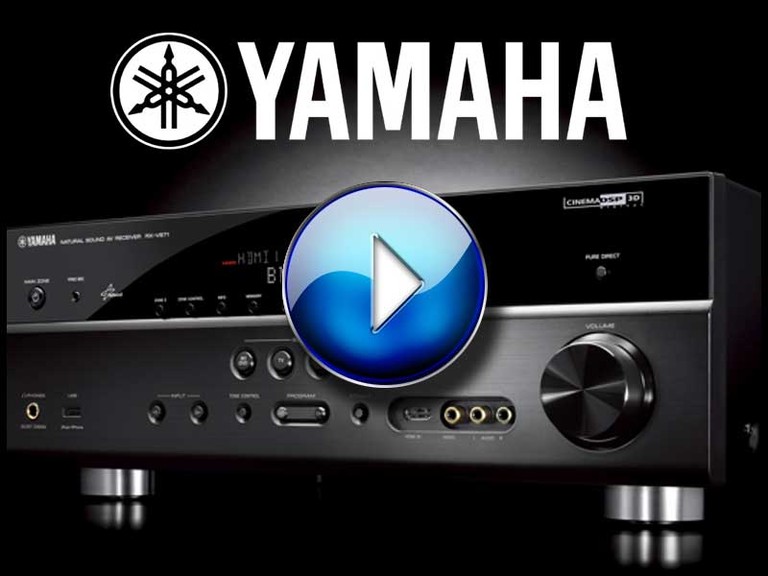 Yamaha RX-V671 AV Receiver Video Review
Summary
Amplifier Section
Channel
7.1
Rated Output Power (1kHz, 1ch driven)
125W (8ohms, 0.9% THD)
Rated Output Power (1kHz, 2ch driven)
105W (8ohms, 0.9% THD)
Rated Output Power (20Hz-20kHz, 2ch driven)
90W (8ohms, 0.09% THD)
Dynamic Power per Channel (8/6/4/2 ohms)
130/170/200/240W
Surround Sound Processing
CINEMA DSP
Yes (3D)
DSP Programs
17
Compressed Music Enhancer
Yes
Virtual Presence Speaker
Yes
Dialogue Lift
Yes
SILENT CINEMA / Virtual CINEMA DSP
Yes
Dolby TrueHD
Yes
Dolby Digital Plus
Yes
Dolby Pro Logic IIx
Yes
DTS-HD Master Audio
Yes
Audio Features
Pure Direct
Yes (with video on mode)
YPAO sound optimization
Yes
Adaptive DRC (Dynamic Range Control)
Yes
Initial Volume & Maximum Volume Setting
Yes
Bi-amp capability
Yes
Audio Delay
Yes (0-250 ms)
192kHz/24-bit DACs for all channels
Yes (Burr-Brown)
Video Features
HDMI 3D passthrough
Yes
HDMI Audio Return Channel
Yes
Component upconversion
Yes
HDMI upscaling
Yes (Analog to HDMI / HDMI to HDMI)
Deep Color/x.v.Color/24Hz Refresh Rate /Auto Lip-Sync
Yes
Extensive Connection
HDMI Input/Output
6 (front 1) / 1
HDMI CEC
Yes (SCENE, Device Control)
USB Input
iPod/iPhone, USB Memory, Portable Audio Player
Network Port
with access to Pandora/Rhapsody/SIRIUS Internet Radio/Napster/vTuner Internet Radio services. Also DLNA 1.5 and Win 7 Compatible.
Dock Port
1 (for optional YDS-12, YID-W10 or YBA-10)
Front AV Input
HDMI/USB/Analog Audio/Composite
Digital Audio Input/Output: Optical
2 / 0
Digital Audio Input/Output: Coaxial
2 / 0
Analog Audio Input/Output
5 (front 1) / 1
Component Video Input/Output
2 / 1
Composite Video Input/Output
5 (front 1) / 1
Preout
Subwoofer
Headphone Output
1
Tuner Section
FM/AM Tuner
Yes
SIRIUS Satellite Radio Ready
Yes
User Interface
On-screen display
Advanced Graphical User Interface with Status
SCENE
SCENE (4 sets)
iPhone App Control
Yes
Web Browser Control
Yes
Remote Control Unit
Yes (Preset)
Audio Technical Specifications
Signal-to-Noise Ratio
100 dB or more (Pure Direct, 250 mV)
Zone Control
Zone 2 Audio Output
Line output
Powered Zone
Zone 2
+12V Trigger Output
1
Remote (IR) Input/Output
1/1
General
Standby Power Consumption (IR only)
≤0.1W
Auto Power Down
Yes
Dimensions (W x H x D)
17-1/8'' x 6-3/8'' x 14-1/4"
Weight
23.1 lbs.
Shipping Dimensions (W x H x D)
17-1/2" x 9-1/2" x 20-7/8"
Shipping Weight (lbs.)
27.56 lbs.
Executive Overview
In the past, Audioholics has spoken about "break points" in receivers. These are the price points where you really want to be if possible, because it affords you features that you just can't get below it. Take this receiver, for example, the RX-V671 by Yamaha. It offers some of the most important features we tend to look for, like a discrete powered Zone 2, and network features that let you stream music from the likes of Pandora, vTuner, Rhapsody, SiriusXM Internet Radio and Napster. It also lets you stream media from any DLNA-compatible source.
Like the RX-V571, which is $100 cheaper, the RX-V671 has analogue video upconversion to HDMI - at up to 1080p resolution. That means you can feed this receiver just about any composite or component video signal and it can output it via HDMI. This is a real no-hassle way to connect your system - and it means that you only need to run one HDMI cable to your TV.
Now, the RX-V671 is the least expensive receiver in Yamaha's line-up to use their new advanced on-screen GUI. This is a system we covered in our review of the Aventage RX-A3000 receiver, and it's very interactive and easy to use. When you're setting up speakers, for example, it gives a 3D representation of your room, so you know exactly where you're telling it to assign the amps.
This receiver has two component video inputs and 5 composite video inputs. It is, of course, 3D compatible and has 6 HDMI inputs, including one on the front - which we find very convenient for using the new cameras that have HDMI outputs. The HDMI inputs also allow pass-through while the receiver is Standby and you can even change inputs. That means you can pipe your Blu-ray player directly to your TV without having to boot up the entire home theater system. This might be handy for watching TV at night, or if... loud noises scare you - I don't know... I don't ever bypass the receiver! The other thing that the RX-V671 adds is the AV Controller app which turns your iPhone or iPad into a full-featured remote control for both the Main Zone and Zone 2. The app shows the Zones and rooms, and allows control over input source and volume level. It can also source the included Internet streaming apps, so you have better control over your music. I mean look at this thing, it's beautiful... (you can pause for a second or two of extra b-roll)
If you just want to connect an iPhone or iPad to the 671 to stream music, you can, just using the front USB port. No dock is needed and the receiver will even charge your device while it's connected.
On the back you've got all your AV connections, but look at the right side, you've got two additional spring clips for your Zone 2. Now those outputs can automatically lift 2 amplifiers from the Surround Back channels and route that power to a pair of outdoor speakers. And it's automatic as soon as you turn on Zone 2. That's flexibility that really makes this two products in one - especially since that second Zone can have its own analogue source.

There's no RS-232 on this receiver, for that you'll want to go with the Aventage line which also has 2 subwoofer outputs. It's got all the Yamaha DSP modes you could ever want. Oh, there's also preamp outputs for the main channels so if you really wanted some extra power, you could run an external stereo amp for your main channels. There's even a 12V output for triggering a projector screen or that external amp.
We hooked this receiver into our system and played it with a pair of Atlantic Technology AT-1 tower speakers. It sounded really good and pushed them to extremely loud levels, distortion-free.  The main theme from The Man From Snowy River was one of our orchestral test tracks and the brass section just poured through the towers with clarity that was surprising, given that this was a mid-fi receiver. The ambiance conveyed in the track was impressive and the speakers  just gave a very wide feel to the score. For movies, we queued up the original Harry Potter and the Sorcerer's Stone and played through the dungeon troll scene. The troll growls literally filled the theater as he convincingly tossed debris all over the room. There's a lot more to say, but overall, this is a great AV receiver for $550. If you don't need Zone 2 or network audio features, save $100 and pick up the RX-V571, but either way, we're certain it's going to be a good addition to anyone's room and an excellent value.

Unless otherwise indicated, this is a preview article for the featured product. A formal review may or may not follow in the future.
rabbit73au posts on May 23, 2012 10:33
Regarding HDMI pass through on standby

I the review of the RX-V671 also on the RX-A3000 you mention why would you want to use HDMI pass through on standby well ii have a panasonic blu-ray recorder and say for instance if i was to record say judge Judy i do not want to watch it in surround sound.
Post Reply
Confused about what AV Gear to buy or how to set it up? Join our Exclusive Audioholics E-Book Membership Program!